Happy Thursday WooCommerce fanatics! This week we're serving up another core update (1.5.2), a new gateway, 2 new extensions and updates & improvements to some previous extensions.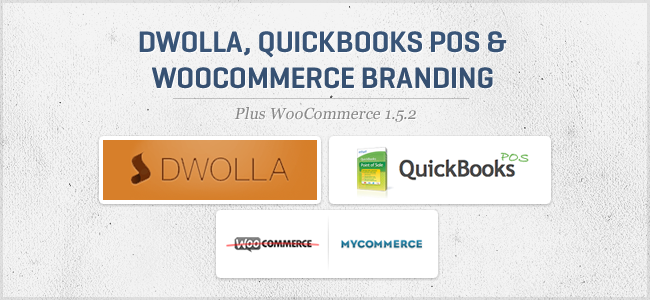 WooCommerce 1.5.2
WooCommerce 1.5.2 delivers a bunch of minor bug fixes as well as some new features including;
Improved up sells/cross sells interface
Add to cart shortcode for variations
variation menu_order for organisation (drag and drop)
Customer email field for coupons – limit coupon use to a specific user/billing email
Option to disable coupons sitewide
Product id rules for coupons apply to a products parent (useful for grouped products)
Disabled admin bar for customers when admin access is locked down

Dwolla


Dwolla is a new payment network that works with your financial institution to offer a cheaper, safer, and overall better payment experience.
Dwolla was created to help eliminate credit card fees, and make it quicker and easier for businesses to get paid. With free micro-transactions, and a flat 25 cents for everything else, Dwolla is the nation's cheapest payment network.
Developed by 75nineteen Media
QuickBooks POS Integration


Following in the footsteps of the Quickbooks Integration extension, this version integrates with Intuits CRM / Planning software – Quickbooks Point of Sale (POS).
The extension seamlessly transfers orders, customers and inventory to your QuickBooks software and keeps your website's pricing and inventory levels up to date.
This user-friendly, intuitive extension is easy to setup and quickly maps your POS settings to your WooCommerce settings.
Developed by Sixty One Designs
WooCommerce Branding


The WooCommerce Branding extension transforms WooCommerce into a whitelabel solution, allowing you to replace all WooCommerce branding with your own.
Payson 1.1

The Payson gateway now works in both Sweden and Finland (Swedish Krona & Euros). 1.1 also acts as two separate payment gateways, one for Payson Direct and one for Payson Invoice.
More details & view this extension

Email Attachments
Email Attachments has been greatly improved with the addition of these new features;
Implementing 6 new E-Mail types for adding attachments.
Implementing CC and BCC for all E-Mail types.
Implementing toggle section for all E-Mail types in admin page.
As well as some minor fixes and improved documentation.
More details & view this extension

Print Invoices & Packing lists 1.1


Print Invoices & Packing lists has also had a significant update to include the following new features:
Contiguous invoice numbering
Invoice numbering reset functionality
Prefix and suffix for invoice numbering
Custom logo functionality
Support for custom template
As well as including some general fixes and improvements.
More details & view this extension