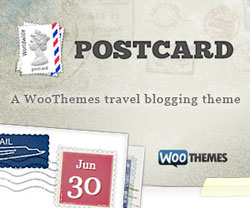 So you are about to head off on an adventure around the world, or perhaps just an extended road trip up the east coast? You've promised postcards to friends and families, but what a mission, post offices are so last century! 🙂
See you've decided to buy a domain, install WordPress and this really cool theme from WooThemes instead. Friends all around the world can track your progress, see exactly where you've been and the photos you've taken. They'll share the experience with you, leaving you comments and advice of where and what you should be doing.
Postcard by WooThemes is our first dedicated travel blogging theme. It's packed full of features and some pretty unique Google Maps integration that allows you to geo-tag your posts with a location. You'll then be able to show your site visitors a map in the blog post showing exactly where you are, plotted on a map or snapped from outta space!
Two custom widgets then allow you to show a Google map on your home page with your blog posts plotted on the map. "My Journey" widget can plot posts tagged with a specific tag, e.g. "america", and then plot the posts written in America and the journey you took demonstrated by a polyline, starting from the oldest tagged post to the newest tagged post. The "Overview Map" widget shows all your posts that have been geo-tagged across the world, without the polyline.
Postcard also comes with a great AJAX based category image gallery developed by our code wizard Jeffikus. It is viewable here and documented in the video below.
A quick video overview
Here's a little video introduction to Postcard that will help explain things better and give you an overview of more awesome functionality like the image gallery template and the Flickr and Twitter widgets.
A real life example
As mentioned in the video, the Postcard installation has already been implemented by some friends who are traveling from London to Cape Town in a Toyota Landcruiser. The theme works perfectly for their needs and serves as a great practical demonstration of what you can achieve with it very simply.
Think out of the box
Postcard offers 9 alternate styles, ranging from a a minimally styled blank canvas, to an airmail envelope style. The potential with this theme can be seen when looking at the demo. Think out of the box, this theme can serve far more purposes than just as a travel blogging theme. It could be a corporate theme, showcasing a business's various satellite offices dotted around the world.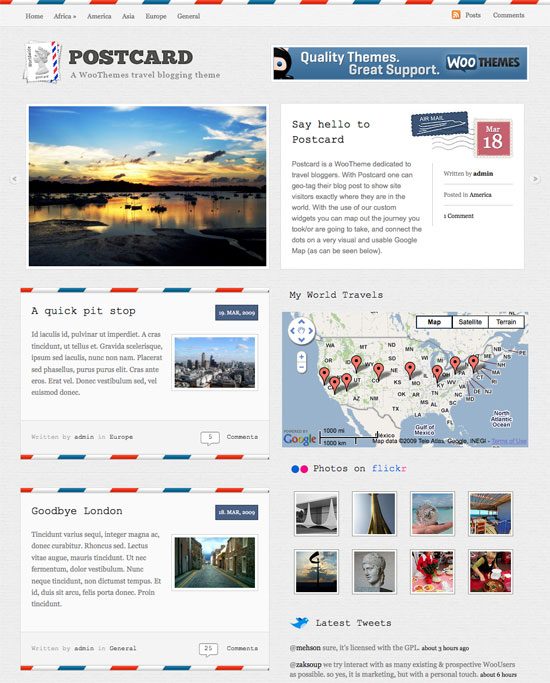 Excited about the possibilities? Ready to make it your own? View the demo here. If you are a club member download it right away! Or if you are new to WooThemes make the purchase now. Of course it includes our great new custom navigation plugin that we launched yesterday.