Advanced Order Status & Shipment Tracking
Order Tracking for WooCommerce extension enables you to share order statuses and shipment tracking information with your customers. Share shipment tracking codes along with tracking links to let customers track their delivery status. You can share the tracking information via email, customer's orders lists, and order detail pages.
Share order status updates by displaying a customizable timeline on the Order Details page. Display notes along with the timestamp for each stage.
Features
Share shipment tracking information on the My Account > Orders Listing and the Order Detail page
Share shipment tracking information via email notifications
Option to bulk import tracking information via CSV file
Support multiple shipments tracking per order
Supports over 400 carriers with direct tracking links
Set default carrier for easy management
Customize shipment tracking notices using variables
Share order status with customers on order detail page
Show order updates an attractive customizable timeline
WooCommerce Order Tracking extension offers both order status updates and shipment tracking feature with an ability to use each feature as per your business needs.
1) Shipment Tracking:
With WooCommerce Shipment Tracking feature of this extension, you can select the carrier and add tracking information from Order Detail pages. Share shipment tracking code along with trackings links with customers VIA email notification and on My Account page.
Share tracking info via emails
Once the tracking information adds to the My Account page, you can choose to notify customers via email notifications.
Share tracking details on My Account pages
Display tracking information on Order Listing pages under My Account to notify customers about the shipment status of their orders.

Import shipment tracking codes in bulk
With the Order Tracking for WooCommerce extension, you can choose to upload tracking information in bulk for different orders using a CSV file.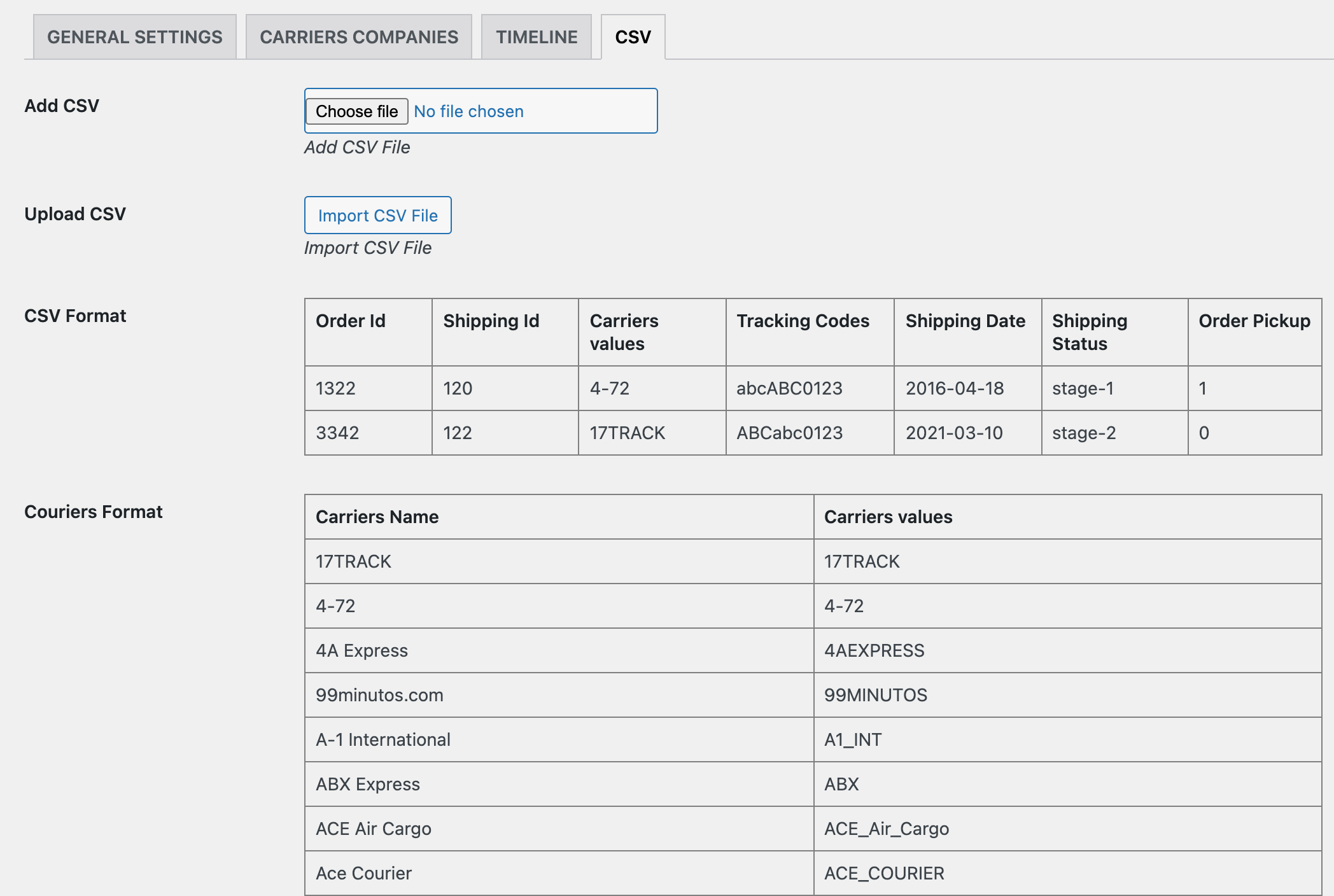 2) Order Status Tracking
You can choose to enable/disable order status tracking along with the timeline based on your business needs. With this feature, you can display an attractive timelines on Order Detail pages to keep your customers informed about their current order statuses. The extension offers extensive timeline customization options to personalize it as per your store requirements.
Requirements
Minimum PHP version: 5.2