There hasn't been a WooCommerce extension drop in a couple of months and there's no secret as to why. Team WooCommerce has been working relentlessly on making 2.0 (download RC1) awesome and ensuring compatibility with our already 100+ strong catalog of extensions.
So to stem any cases of WooCommerce extension withdrawal you may be suffering, we've rounded up some cool plugins that you can download from the WordPress.org plugin repository for free.
---
WooCommerce includes a lot of filters so you can customize button text, labels, and more — but you have to write PHP code to use them. This plugin provides a settings page where you can add your customizations and save them without needing to write any code or modify any templates, which is helpful for quick change testing.
Download WooCommerce Customizer
---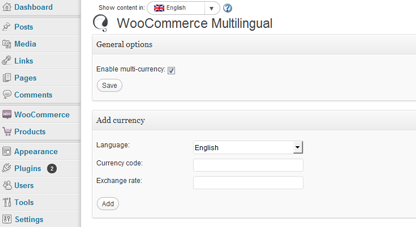 This 'glue' plugin makes it possible to run fully multilingual e-commerce sites using WooCommerce and WPML. It makes products and store pages translatable, lets visitors switch languages and order products in their language.
Download WooCommerce MultiLingual
---
This small and lightweight plugin adds a lot of WooCommerce related resources to your toolbar / admin bar. It also links to all setting / tab pages of the plugin and generally makes shop administrators/ webmasters lives a lot easier. So you might just switch from the frontend of your site to 'Payment Settings' page or check recent 'Orders' etc.
Download WooCommerce Admin Bar Addition
---
WooCommerce Grid / List toggle is a simple plugin which adds a Grid / List toggle to your product archives allowing users to, you guessed it, toggle between grid / list views of your products.
Download WooCommerce Grid / List Toggle
---
WP-Lister connects your WooCommerce, Jigoshop, WP e-Commerce, Shopp or MarketPress site with your eBay Store. You can select multiple products right from your products page, select a profile to apply a set of predefined options and list them all on eBay with just a few clicks.
Download WordPress Lister for eBay
---
Pushover for WooCommerce integrates WooCommerce with the Pushover notifications app for Android and iOS.
After installation and setup automatic notifications can be sent to your device for new orders, low stock, backorder and out of stock notifications.
Download Pushover for WooCommerce
---
WooCommerce Accepted Payment Methods extends the WooCommerce settings allowing you to specify which payment methods your store accepts.
The specified payment methods can then be displayed in the frontend via a widget, a shortcode or by adding a template tag directly to your theme.
Download WooCommerce Accepted Payment Methods
---
Allow customers to pay to upload a file. Once a WooCommerce order has been marked as processed, a file upload screen will appear on the order details page.
Download WooCommerce Pay to Upload
---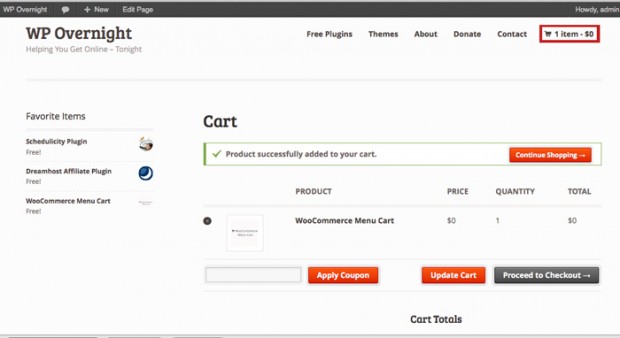 This plugin installs a shopping cart button in the navigation bar. The plugin takes less than a minute to setup, and includes the following options:
Display cart icon, or only items/prices.
Display items only, price only, or both.
Display always, or only when there are items in the cart.
Finally, the cart automatically conforms to your site's styles, leaving you with no extra work.
Download WooCommerce Menu Bar Cart
---
This plugin extends the WooCommerce e-commerce plugin by allowing a custom product tab to be added to product view pages with arbitrary content, which may contain text, html or shortcodes.
Download WooCommerce Custom Product Tabs Lite
---
This plugin allows you have custom order statuses in WooCommerce.
Download WooCommerce Custom Statuses
---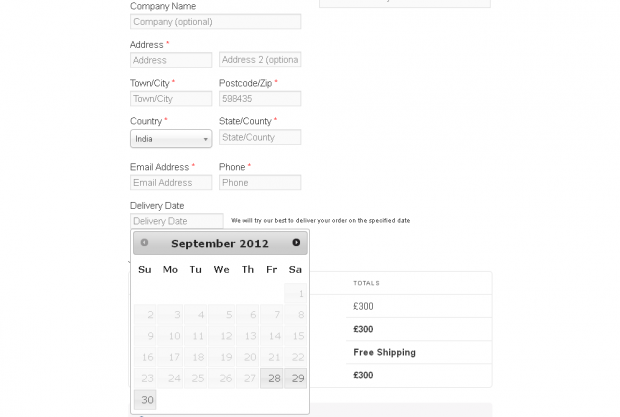 This plugin will allow the customer to choose an order delivery date on the checkout page. The customer can choose any delivery date that is after the current date. The plugin uses the inbuilt datepicker that comes with WordPress.
Order Delivery Date for WooCommerce
---
One for the devs! Adds a WooCommerce debug panel to the Debug Bar plugin. Requires the Debug Bar plugin to function.
Download WooCommerce Debug Bar
---
Have we missed any? Have we missed yours? Let us know!