Para ver todas las reservas que se han creado, ve a Reservas en el escritorio. Aparece una lista de reservas en orden cronológico inverso.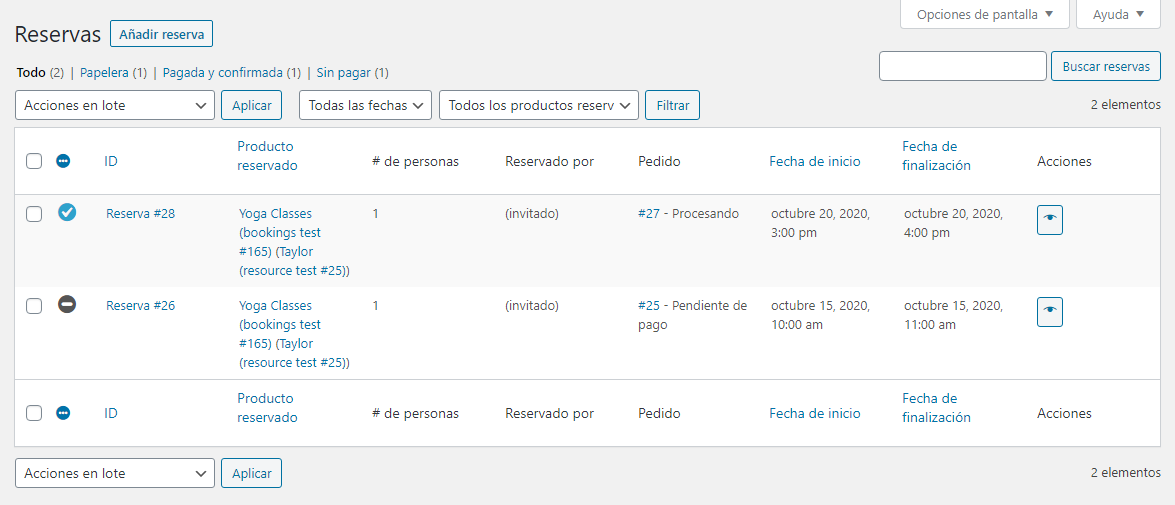 Para filtrar las reservas, selecciona opciones del menú en la parte superior.
Filtrar por:
Estado
Fecha
Producto / Recurso
Para usar acciones en lote, selecciona una acción del menú desplegable y clica Aplicar.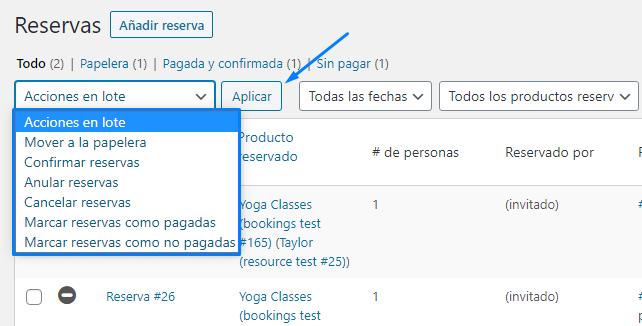 Mover a la papelera
Confirmar reservas
Anular reservas
Cancelar reservas
Marcar reservas como pagadas
Marcar reservas como no pagadas
Para buscar reservas, usa el cuadro de búsqueda superior derecho y selecciona Buscar reservas.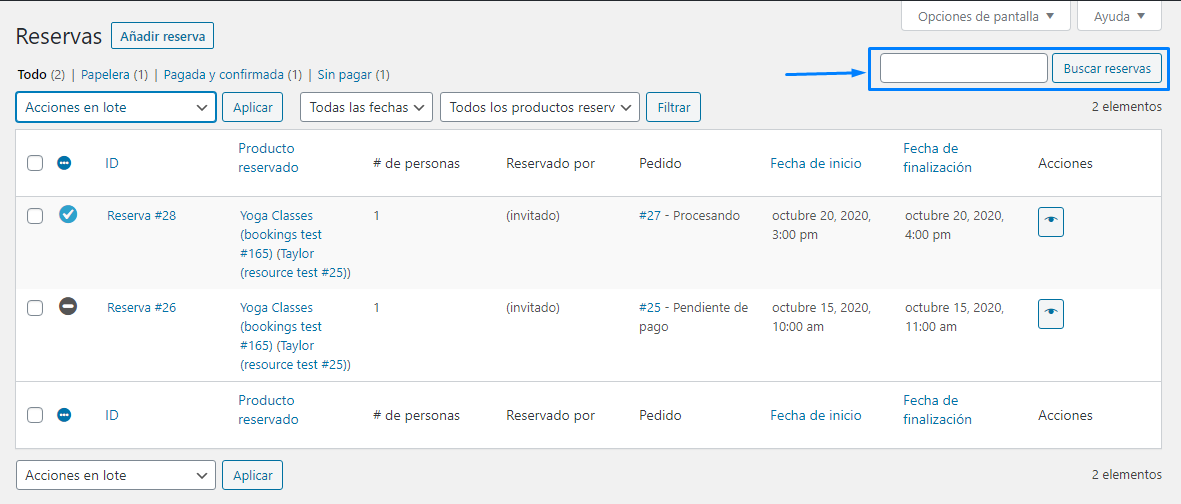 En las reservas individuales, tienes la opción de realizar dos acciones.

Marca de verificación: te permite confirmar una reserva pendiente y enviar un correo electrónico al usuario. Si la confirmas por error, utiliza la acción masiva Anular reserva.
Ojo: Ver detalles de la reserva.
Las siguientes secciones explican estas acciones con más detalle.
Para aprobar una reserva que requiere confirmación:
Ve a Reservas. Cualquier producto reservado que requiera confirmación mostrará Confirmación pendiente.
Selecciona Confirmar (marca de verificación) para aprobar el producto reservado.

Una vez aprobado, el usuario recibe una factura por correo electrónico para pagar. Luego, el cliente puede pagar en su página Mi cuenta. El enlace a su página Mi cuenta se incluye en el correo electrónico que reciben.
Para ver una reserva, el icono del ojo te lleva a la página Editar / Ver reserva. Esto funciona de manera similar a otras páginas de administración, como Editar pedido, excepto que es para datos de reserva.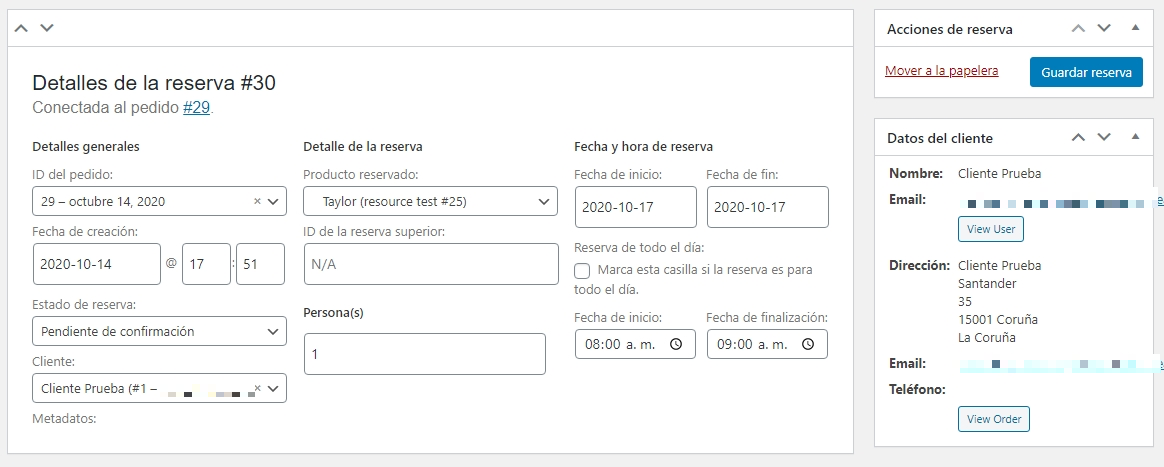 Estos detalles se pueden editar y luego guardar cuando hayas terminado.
Ten cuidado al cambiar las fechas y horas de inicio y finalización. Asegúrate de que la fecha de inicio sea siempre más reciente que la fecha de finalización. Ten en cuenta que el cliente no recibirá un correo electrónico automático con los cambios.
Sin pagar: la reserva requiere pago. No se ha pagado el pedido.
Pendiente de confirmación: reserva pendiente de la aprobación del administrador. Consulta Aprobar reservas.
Confirmada: la reserva se confirma después de que se estableció como Pendiente de confirmación. Aún requiere pago.
Pagada: la reserva ha sido pagada.
Cancelada: la reserva ha sido cancelada.
Completa: la reserva está pagada y la fecha es pasada. Se asume que la experiencia / servicio se entregó.
En el carrito: la reserva se ha añadido al carrito de un cliente. Si no se compra, se elimina en 60 minutos.
Ver reservas en un calendario ↑ Back to top
Para una vista de calendario, ve a Reservas> Calendario. Por defecto, muestra una vista basada en días con opciones de filtro a la izquierda.
Se puede usar una vista basada en días para ver todas las reservas en un día:

Cuando uses la vista Día, selecciona una reserva para verla / editarla, o pasa el cursor para ver un resumen de los detalles.
Selecciona Mes para mostrar una vista basada en meses con las opciones de Filtro a la izquierda.
Selecciona una reserva para ver los detalles.
Selecciona Programar para mostrar una descripción general desplazable con el día actual resaltado y las opciones de Filtro a la izquierda.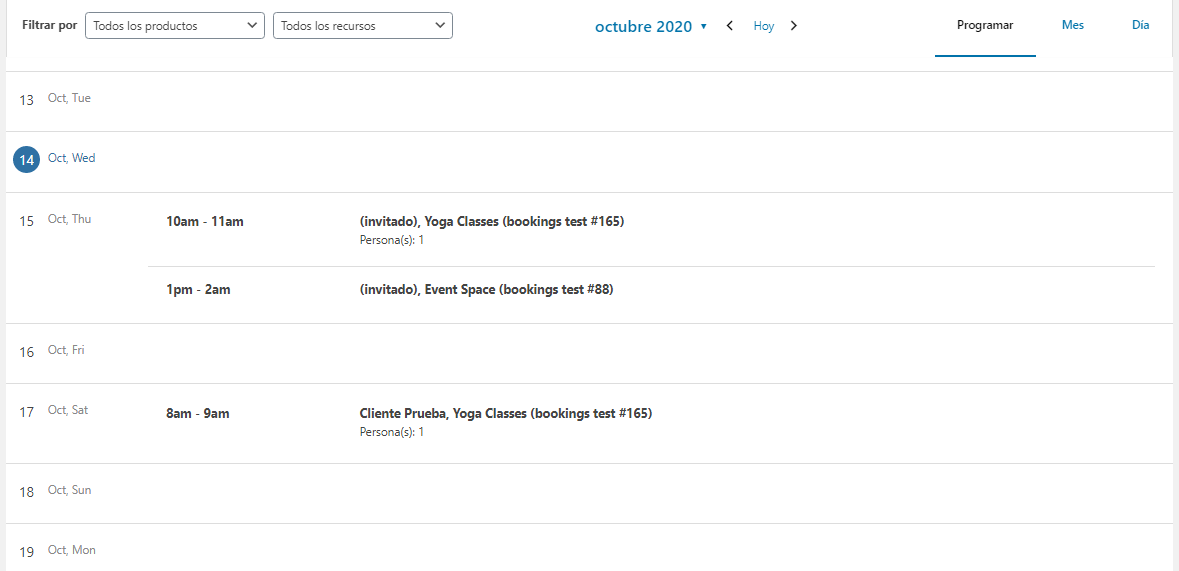 Crear reservas manualmente ↑ Back to top
Para crear manualmente una reserva para un cliente:
Ve a: Reservas> Añadir reserva.
Busca un cliente ingresando un nombre u otro término. O déjalo como Invitado.
Selecciona un producto reservable en el menú desplegable.
Crear pedido

Nuevo: crea un nuevo pedido, que debes procesar y completar antes de que esté activo.
Adición: añade el pedido a una reserva existente e ingresa su ID.
Sin pedido: solo crea una reserva.

Siguiente. Aparece el calendario de Reservas.

Selecciona una fecha / hora.
Añadir reserva.
A continuación, se te redirige a la nueva reserva o la pantalla de pedido, según tu selección.
Descuento por persona con cupón ↑ Back to top
Puedes ofrecer un código de cupón a los clientes para ofrecer un descuento por persona para reservas con varias personas.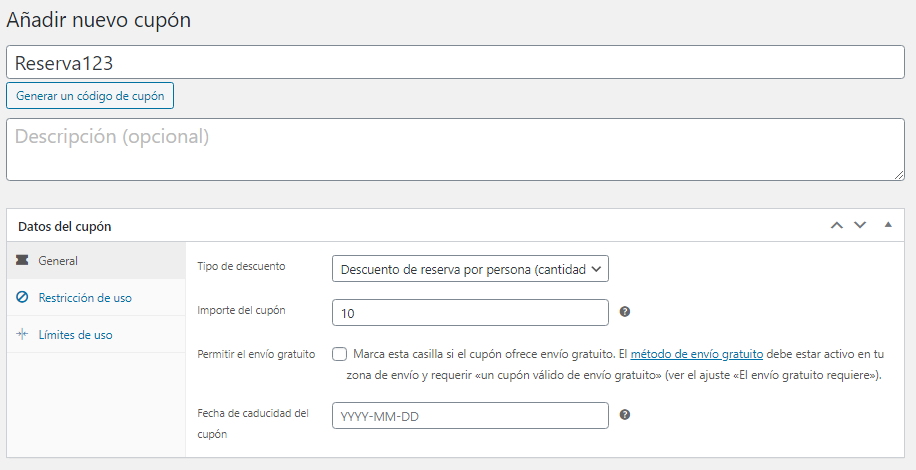 Integración de Google Calendar ↑ Back to top
WooCommerce Bookings se puede integrar con un calendario de Google, con sincronización unidireccional o bidireccional. Para obtener más información, consulta Conexión de calendario e Integración de calendario de Google (artículo disponible sólo en Inglés).
¿Tienes alguna pregunta antes de comprar? Completa este formulario de preventa.
¿Ya lo compraste y necesitas ayuda? Pónte en contacto con un ingeniero de soporte a través del centro de asistencia.