Nota: Si bien sólo puedes generar 25 claves de licencia en MaxMind, parece que la misma licencia se puede usar en varios sitios.
WooCommerce permite a los propietarios de tiendas geolocalizar automáticamente a los clientes y mostrar las tasas de impuestos y los métodos de envío específicos para la ubicación del cliente. Para determinar la ubicación correcta para un cliente, a partir de la versión 3.9+, WooCommerce usa una integración con
MaxMind Geolocation
.
Configuración de la integración de geolocalización de MaxMind:
Ve a: WooCommerce> Ajustes> General
Dirígete a la sección Opciones generales.
En el menú desplegable «Ubicación del cliente por defecto», elige «Geolocalizar» o «Geolocalizar (compatible con caché de página)»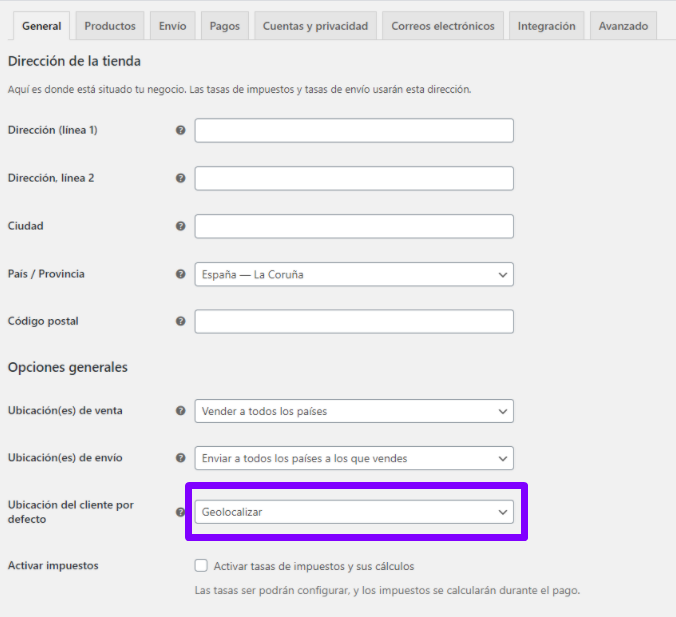 Una vez habilitada la geolocalización, debes crear una cuenta MaxMind y terminar de configurar la geolocalización MaxMind en la pestaña de integraciones en los ajustes de WooCommerce.
Crear una cuenta en MaxMind ↑ Back to top
Crea una cuenta de geolocalización MaxMind
En la página de registro, completa el formulario con tu información. Si no estás seguro de qué elegir como campos «Industry» (industria) y «Intended use» (uso previsto), puedes completarlos como «eCommerce» (comercio electrónico) y «Price localization» (localización de precios) respectivamente.
Después de enviar los datos, recibirás un correo electrónico con un enlace para establecer tu contraseña. Haz clic en ese enlace y elige una contraseña.
Crear una clave de licencia MaxMind ↑ Back to top
Ahora que tienes una cuenta en la web de MaxMind, podrás crear una clave de licencia.
Selecciona la pestaña «My license key» (mi clave de licencia) en el escritorio de tu cuenta de usuario.
Selecciona «Generate new license key» (generar nueva clave de licencia).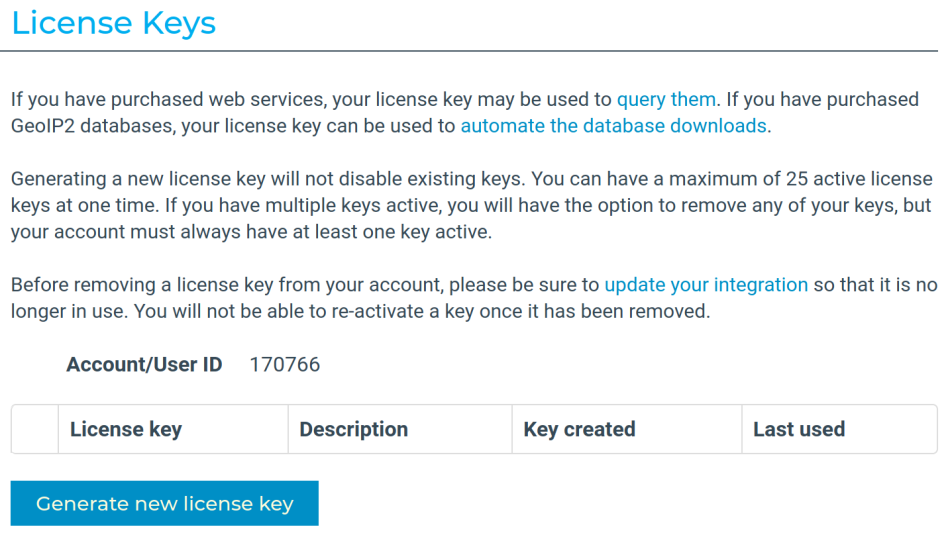 A continuación, completa el formulario para generar una clave de licencia.
Añade una descripción (como el nombre de tu tienda)
Selecciona «No» junto a «Will this key be used for GeoIP Update?» (¿Se utilizará esta clave para la actualización de GeoIP?)
Selecciona «Confirm» (Confirmar).
Se te presentará una nueva clave. Copia esta clave de inmediato, ya que solo se mostrará una vez.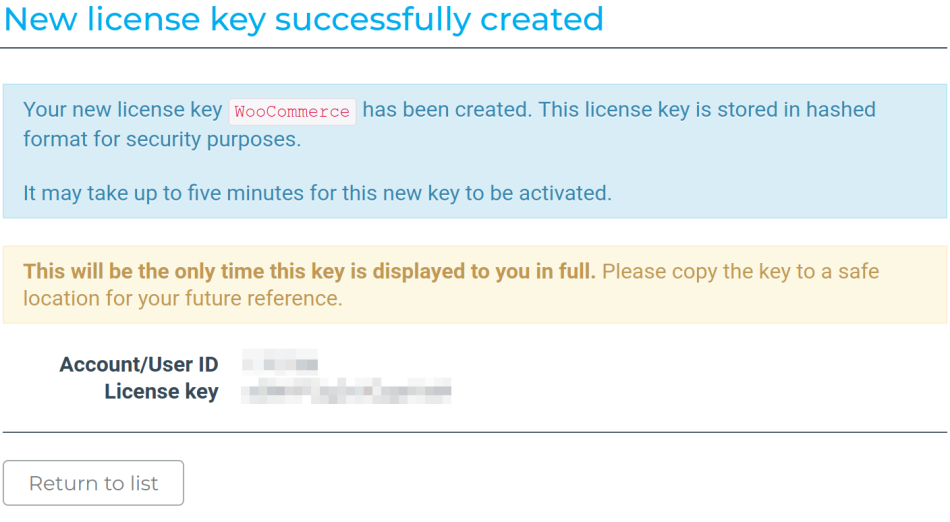 Añade la clave de licencia de geolocalización MaxMind a los ajustes de WooCommerce ↑ Back to top
Finalmente, debes añadir esta clave a los ajustes de WooCommerce.
Ve a: WooCommerce> Ajustes> Integración> Geolocalización MaxMind
Pega la clave de licencia
Selecciona «Guardar los cambios»
Ahora tu tienda WooCommerce está lista para geolocalizar clientes con la integración de geolocalización MaxMind.
Actualizar la base de datos ↑ Back to top
El sistema está configurado para actualizarse automáticamente cada 15 días, usando la función incorporada de WordPress WP Cron para activar woocommerce_geoip_updater.
Si el archivo mmdb en tu servidor no parece actualizarse correctamente después de este tiempo, puedes instalar el siguiente plugin que te ayudará a solucionar problemas de eventos programados en WordPress: WP Crontrol.
Una vez que el plugin está instalado y activo, puedes ir a Herramientas> Eventos Cron, verificar la próxima hora programada para este evento y, opcionalmente, ejecutarlo manualmente.