WooCommerce viene listo para ser localizado. Todo lo que se necesita es un archivo de traducción para tu idioma.
Existen varios métodos para crear una traducción, la mayoría de los cuales se describen en el Codex de WordPress (enlace disponible sólo en inglés). En la mayoría de los casos, puedes contribuir al proyecto en translate.wordpress.org (enlace disponible sólo en inglés). Para crear traducciones personalizadas:
El método más fácil es usar un complemento llamado Loco Translate.
Los usuarios más avanzados pueden usar PoEdit.
Ambos métodos están cubiertos en este documento.
Configurar WordPress en tu idioma ↑ Back to top
WordPress necesita saber en qué idioma debe ejecutarse.
Ve a: Escritorio > Ajustes > Generales y cambia el idioma del sitio.
Ve a: Escritorio > Actualizaciones y haz clic en el botón correspondiente para actualizar traducciones.
Una vez hecho esto, la tienda se muestra localizada siempre y cuando exista el archivo de idioma correspondiente. De lo contrario, debes crear los archivos de idioma (el proceso se explica a continuación).
Contribuir tu localización al núcleo de WooCommerce ↑ Back to top
Mantenemos traducciones en nuestro proyecto en GlotPress. Si deseas contribuir con cadenas traducidas a tu idioma o deseas comenzar una nueva traducción, regístrate en WordPress.org y comienza a traducir.
Traducir WooCommerce a tu idioma ↑ Back to top
El proceso de traducción es administrado por equipos en translate.wordpress.org. Aquí se traducen versiones estables y versiones de desarrollo de WooCommerce, y cualquier persona puede contribuir.
Cuando instalas o actualizas WooCommerce, WordPress buscará una traducción 100% completa en tu idioma y la descargará automáticamente. Si no hay una traducción 100% completa, puedes descargarla manualmente, o te alentamos a que contribuyas a llevarla al 100% para que todos los usuarios puedan beneficiarse.
Si eres nuevo en la traducción, consulta el manual de traductores para comenzar (enlace disponible sólo en inglés).
Descargar traducciones de translate.wordpress.org manualmente ↑ Back to top
1 / Ve a https://translate.wordpress.org/projects/wp-plugins/woocommerce y busca tu idioma en la lista.
2 / Haz clic en el título para ir a la sección de ese idioma.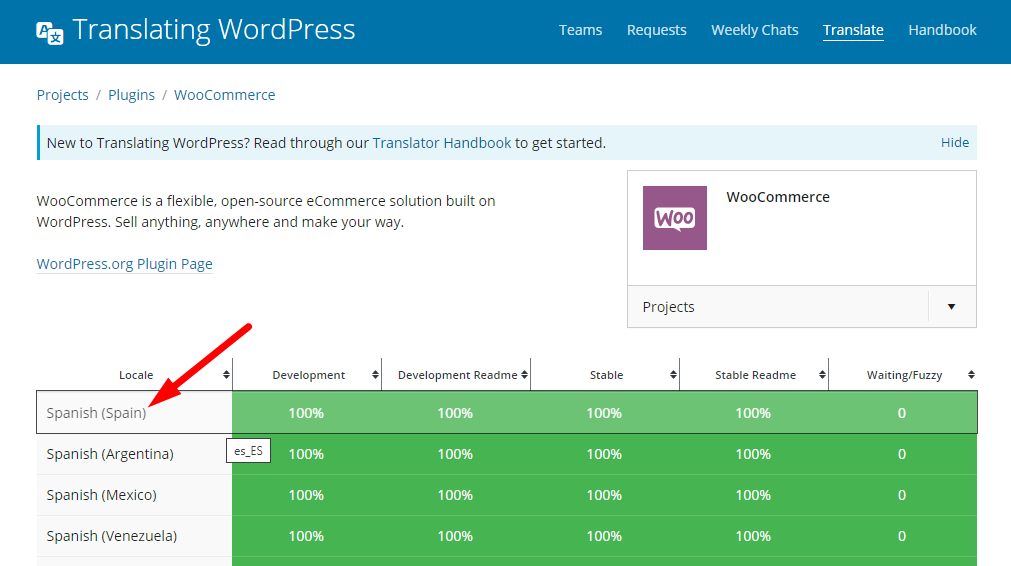 3 / Haz clic en el encabezado debajo de Set/Sub Project para ver y descargar una versión estable.
4 / Desplázate hasta la parte inferior para ver las opciones de exportación. Exporta un archivo .mo para usar en tu sitio.
5 / Cambia el nombre de este archivo a woocommerce-TUIDIOMA.mo, utilizando el código ISO de tu idioma (por ejemplo, el inglés de Gran Bretaña debería ser en_GB).
6 / Sube el archivo a tu sitio en wp-content / languages ​​/ woocommerce /. Una vez cargado, se puede usar este archivo de traducción.
Crear traducciones personalizadas ↑ Back to top
WooCommerce incluye un archivo de idioma (archivo .pot) que contiene todo el texto en inglés. Puedes encontrar este archivo de idioma dentro de la carpeta del plugin en woocommerce / i18n / languages ​​/.
Crear traducciones personalizadas con Loco Translate ↑ Back to top
1 / Descarga el plugin gratuito llamado Loco Translate desde aquí. O añádelo directamente desde la administración de WordPress a través de Plugins > Añadir nuevo.
2 / Instálalo y actívalo.
3 / Ve al nuevo elemento Loco Translate creado en el menú de su escritorio el cual contiene cinco subsecciones.
4 / Ve a la sección Plugins y selecciona WooCommerce:
5 / Agrega nuevos idiomas usando el enlace Nuevo idioma:
6 / Elige el idioma para agregar en la lista, o ingresa el código ISO del idioma (ej: fr_FR, en_US, etc.), selecciona la carpeta para agregar los archivos de traducción y haz clic en Comenzar a traducir:
Ten en cuenta que Loco Translate ofrece tres localizaciones diferentes para crear la traducción, la mejor opción es Personalizado si deseas tener tu propia traducción personalizada. Debes evitar la localización «Autor» ya que está dentro del plugin y se anulará con futuras actualizaciones del plugin. También está la localización del «Sistema» que será anulada por las traducciones de translate.wordpress.org.
7 / Haz clic en Guardar cuando hayas terminado: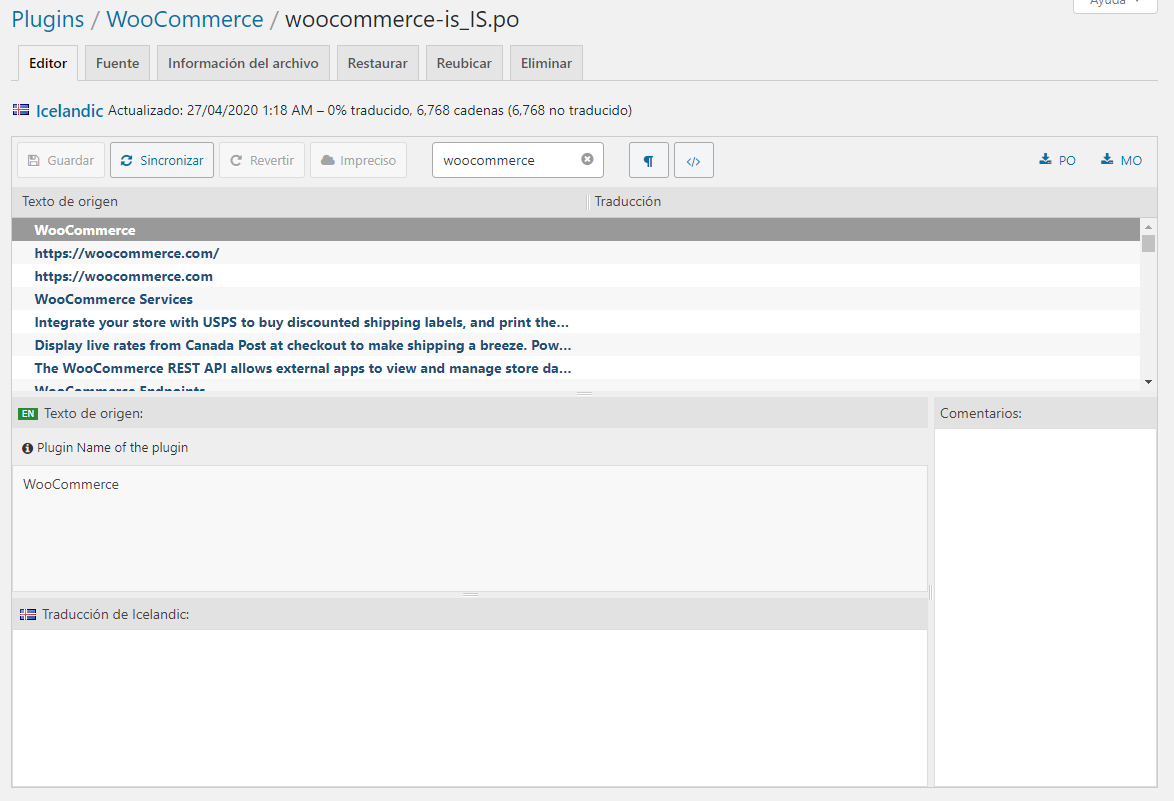 Ten en cuenta que cuando se lanza y actualiza una nueva versión de WooCommerce en tu sitio, necesitas actualizar el archivo .po para buscar nuevas cadenas. Usa el botón «Sincronizar» para encontrar cualquier cadena nueva para comenzar a traducir.
Crear traducciones personalizadas con PoEdit ↑ Back to top
PoEdit es una alternativa más avanzada a Loco Translate. Solo los usuarios avanzados o traductores que deseen crear una traducción personalizada a WooCommerce deben intentar este método.
WooCommerce viene con un archivo POT que se puede importar a PoEdit para traducir.
Para empezar:
1 / Abre PoEdit y ve a Archivo > Nueva desde archivo POT.
2 / Elige woocommerce.pot y PoEdit mostrará la ventana de propiedades del catálogo:
3 / Ingresa tu nombre y detalles para que otros traductores sepan quién eres tú y haz clic en «Aceptar».
4 / Guarda tu archivo .po. Asígnale un nombre según lo que estás traduciendo, es decir, una traducción de ES se guarda como woocommerce-es_ES.po. Ahora se enumeran las cadenas.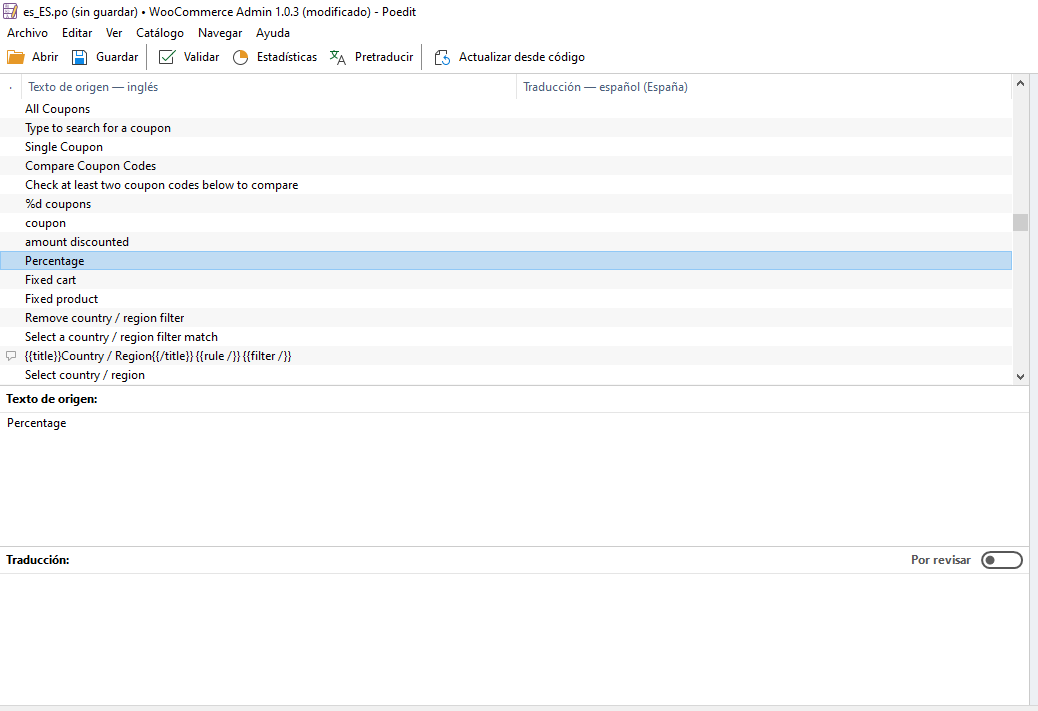 5 / Guarda después de traducir cadenas. El archivo .mo se genera automáticamente.
6 / Actualiza tu archivo .po abriéndolo y luego ve a Catálogo > Actualizar desde archivo POT.
7 / Elige el archivo y se actualizará como corresponde.
Hacer que tu actualización de traducción sea segura ↑ Back to top
WooCommerce guarda las traducciones en wp-content / languages ​​/ plugins, como todos los demás plugins. Pero si deseas incluir una traducción personalizada, puedes usar el directorio wp-content / languages ​​/ woocommerce, o puedes usar un fragmento de código para cargar una traducción personalizada almacenada en otro lugar:
Este código debe ser colocado en el archivo functions.php de tu tema o en un archivo de plugin personalizado.
Remplaza textdomain con el nombre de la carpeta del plugin. Por ejemplo: woocommerce.
El archivo deberá nombrarse, por ejemplo, yourtranslationfile-en_GB.mo
El archivo deberá ser colocado en, por ejemplo, wp-content/languages/textdomain/yourtranslationfile-en_GB.mo
Traducir texto sin un archivo de localización ↑ Back to top
Traducir o reemplazar texto predeterminado ↑ Back to top
Usar el plugin Say What? puede ayudar si solo deseas traducir o cambiar algunas palabras sin editar el archivo .PO de un tema de WordPress. No requiere código personalizado.
Cuando se activa, el plugin solicita:
Cadena original: texto que estás traduciendo. Consulta el código fuente del plugin para ver la cadena exacta.
Dominio de texto: woocommerce.
Texto que deseas mostrar.