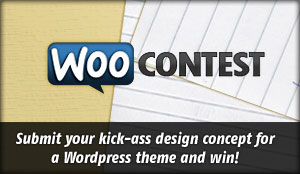 As you all know, we at WooThemes love collaborating with industry-leading, creative designers and launching stylish and unique WordPress themes every month. We also love seeing how our fantastic community of users customize and implement our themes.
We therefore thought it would be a good idea to launch a competition where you our readers/users can get involved, and gain some exposure, designing a theme concept for us. Not to forget, you stand the chance to win some big money!
How to enter
To enter the competition, contestants must submit a  theme concept you think would go down a treat on WooThemes.
The design must be created in Photoshop, Fireworks or Illustrator format.
The website container must have a width of between 940 and 980 pixels, catering for the average 1024 X 768 user.
The entries must be submitted to the WooThemes Flickr pool in jpeg or png format and tagged "Woocontest".
Entries must be submitted before midnight on 31st October 2008. That's Halloween night! Woooooooooooooo.
Your submission on Flickr must include:
Your name and any URL you would like linked to in case you win.
Any stock or source images you have used including URLs. Be sure to only use stock images that have Extended Usage licenses that allow for distributing the theme design once coded, otherwise avoid use of stock images.
The winner will be chosen according to the amount of positive comments it receives, as well as feedback gathered from guest judges (guest judges will be announced soon).
The winner will receive $2000 and a 6 month develop license, whilst the runner up will receive $1000 and a 3 month develop license. Both will obviously grab a heap of exposure.
We will then add some wordpress magic to the concept and launch it is an official WooTheme, crediting our winning designer.
Terms and Conditions
The theme concept submitted must be entirely your own work. As mentioned above if stock imagery is used it must have an exttended usage license.
By entering this competition you consent to your theme concept possibly being used by WooThemes and avaliable for purchase on our site. First and second prize will, as already stated, be awarded a cash prize for their work.
If any other theme concepts are used by WooThemes the designer will be informed and a once-off fee will be awarded to the designer for the concept. The fee will be agreed upon by both parties. Sales generated off the theme will be kept by the company.
The winning theme concept and the runner up may be required to mock up an inner page before payment is made, determined by an inspection of the design source file. A clearly noted grid structure is highly recommended.