WooCommerce Memberships
Promo !
| Developed by
SkyVerge
Information & Requirements
Works well with several existing plugins, including WooCommerce Subscriptions and WooCommerce Name Your Price
View documentation for more info
Une solution d'adhésion 100 % intégrée à votre contenu et vos produits.
WooCommerce Memberships n'est pas simplement une autre extension pour limiter le contenu de votre site : c'est une solution d'adhésion complète et facile à utiliser qui rassemble votre contenu, votre boutique et vos adhésions.
« C'est sans doute l'une des extensions les plus faciles et les épurées en matière de configuration. Elle est très facile à gérer.
Vous allez aimer cette extension. » – Chris Lema
Memberships vous permet de créer un système d'adhésion complet qui est lié en toute transparence à votre boutique.
Vous pouvez limiter votre contenu aux membres, mais vous pouvez également « diffuser au compte-gouttes » ce contenu au fil du temps pour planifier le moment où les membres y auront accès. Vendez l'accès aux adhésions membres, incluez des adhésions avec des achats de produits, attribuez manuellement des adhésions et intégrez complètement des avantages dédiés aux membres dans votre boutique.
Vendre ou attribuer des adhésions
Memberships are not a specific type of WooCommerce product; au lieu de cela, des plans d'adhésion sont créés indépendamment des produits. Cela vous permet de déterminer comment l'accès est accordé pour une flexibilité optimale. Vous pouvez attribuer 0 produit ou plus (de presque tous les types) à un plan d'adhésion pour prendre en charge plusieurs types d'adhésions :
vendre une adhésion en tant que produit autonome : créer un produit pour l'adhésion, puis lier le plan à ce produit pour le vendre
accorder l'accès à une adhésion dans le cadre d'un achat de produit : c'est-à-dire acheter un abonnement pour une boîte repas et obtenir un accès gratuit à la section recettes
accorder l'accès à la même adhésion à partir de plusieurs produits (c'est-à-dire un achat annuel ou un abonnement mensuel)
attribuer manuellement des adhésions à une zone réservée aux membres sur invitation
Accorder stratégiquement l'accès au contenu
Vous consacrez beaucoup de travail à votre contenu réservé aux membres, donc Memberships vous permet de planifier le moment où vos membres y auront accès. Vous pouvez diffuser au compte-gouttes du contenu, ce qui signifie que vous pouvez planifier le moment où les membres auront accès à votre contenu. Par exemple, vous pouvez exiger que les clients soient membres pendant une semaine avant qu'ils ne puissent accéder à certains articles ou pages.
Cela vous donne plus de contrôle sur la façon dont les membres commencent à utiliser votre site et vous permet de présenter votre contenu aux membres à votre rythme.
Lorsque vous l'utilisez avec Subscriptions, vous pouvez même déterminer le contenu qui est inclus dans une période d'essai gratuite avec des règles de diffusion de contenu au compte-gouttes.
Transformer votre boutique en club d'achat
Memberships vous permet de créer des produits réservés aux membres pour que votre site puisse devenir un club d'achat, ou vous permet de proposer certains produits exclusivement aux membres.
Vous pouvez restreindre l'affichage des produits aux membres, ce qui signifie que ces produits seront masqués pour les non-membres dans votre boutique. Vous pouvez également restreindre l'achat, ce qui signifie que les produits sont publics, mais que seuls les membres peuvent les acheter.
Vous pouvez également diffuser au compte-gouttes l'accès aux produits pour que les membres n'aient pas accès aux produits immédiatement.
Offrir de meilleures options de livraison aux membres
Les membres doivent devenir vos clients les plus fidèles. Par conséquent, leur donner des avantages qui les encouragent à acheter auprès de vous à plusieurs reprises les incite à revenir. Memberships prolonge vos paramètres de livraison gratuite afin que vous puissiez offrir la livraison gratuite directement à vos membres, tout en obligeant les non-membres à répondre à d'autres critères (comme avoir un code promo ou un montant minimum de commande).
Récompenser les membres avec des remises spéciales
Si vous souhaitez accorder certains avantages à vos membres, vous pouvez fournir des remises aux membres pour tous les produits, certains produits ou certaines catégories de produit.
Afficher automatiquement aux membres leurs avantages
Si la gestion des adhésions doit être facile pour vous, elle doit l'être également pour vos membres. Les membres peuvent trouver toutes les informations dont ils ont besoin sur leurs adhésions dans la section membres. Les membres peuvent accéder à la section pour n'importe quelle adhésion depuis la page « Mon compte » en cliquant sur « Vue ».
Vous pouvez activer une ou plusieurs parties de la section membres afin d'afficher aux membres une liste du contenu accessible (article et pages), des produits, des remises et/ou des remarques publiques concernant les adhésions. Si un membre a accès ultérieurement au contenu, il peut également voir la date d'accès.
Importer ou exporter des membres
Vous disposez de nombreux outils pour gérer les membres dans WooCommerce, mais vous pouvez également vous connecter à d'autres services, tels que l'importation d'une liste de membres dans un outil de messagerie. Memberships vous permet d'exporter des membres vers un fichier CSV pour que vous puissiez extraire des données sur les membres depuis WooCommerce vers d'autres outils.
Vous pouvez également importer des membres via fichier CSV pour ajouter de nouveaux abonnements, créer de nouveaux utilisateurs ou mettre à jour de manière groupée des membres existants en fusionnant votre fichier avec des données existantes.
Simplifier la communication avec les membres
Lorsque vous gérez un site d'adhésion, vous passez beaucoup de temps sur le service client et la gestion des membres. Nous avons essayé de rendre cela aussi simple que possible avec Memberships. Nous avons ajouté des « Notes d'adhésion » afin que vous puissiez suivre les informations sur les adhésions d'un client, ajouter vos propres notes en références et même communiquer facilement avec un membre en particulier en partageant une note avec lui par e-mail.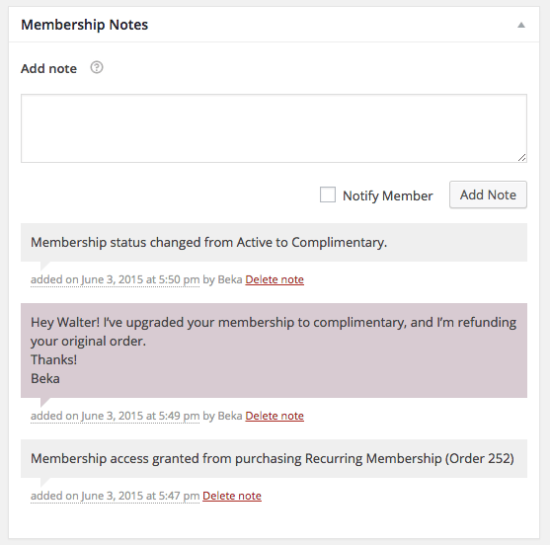 Vous pouvez également utiliser des e-mails de rappel d'expiration et de renouvellement pour informer les membres de la fin de leurs adhésions et les inviter à effectuer un renouvellement ou une mise à niveau.
Memberships + Subscriptions
Memberships est entièrement fonctionnel comme solution d'adhésion autonome, mais il fonctionne très bien avec la solution de paiements récurrents eCommerce la plus avancée disponible : WooCommerce Subscriptions.
Lorsque les deux extensions sont actives, Memberships peut exploiter certaines fonctionnalités de Subscriptions pour vous donner plus de flexibilité sur la facturation des adhésions (plus de détails dans notre documentation) :
Memberships peut utiliser la facturation récurrente (c.-à-d. paiements mensuels) pour l'adhésion plutôt qu'une durée définie (comme une année).
Memberships peut utiliser Subscriptions comme plan de paiement, mais contrôler la durée d'accès automatiquement pour prendre en charge les paiements échelonnés.
Des essais gratuits peuvent être utilisés pour l'adhésion via un abonnement.
La restriction et la diffusion au compte-gouttes du contenu peut inclure ou exclure des périodes d'essai gratuits, ce qui vous permet de contrôler le contenu disponible dans les essais.
Les membres peuvent interrompre leurs propres adhésions en suspendant un abonnement.
Les membres peuvent mettre à niveau ou rétrograder des adhésions en changeant un abonnement.
Les mises à niveau et les rétrogradations peuvent exploiter le paiement avec proratas de Subscriptions pour garantir l'exactitude des coûts d'adhésion.
Même si vous ne souhaitez pas utiliser la facturation récurrente, vous pouvez exploiter les autres fonctionnalités de Subscriptions en définissant la durée de l'abonnement sur un cycle de facturation afin de pouvoir bénéficier de mises à niveau et de rétrogradations ou de périodes d'essai.
Vendre des adhésions à des entreprises ou des groupes
Besoin de vendre des adhésions plutôt à des équipes, des entreprises ou des groupes ? Découvrez l'extension Teams for WooCommerce Memberships (achetée séparément). Cette extension s'ajoute à WooCommerce Memberships, ce qui vous permet de vendre l'accès à un groupe d'utilisateurs plutôt qu'à une seule personne.
Comment se lancer
Prêt à créer des adhésions pour vos clients ? Vous pouvez commencer en suivant ces étapes :
Achetez cette extension :).
Téléchargez et installez Memberships dans votre boutique WooCommerce.
Créez vos plans et membres d'adhésion.
Consultez notre documentation complète pour obtenir de l'aide sur la configuration.
C'est tout ! Installez-vous confortablement et profitez de votre site d'adhésion entièrement intégré !
Besoin d'une autre raison pour vous convaincre d'acheter ? Lorsque vous achetez une extension développée par SkyVerge, vous obtenez les extensions de qualité optimale pour votre boutique WooCommerce. Ayez l'esprit tranquille en sachant que, lorsque vous achetez nos produits, la performance de votre boutique est aussi importante pour nous qu'elle l'est pour vous.
---
Vous voulez faire un suivi avec les membres après l'achat ou contacter les visiteurs qui abandonnent leur panier avant d'acheter une adhésion ? Découvrez Jilt. Également développée par SkyVerge, Jilt facilite l'envoi d'e-mails de récupération de panier abandonné, de newsletters, et bien plus encore !