Treating existing customers with care is a key way to increase your bottom line. Repeat business can account for up to half of an online shop's orders, and brand loyalty helps sustain a store in slower times.
There are lots of ways to build trust with your clientele. One way — important but often overlooked — is giving them a powerful website search experience. Shoppers are busy; make finding the right products as easy as possible by letting them zip directly to what they need. Being able to skip menus and categories helps returning customers navigate your site quickly and increases their chances of purchasing.
WordPress includes a basic search box that works well for simple websites. But once you get serious about eCommerce, you need something more powerful — something that returns lightning fast results that are filterable, customizable, and relevant. That's where Jetpack Search comes in.
What customers want, fast
No matter the size of your shop, Jetpack Search is fast. And more importantly, accurate.
It indexes your entire product library in real time, so any changes or new items are picked up and included in search results within minutes. All the indexing information is stored offsite, so your store doesn't need extra storage space or processing power, no matter how many searches shoppers perform at once or how big your shop grows.
Once your products are indexed, Jetpack Search continues to learn and adapt to your clients' entries, leading to more accurate, relevant search results. Auto correct, synonym matching, and more enables the system to figure out what your clients really mean and deliver exactly what they want.
Fine tune results with filters
If Jetpack Search doesn't quite hit the mark the first time, shoppers can filter search results dynamically. Using links in the sidebar of your search results page, shoppers can zero in on products by category, tag, price, or product type. And don't worry about screen clutter: filters are only displayed if the search results actually contain multiple items meeting the criteria.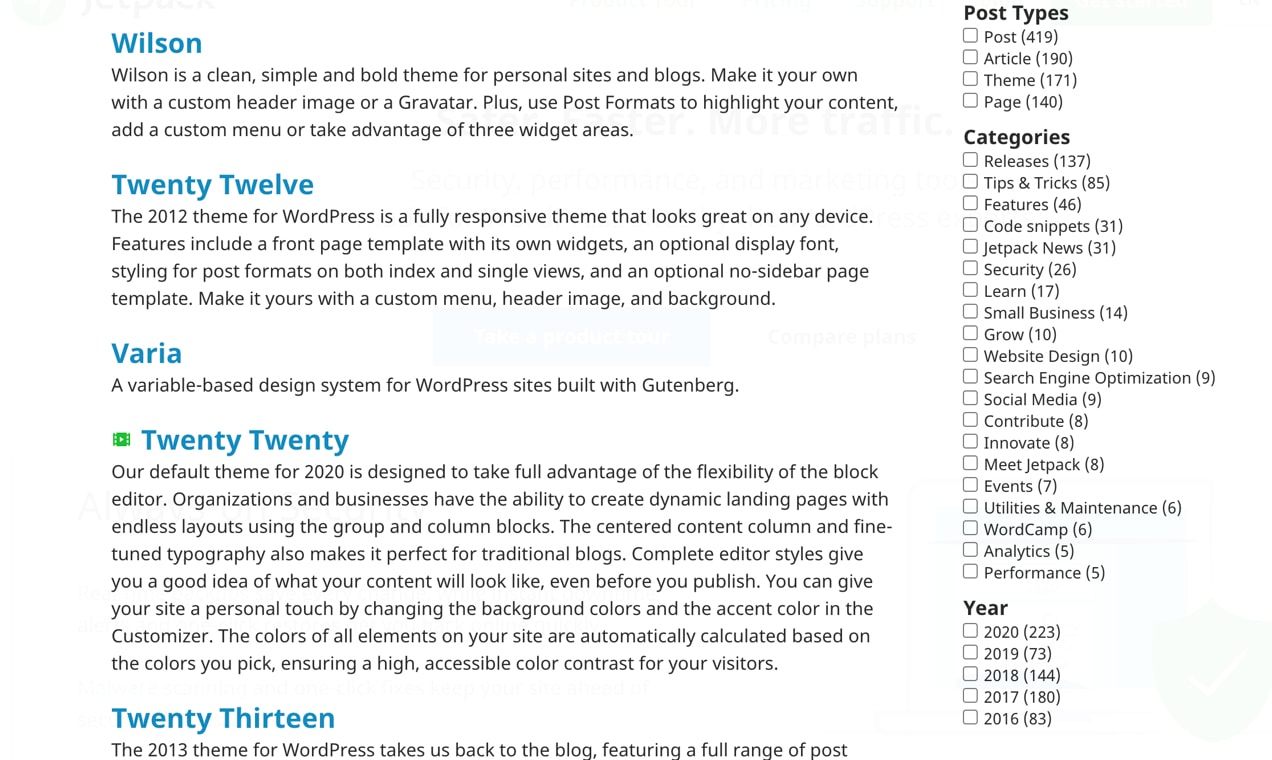 Pro Tip: To take filtering to the next level, create custom filters to pick out products based on meta information or taxonomies. A few lines of code can add filters that match your product structure and details. And, as always, it'll be fast, accurate, and fully scalable.
Promote bestsellers
Pair search and analytics to up sales: automatically boost top-selling products to the top of relevant search results to sell even more of them. Your newest products get top billing by default, but some custom code can bump your bestsellers to the top of search results to showcase the items your clients are most likely to purchase.
You can set up even more custom ordering for search results, too. Display categories at the top of the results, or remove them from searchability altogether. Highlight your more profitable items, at the top of search results. Use data from incoming Google searches to bump up the products that are the most common selections for those keywords.
How do you figure out which products and categories to feature? The new WooCommerce Admin panel — added in WooCommerce 4.0 — includes reports and details about where your sales are coming from, who's buying what, and which products are often purchased as a set. (And if you need even more data, consider the free WooCommerce Google Analytics extension.)
Customize search design
Maintain your branding with search results that match the design and layout of your site, or change the layout of each individual search result to display custom information about each product.
Take it a step farther by adding additional elements to your search pages. Consider including a sidebar with a new, featured product, adding a message letting them know about a current sale, or showcasing your most recent blog post. It'll encourage customers to spend more time on your site and turn them from casual shoppers to true fans.
Give customers exactly what they're looking for
Jetpack Search is packed with powerful features that are fully customizable. With code snippets, you can control just about every aspect of search. And if you're just looking for serious performance simply implemented, you can have all the essentials up and running in minutes.
With Jetpack search, you'll have a search tool that allows customers to find the products they need quickly and accurately so shoppers who know what they want — and have their wallets ready — have no barrier to buying.
Get started with Jetpack Search