Backing up your WooCommerce store can save you thousands in lost revenue, hours of labor, and a ton of grief.
Mistakes happen and sometimes things just go wrong. For an online store, a broken site quickly adds up to lost revenue, a damaged reputation, and high development costs.
But with the right solution, you can restore all of your work in a few minutes and be open for business before anyone notices you weren't.
Common reasons you need a backup
Every minute your store is offline, you lose sales. And the damage is more than just financial: you could hurt your reputation, send frustrated customers directly to a competitor, and lose the hard work you put into your site. But backups make sure every word, image, post, transaction, or any other change made to your site is saved in another place in case you need it later. Here are a few reasons you might need to restore your site from a backup:
1. Updates go sideways
One of the most common reasons a WordPress website breaks is a plugin update. This is more likely if you have custom code on your site, use a lot of third-party plugins, or haven't updated your theme or extensions in a while.
Your site could go offline entirely or, more likely, parts of it will no longer work properly. Having a backup allows you to painlessly restore your site back to the way it was before the update.
2. You try something new… and it doesn't quite work
An innocent mistake when editing your page design, adding functionality, or changing code can cause major headaches. With a backup, you can experiment with confidence. If something goes wrong, revert back to your most recent version.
3. Malware compromises your site
Big corporations aren't the only businesses that are attacked. Automated bots scour the web for weaknesses, and even small stores are at risk for injected malware or malicious code. Having a backup is the safest way to ensure you can restore your site to a clean version.
Our recommended tool: Jetpack Backup
Jetpack Backup downloads and restores backups of your site from specific moments in time. It acts as a time machine, allowing you to change an unfortunate piece of history in an instant.
If your website files are lost or compromised on your server, you can still access and restore backups, so you'll never lose a word, image, or sale.
Jetpack Backup isn't just a generic solution — it was made specifically for WordPress. It seamlessly integrates with your WordPress site and is supported by a team of WordPress experts.
Real-time backups
Jetpack Backup offers two timing options: daily backups (automatically performed once a day) and real-time backups (automatically performed every time your site changes).
Real-time backups are a game-changer for eCommerce stores. Why? You might make multiple sales, publish new products, create coupons, gain new subscribers, and update inventory in an hour. If backups are performed once a day, you could lose those updates, depending on when the backup happens.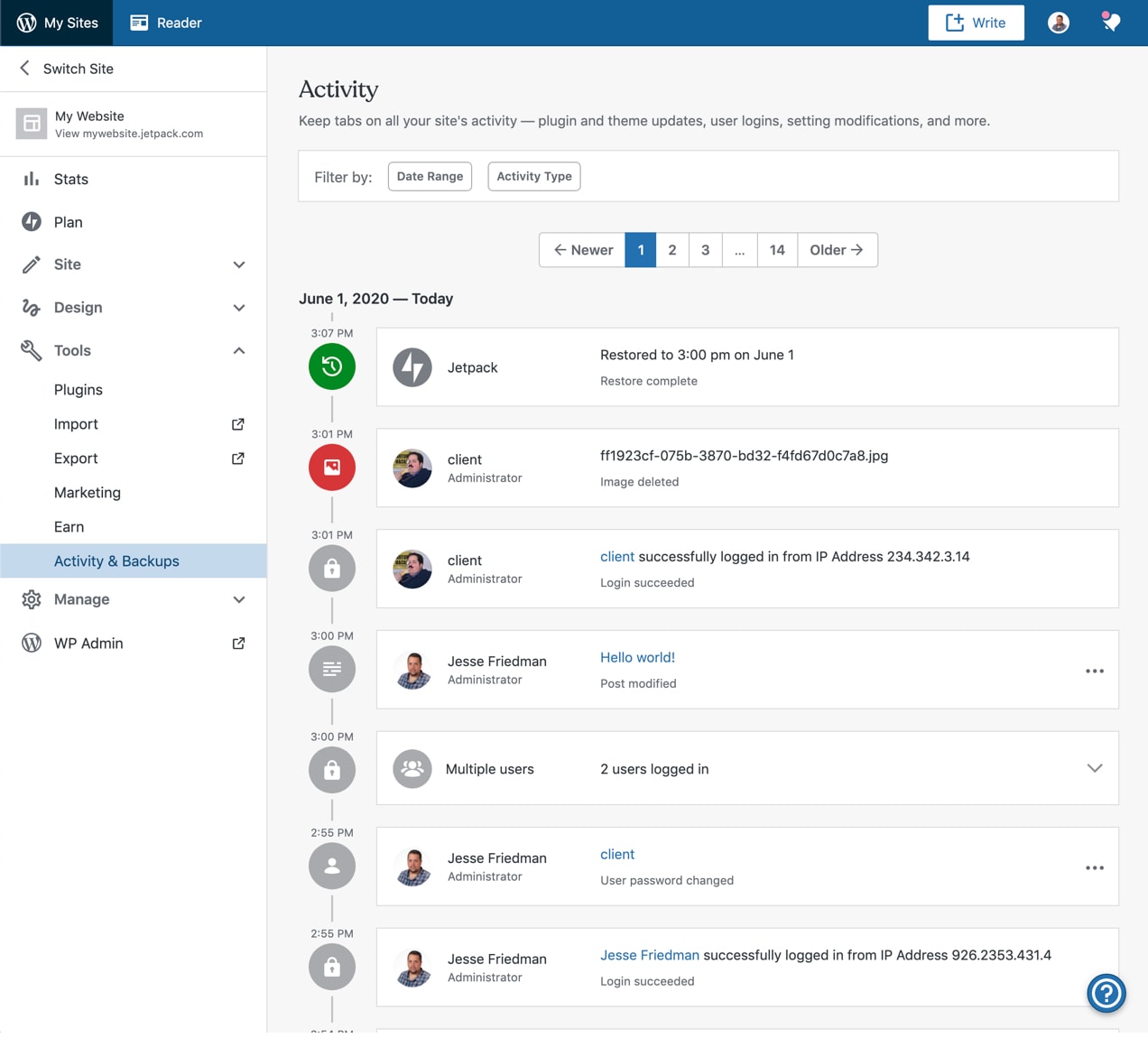 When you have real-time backups, you can use the activity log to find out exactly when your site went down, what action took place prior, who performed that action, and more. Then, restore your site to the version right before that action took place.
Off-site storage
Jetpack stores backups of your site on external servers that are separate from your hosting provider, so your data is still safe even if something happens to your server. You can restore your site from a backup even if your site is completely down or your server is compromised.
Redundancy
Jetpack stores your backups in multiple places: a data center in the US (which also houses WooCommerce.com and all the sites on WordPress.com) and a separate server at a different physical location. This means you have a backup of your backup — if anything happens to one set of data, you can still restore your site from the other.
Real-time, real-life support
If you ever need help, Jetpack support team members (called Happiness Engineers) are always available. The team is made up of top-notch experts on everything security-related — they're intimately familiar with Jetpack's many other security features like downtime monitoring, brute force attack protection, and malware scanning. In addition to helping with backups, they can provide guidance on tightening security to prevent future problems.
Super-fast restores from anywhere
Minimize the time your shop is down and restore with the click of a button — no development experience required! Be up and running again in minutes, not hours or days. You don't even need access to your computer. With the WordPress mobile app, you can restore your site from anywhere.
Choose a Jetpack Backup plan
There are two ways to enable Jetpack Backup:
Select a Jetpack plan that includes backups. The premium plan comes with daily backups, and the professional plan includes real-time backups (recommended for WooCommerce stores). You'll also benefit from a number of other powerful features to improve security, performance, design, and marketing.
Purchase Jetpack Backup à la carte. Purchase Jetpack Backup as a standalone product and choose between daily and real-time backups.
Once you've chosen a plan, follow the steps in the documentation to set up backups and confirm that they're working.
Protect your store
You've put a lot of work into growing your business, and that should never be compromised. Any store can be a target or suffer technical problems, so it's critical to protect yourself from downtime, data loss, and security threats. WIth real-time backups, top-notch support from true WordPress experts, and fast, one-click restores, Jetpack Backup is tailor-made for WooCommerce stores.