Get Shipping Rates via the Australia Post Shipping API
Do you need to ship products in and around Australia?
Australia Post for WooCommerce allows you to get shipping rates from Australia Post's Shipping API, which handles both domestic and international parcels.
The extension requires that your store use Australian Dollars for its currency and cm and kg for dimension and weight, but other units can be converted automatically. It can check availability and cost of the following services:
Domestic
International

Regular / Parcel Post

Small
Large
500g Satchel
1kg Satchel
3kg Satchel
5kg Satchel

Express Post
Courier Post

Express Post International
Express Courier International Platinum
Express Courier International
Registered Post International
Pack and Track International
Air Mail
Sea Mail
Note: The Australia Post Shipping Method is for standard calculations only via the API, and does
not support "Prepaid Parcel Post satchels" and their bulk discounts.
Other features:
Enable additional services, such as extra coverage and delivery confirmation
Enable/disable, edit the names of, and add costs to services
Pack items individually or use the built-in box packer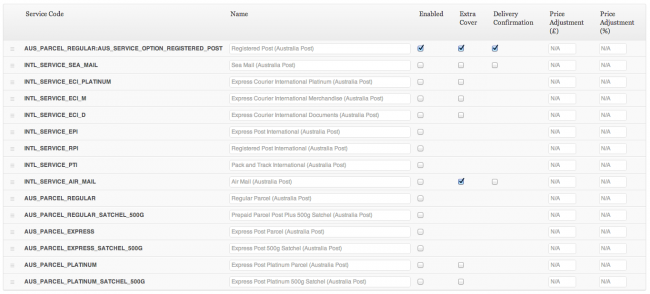 WooCommerce
The most customizable ecommerce platform for building your online business.