B2B eCommerce for WooCommerce
Developed by
Codup

Start selling wholesale with eCommerce features designed specifically for your B2B audience
B2B eCommerce for WooCommerce is an all-in-one wholesale suite for WooCommerce stores, packed with features that allow you to cater to your business buyers and their unique needs. 
One Plugin for all your Wholesale Needs
No need to install different plugins for every B2B functionality you need. B2B eCommerce is a complete wholesale suite that lets you create a wholesale store on WooCommerce and cater to the unique needs of business buyers. 
Packed with B2B specific features

that allow you to

deliver a frictionless buying experience to your B2B buyers. 
Fully compatible

with other B2B plugins by Codup and other popular plugins for WooCommerce

Receive regular updates

 

Easy-to-Use

– Fully-documented and no coding required!

Well-Optimized and Lightweight –

Developed with best practices, it will have minimal impact on your site's performance.
---
Add Request for Quote Functionality 
Pricing in wholesale businesses is almost never simple and straightforward. Instead of a single fixed price, it often involves custom quote requests from the buyer including details like quantity required, payment terms, and product customizations. 
B2B eCommerce for WooCommerce includes a powerful quotation engine that allows you to add a Request for Quote feature on your products. 
Streamlined Quotation Workflow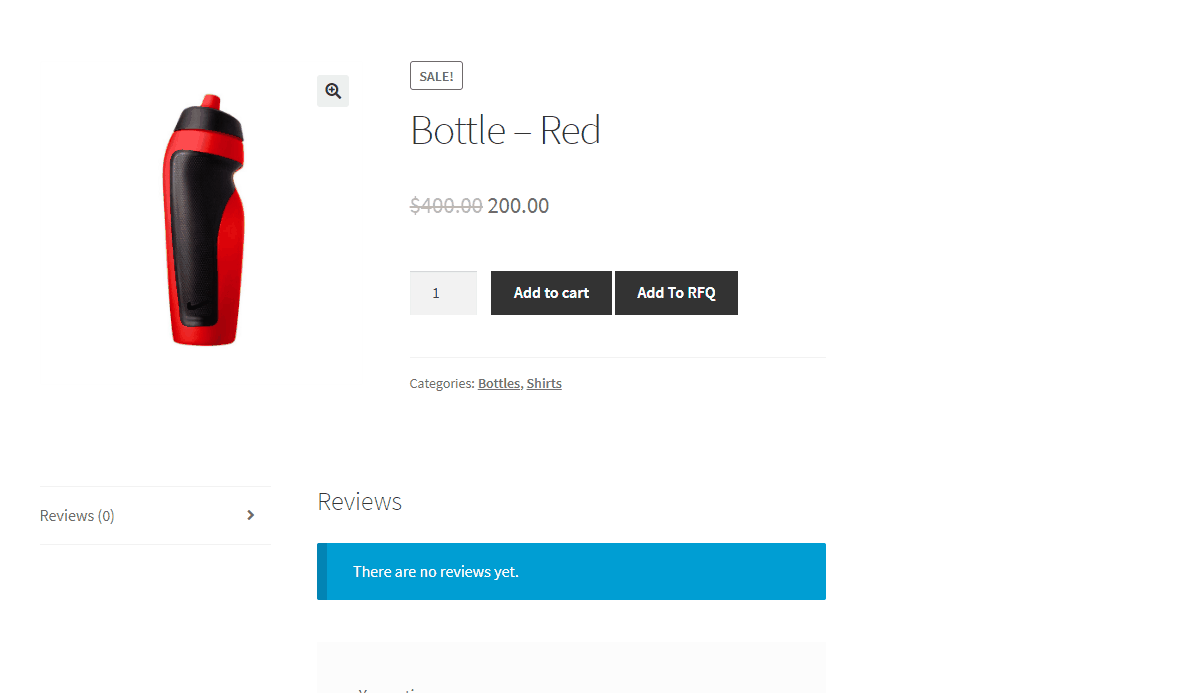 The feature, when enabled, triggers a quotation workflow that allows your buyers to communicate with you, ask for price quotations, request revisions, accept or reject the price quoted.
Dedicated Quotation Module on Admin Panel
A dedicated Quotation module on the WordPress admin panel allows store owners to view Quotation Requests and respond to them from one place.

Quotation Section on Customer's Account Dashboard
A section on the My Accounts dashboard allows customers to view their Quotation Requests, accept quotations, reject, or request revisions. The entire workflow allows streamlined and frictionless communication between customers and store admin.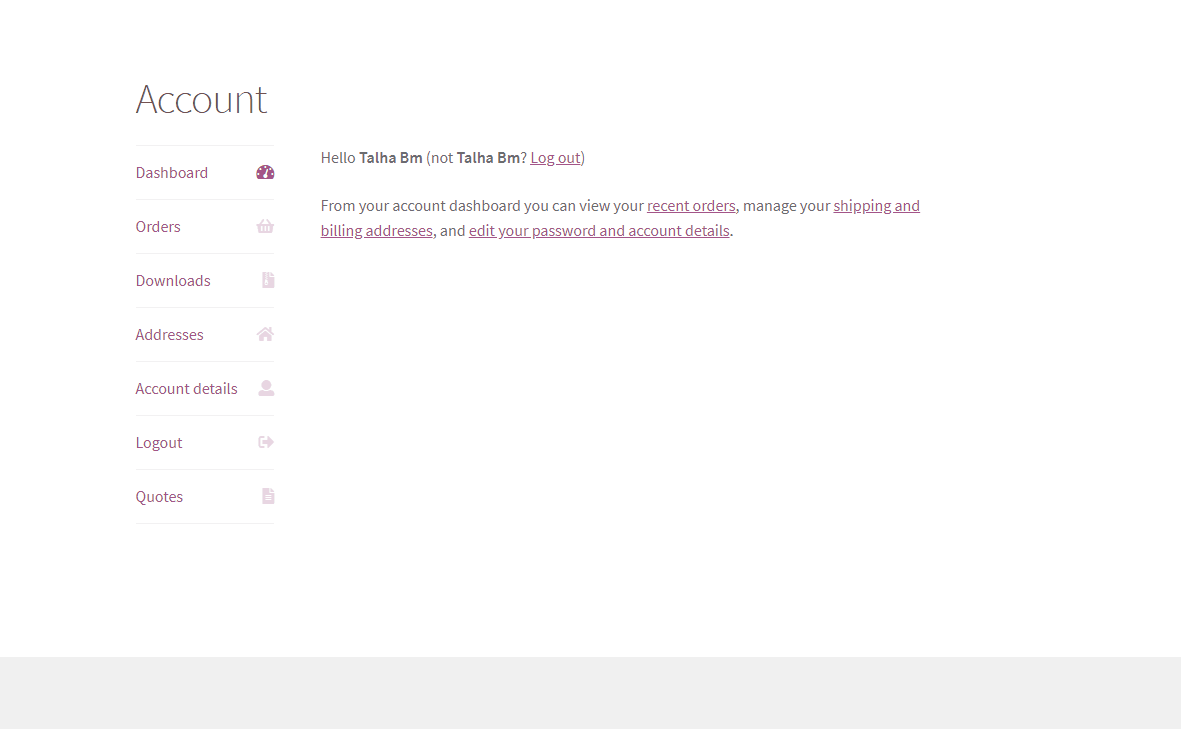 Features of RFQ:
Option to enable RFQ button – on global, product, and category level
Option to disable Add to Cart button – on global, product and category level
Option to change button labels to customize the interface
Triggers email notifications on every action related to RFQ
Separate quotes module on WordPress admin panel and customer account dashboard to store all information at one place and to streamline communication
Customers get the option to Accept, Reject or Request Revision when a quotation is received
On Accepting the quotation, the customer is redirected to the checkout page and the order is placed
Offer Customer-Level Pricing Structures
Each one of your B2B buyers is unique with different terms and requirements. As a wholesaler, you know it's not practical to quote a single, fixed price to all customers. 
Role-Based Pricing
B2B eCommerce for WooCommerce comes with a powerful role-based pricing feature that allows you to set different pricing rules for different customers. 
Create User Roles

A user role management module allows you to create custom user roles and assign those roles to individual customers that eventually allows you to apply role-based pricing. 
Global and Product Level Functionality

Role-Based Discounts can be enabled on both the global and product-level that allows you to create a great self-serviced buying experience for your wholesale customers. 
Main Features of Role-Based Discounts:
Option to enable and disable the functionality

Option to enable the functionality on a global level or product level

Both global level and product level discounts can be applied in which case product-level pricing rules are given higher priority

Create as many user roles as you want and assign the roles to individual customers

Apply percentage discounts based on user roles
Allow Wholesale Customers to Sign Up Easily 
In a wholesale business, it's important that the customer signs up with you so you can create a personalized shopping experience for them. 
Create a Sign-up Form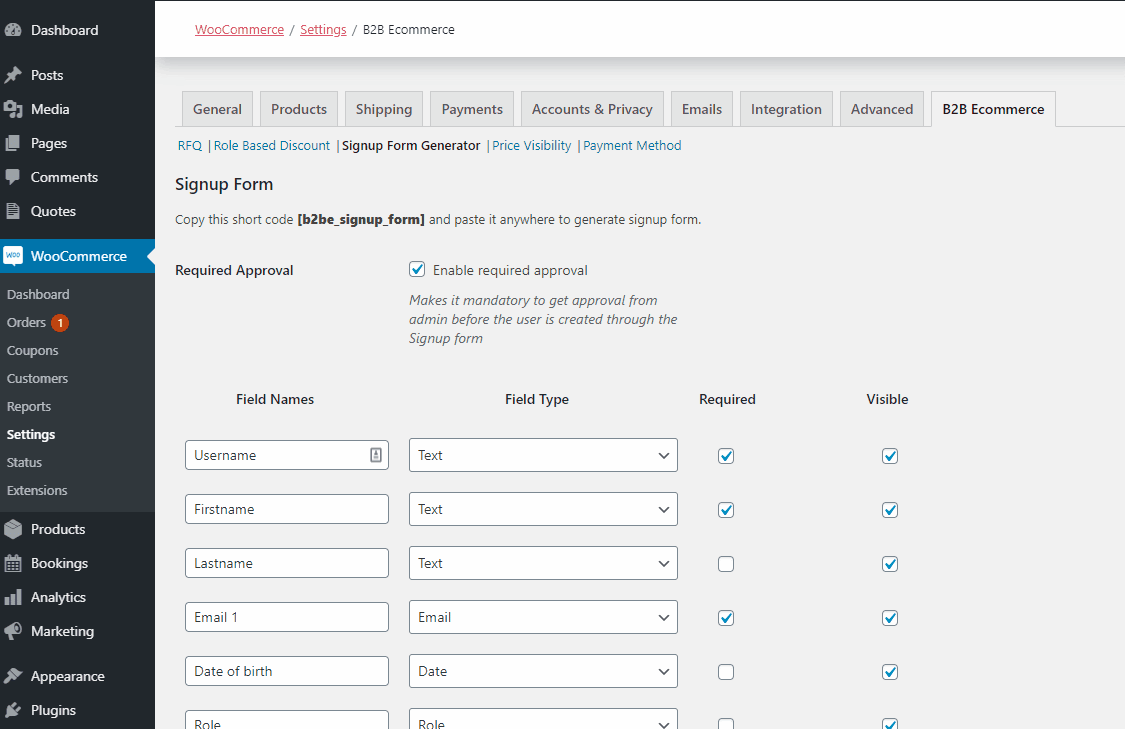 B2B eCommerce for WooCommerce allows you to easily embed a signup form on your store. Create a sign-up form by adding custom fields and embed it using a shortcode.
Require Approval 

If the Approval Required feature is enabled, the user will be approved by the admin before they are given an account on your store. 
Features of the Sign-Up Form Generator: 
Create custom fields to customize the sign-up form

Require approval so the user is approved by admin before getting an account

Embed easily on the store anywhere you want using a shortcode
Gate Pricing Until The Customer Logs In
Most wholesale businesses need to make sure only their customers see their prices – and also, only the prices that are pre-negotiated for them.
Hide Catalogue Prices for Non-Logged in Audience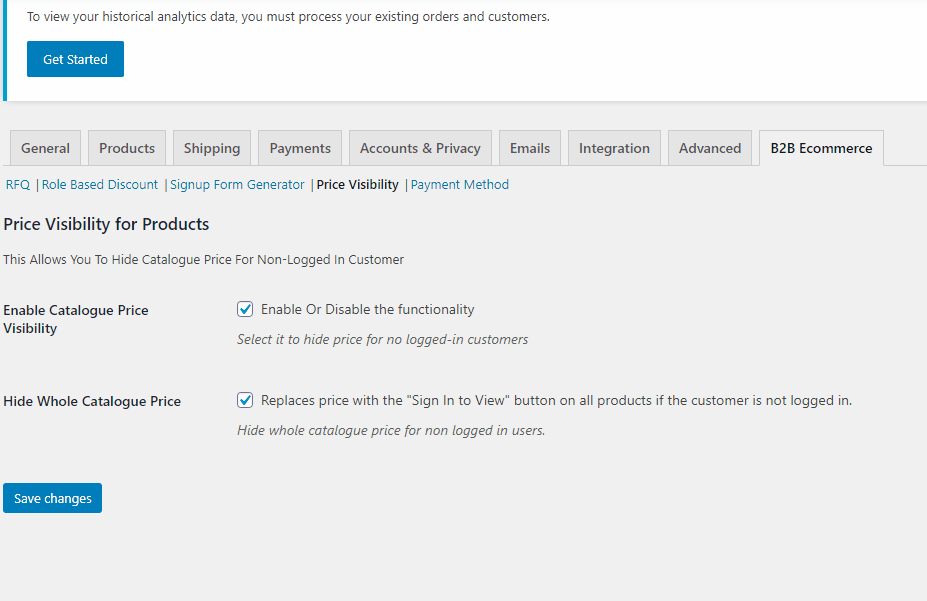 B2B eCommerce for WooCommerce allows you to hide catalog prices until the customer logs in. You can hide prices for specific categories, products, or the whole catalog. You can even hide selected pages for non-logged-in customers. 
Features of Catalogue Price Visibility:
Option to enable or disable the functionality

Hide catalog prices for the whole catalog, specific categories or specific products for non-logged-in users

Hide selected pages for non-logged-in audience
Add Custom Payment Methods for Individual Customers
Most buyers in a wholesale business have special payment contracts and terms like net 30, net 60, etc. 
B2B eCommerce for WooCommerce allows you to create custom payment methods and enable those methods for individual customers so that those buyers can select the terms they have with your business during the checkout process.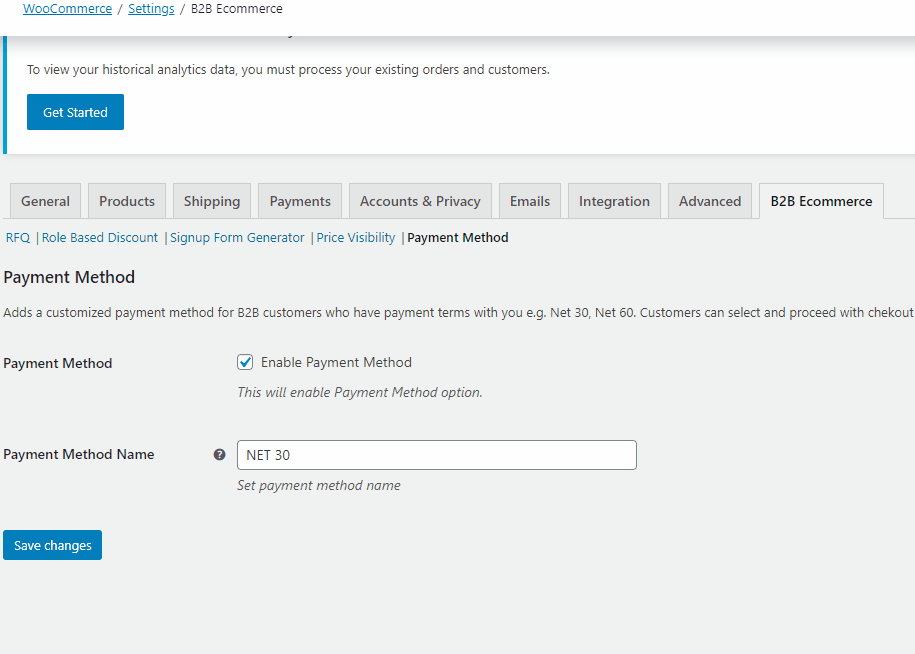 Features of Payment Terms: 
Option to enable or disable the functionality

Include as many custom payment methods with customized labels

Enable the custom payment method for individual customers
Get the B2B eCommerce for WooCommerce plugin now and deliver a self-service, consumer-like experience your buyers will surely enjoy!