Increase Security with Biometric Logins
The Biometric Login for WooCommerce plugin allows users to create biometric identities for swift and secure logins to your store. Powered by WebAuthn technology and only support HTTPS enable sites, the plugin provides an advanced mechanism for authenticating users by their biometric details rather than the obsolete method of entering login IDs and passwords.
With the help of a USD Authenticator or fingerprint recognition device, users will be able to register with their unique identities and login fast. It helps you prevent phishing attacks and adds another layer of security to your valuable data. You can display the biometric login above or below the default WooCommerce login. You can also customize the text of different buttons it creates for clarity. You can restrict the functionality to users with specific roles. Users can view the registration history to delete any unauthorized registrations or add new ones.
Features
Add biometric login capability to simplify your UX
Biometric login backed by WebAuthn Technology
Display it before or after the WooCommerce login
Customize biometric button text and description
Authenticate biometric identity by password
Restrict by user roles
Display registration history to users
Users can add new or delete previous registrations
Add biometrics to simplify user logins
Improve the shopper experience with simplified biometric registration and login. The plugin is powered by WebAuthn technology to integrate the advanced login mechanism.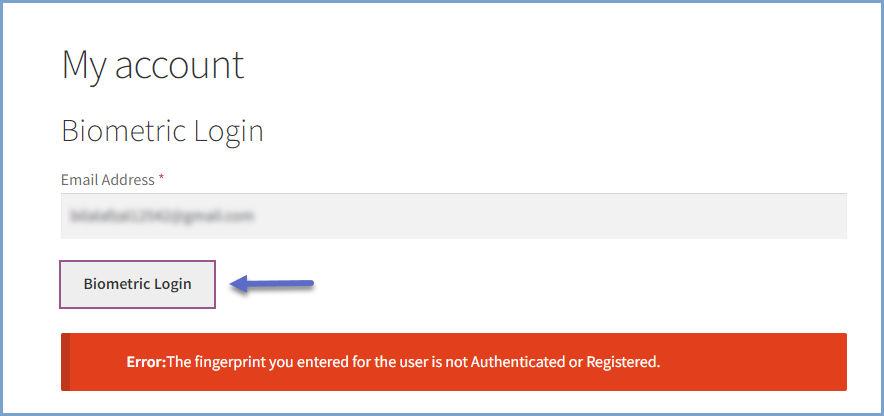 Place it before or after the WooCommerce login
Choose to display the biometric login above or below the default WooCommerce login.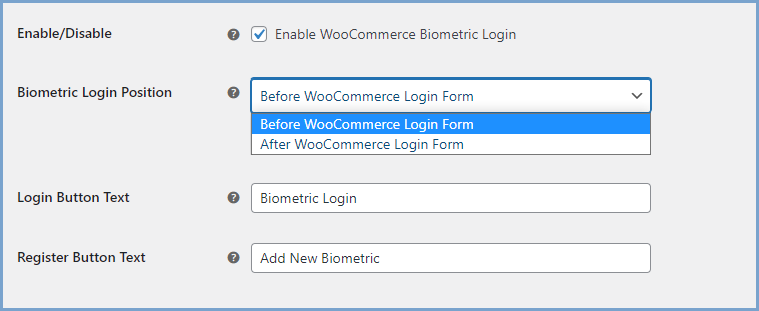 Customize biometric buttons
You can replace the text of various biometric buttons to make it easier for users to understand the purpose of these options.
Biometric login
Biometric registration
Descriptions of biometric registration

Authenticate biometrics with passwords
Implement a security check of biometric registrations by enabling password authentication. Biometric identities will only be created after password verifications.

Restrict biometrics to specific users
By restricting biometric login functionality to specific user roles, you can limit the benefit to a specified user group.
Show registration history to users
The plugin shows biometric registration histories to users in their accounts. They can view the time and date of registration. They can delete any unauthorized biometric registrations and create new ones.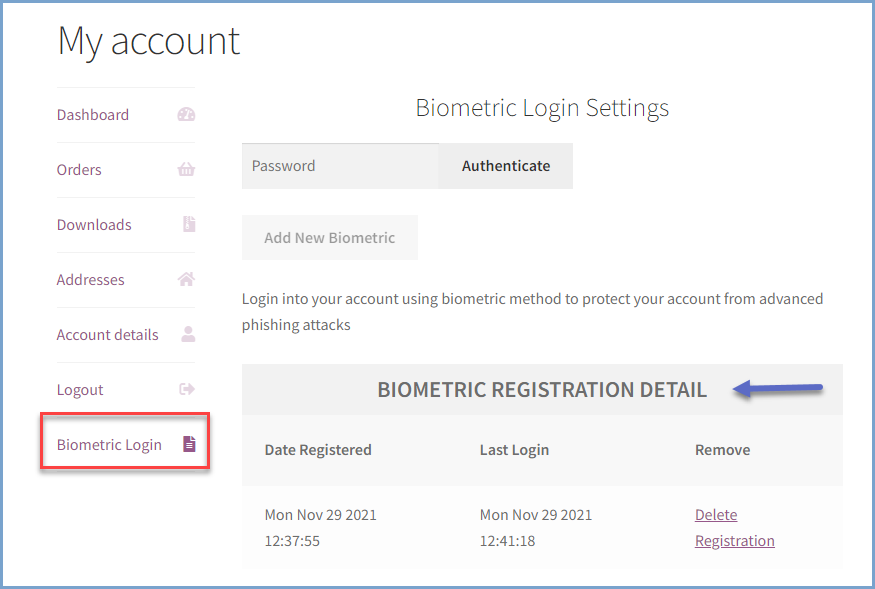 Requirements
Minimum PHP version: 7.1