Schedule sales, update products, subscriptions and variations in bulk!
Need an easy way to update your products in bulk? Or an easy way to handle product variations? Frequently setting up sales? Bulk Table Editor does this tasks and many more, and the editor does all of this in bulk operations for you. The editor list common product types such as; simple, variable, external and subscriptions (including variable).
In short, you can use this extension to set up sales, edit prices, modify stock, easy do bulk updates, generate SKUs, product tagging, and much more. The editor also supports custom fields like Wholesale, Name your price, Vendors, and Cost of goods.
Bulk Table Editor comes with two editors, one for prices, sales, stock and so, the second table (other values) is for other values like SKUs, tags, statuses and measurements. In this table you can also easily add, update and delete featured images on your products / variations. 
Key features in Bulk Table Editor is:
Easy bulk:

Update products and variations
Set up sales (including date and time)
Update stock and prices
Generate SKUs
Add and manage tags
Set measurements, featured images and much more

Filter and export functions
Integrations: Cost & Reports, Product Vendors, Name Your Price, Cost of goods and more
Language support: English, French, Spanish, German and Norwegian
*See extended feature list in the bottom of this page!
Easy Access to the bulk functions!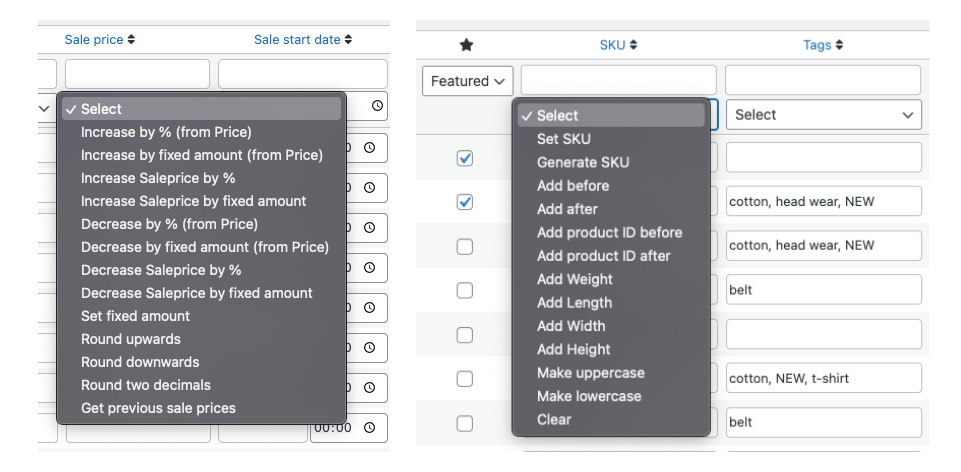 The bulk function menu is easy to use; start by setting a value then select which bulk function you would like to do. Sale price, for example, is based off of regular price when it comes to calculations (20% off would mean a reduction in price of 20% from the base value). Stock and overall price change are also based on their current values. "Set fixed pricing" is used when there are null values or when a selling price needs to be set I.e a price like 9.99. The round function lets your round your prices up or down to the logical decimal i.e 19.55 to 19.60. A function to get your previous sale prices is also available in the bulk function for Sale Price, this makes it easy to reuse sale prices.
Integrations
If using a price or numeric field from another extension, like Cost of goods, Cost & Reports or Wholesale, Bulk Table Editor has a custom field to set up and add to your field list. Once you've added a custom field you can easily apply bulk updates to this field the same you would the price or sale price columns. Several integrations can be easily done using the built-in dropdown box.
Bulk Table Editor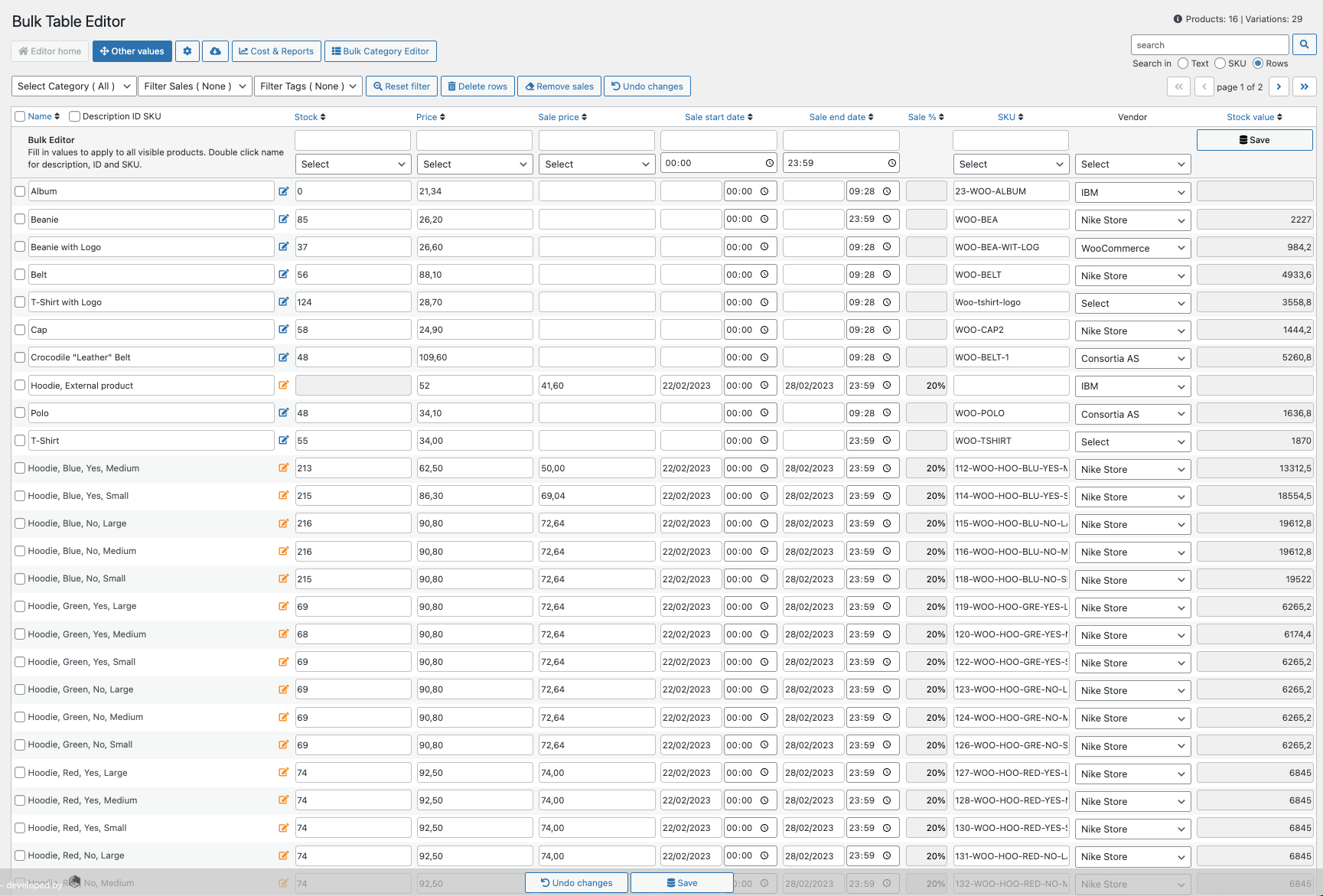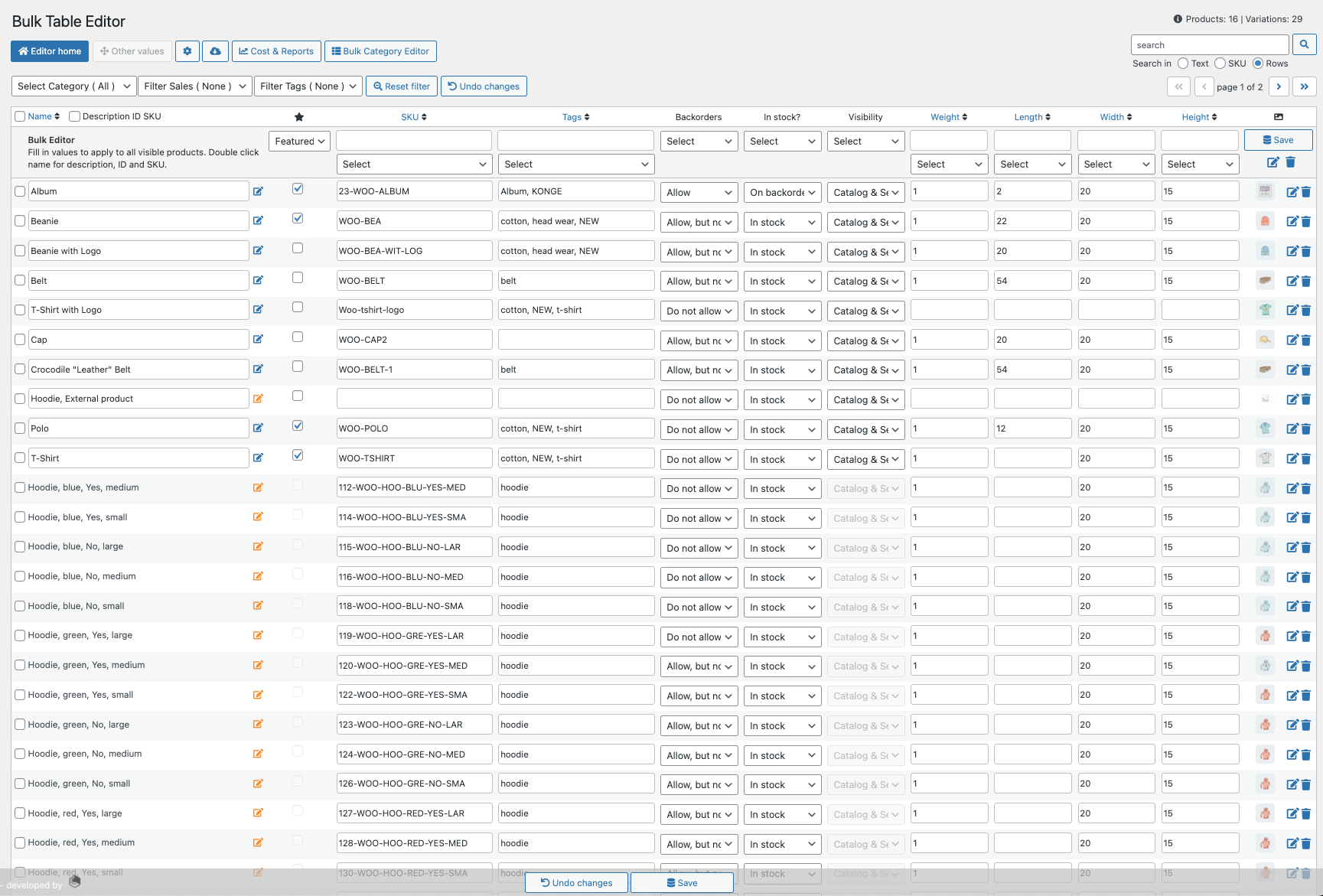 Example: How to set up a sale
If you own a clothing store and want to create a new T-shirt sale, simply choose the category "T-shirts" and enter a value for the sale price in the bulk function. Choose decrease in percent from the dropdown box, then enter a sale value of 20%. Bulk Table Editor will then compute a 20% discount based on your current product pricing and apply it to all products in that category. If you want to round your price later, simply utilize the bulk function and choose from the available rounding options. A rounding error of two decimals, for example, will change a price from 19.75 to 19.80.
After that, you can decide when the sale will begin and conclude. Simply use the bulk methods to select the dates for both the start and end dates. The rows are then automatically filled in by Bulk Table Editor. If you want, you can set a sale start and finish time. You can uncheck certain products and then click the "save all" button if you don't want them to be included. The sale percent (sale percent) column displays the percentage discount applied to your current sale.
That's all — your sale is now set up and ready to launch on the start date you choose.
Recurring Sales

Each time you create a sale, the sales price will be saved in a historical field per product / variation. When a sale is over and prices and sale date (s) are deleted, you can easily set up a new sale with the previous sale prices. A bulk function on sale price (above image) makes it quick to set up your recurring sales. 

Sales prices is equal to your previous sale, just fill the new dates and your have a new sale running.
Hide variables
Because visibility cannot be used to hide product variables, you'll need another method, and Bulk Table Editor has one. The price will be saved in a historical field each time you change products. This function was created so that you can hide prices, i.e. for variables, and then use the get previous price function to make them visible again (bulk function). This function is similar to the one for recurring sales in that it works in a variety of ways.
Description, SKU and ID
To read and update the description, ID, and SKU for all products and variations, choose the show description checkbox. To update a single product or variation, simply double-click on the product name (including variations) to reveal the extra information. Double-click it to reveal it, or use the X icon to the right of the description to hide it again. You can produce SKUs in the Other values table as well.
Key features
Bulk updates stock, price, sale price, sale start date, and sale end date.
Bulk set fixed price and sales price.
Bulk set sale start and end time
Bulk get previous sale prices
Bulk get previous price
Bulk clear price
Undo changes
Reset combined sale and tags filter  NEW
Bulk round prices upwards, downwards and to logical decimals like 19.70.
Bulk clear sales.
Bulk delete products.
Bulk update featured products, SKU, tags, backorders, stock status, weight, length, width, and height.
Bulk update product visibility
Easy to understand progress bar when saving new products.
SKU generation and other functions to create unique SKUs on products and variations. Option to have SKU on Editor home.

Option to set SKU generation length
Option to set SKU delimiter ( – or . )

Column that shows sales by percent.
Show description, ID and SKU (using show description or double click name) NEW
Option in settings to disable description (for increased performance when large datasets) NEW
Counter for products and variations in the table
Category selector.
Sale filter
Tags filter
Table editor for single product values, including name.
Option in settings for filter out products based on status: publish, draft, pending and private NEW
Calculates stock value per product based on total stock value.
Featured product image

Set / update and delete (per row)
Magnifier on product images (mouse over) – click to change
Bulk set and delete images NEW

Set or change product / variation image (in other values table) NEW
Download products (csv file)
Search and filter function.

Row search using name and/or price (home)
Row search using name and/or SKUs (other values)
Row search remember and filter automatically on pagination

Supports unique products and variations.
Supports subscriptions and variations.
Users roles types: Shop manager and administrator.
Supports multi-site network setup.
Easy 3rd party integrations.
Easy to translate (POT file). Including languages:

English
Spanish
French
German
Norwegian
WooCommerce
The most customizable ecommerce platform for building your online business.