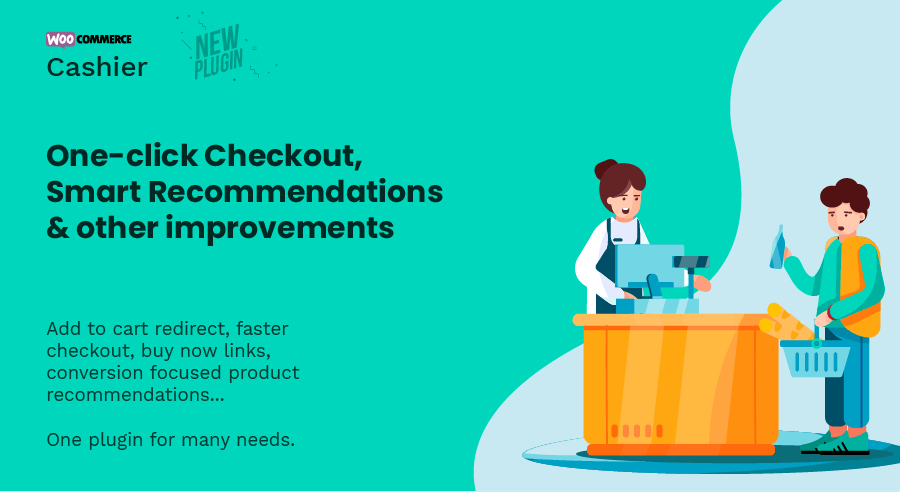 Get faster checkout and better product recommendations for up-sells, cross-sells, and related products. Cashier is a single plugin for all major customizations in the cart/checkout flow for WooCommerce.
---
Cashier for WooCommerce optimizes the entire checkout funnel in WooCommerce — including the cart page, checkout page, order complete page, product recommendations and many other enhancements.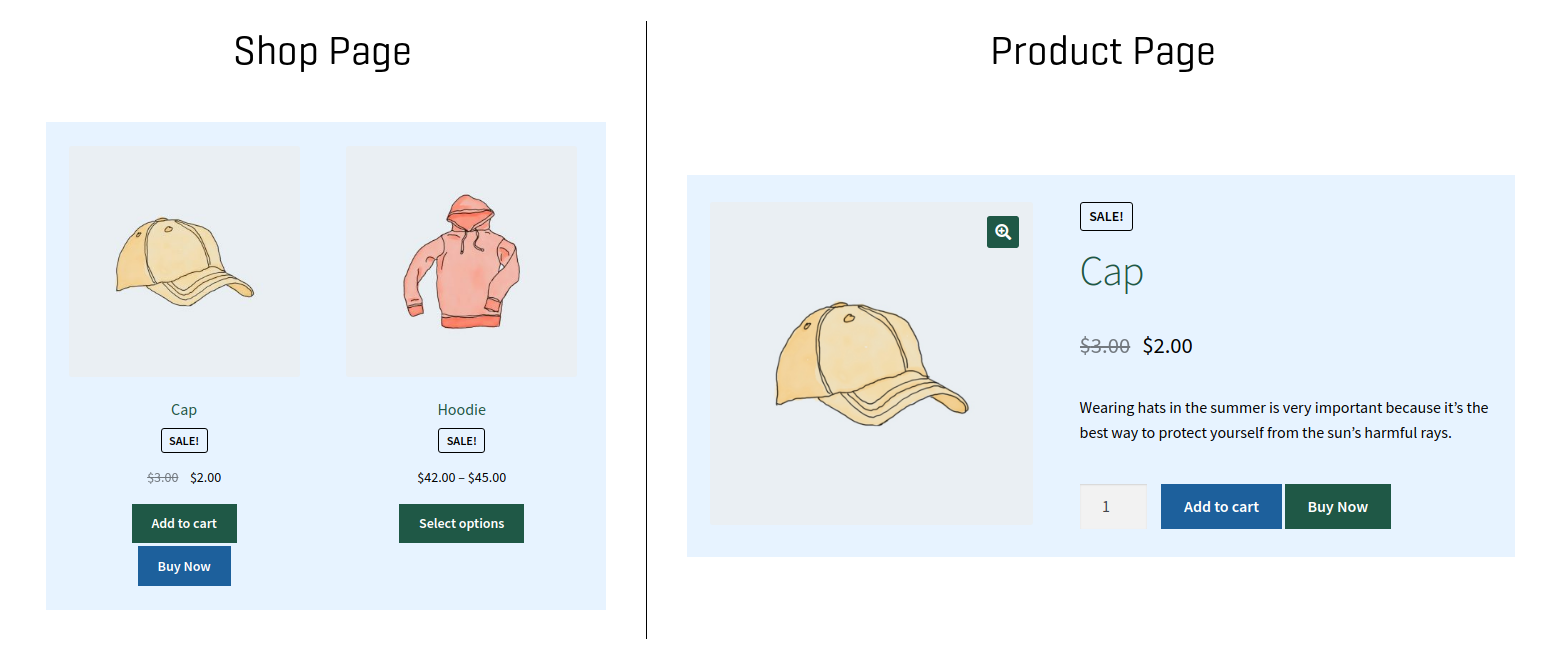 ---
One-click purchase and direct checkout with Buy Now buttons
Use Buy Now buttons to skip cart, checkout and payment steps. Complete the order in one-click. This significantly reduces abandonment rates – especially for digital products, downloadables and subscriptions.
Cashier can auto-fill billing and shipping information from a customer's previous order, pick up their last used payment method, and redirect to the payment gateway to complete the purchase.
One-click checkout works with Stripe, Braintree, Authorize.net, PayPal standard, Direct Bank Transfer, Cash on Delivery and Cheque Payments – for customers with at least one previous order. No cart, no checkout screens. Just direct order placement and automatic payment.
Add to Cart Redirect, URL Coupons and more with Buy Now links: Create special buy now links and apply a coupon, pre-select shipping method, plus redirect to any page after adding an item to the cart – automatically.
Enable Buy Now based on product quantity. Set a min-max quantity for each product and allow direct checkout on click of Buy Now link. Minimum quantity encourages customers to buy more. Maximum quantity cap helps avoid going out of stock and allows more customers to buy products.
Cashier gracefully falls back, and waits for customer inputs if it cannot complete any step during checkout on its own.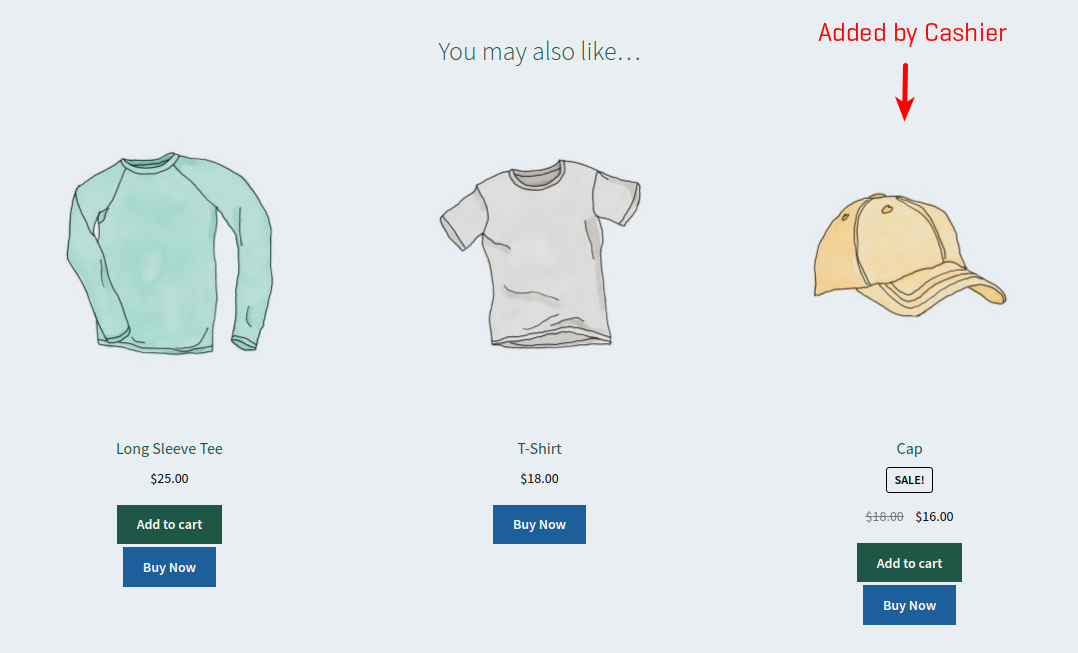 ---
Better upsell, cross-sell and related product recommendations
Cashier can automatically recommend "frequently bought together" items. If needed, Cashier will even pick up other products from the same category and recommend cross sells.
You can run this on complete auto-pilot, by just activating upsell, cross-sell and related product recommendations blocks within WooCommerce. When you want to add your own upsells, just add them to the WooCommerce product management screen.
---
Side Cart for easy access to cart from anywhere
A slide out panel / floating cart panel that allows customers to review their cart items and update them without actually going to the cart page.
No configuration or settings required. Simple Enable or Disable the option as and when needed.
Customers can easily add or remove products, update quantities directly from the side cart.
Customers can also apply a coupon
Accessible from all website pages except checkout
---
Redirect to checkout or other pages using Add to Cart links
Cashier provides the add to cart redirect functionality using which you can redirect users immediately when a product is added to the cart. Redirect to checkout, terms and conditions, blog post, custom URL…any page you wish to.
This saves additional page load times, reduces checkout steps, improves the customer experience, giving a boost to conversions.
You can easily configure add to cart redirect at individual product variation level and product level. Simply enter the desired URL and that's all. Support for the global level will be added soon.
---
Display Cart Notices to increase average order value
Encourage your customer to add more items by displaying a cart notice that offers free shipping.
Based on what you have set as the minimum value to qualify for free shipping, the plugin will display the cart notice to spend more and qualify the order for free shipping. A great tactic to nudge visitors to buy more or get related products.
Note – Other cart notices based on products, categories, urgency will be added soon.
---
Set Min-Max quantity for each product
Minimum quantity encourages customers to buy more. Maximum quantity cap helps avoid going out of stock and allows more customers to buy your products.
You can also enable Buy Now links for each product based on quantity and provide a direct checkout
---
Summary: here's what you get
Quicker checkout, one-click checkout, Buy Now links.
Enable Buy Now for your entire store, per product, or per product category.
Share Buy Now links via email, social media, or embed them anywhere on your website. Embed coupons, choose shipping methods with Buy Now links.
Redirect to any page after adding a product to cart using Buy Now links.
Smarter related product recommendations — based on products frequently bought together, items from the same category, and other algorithms.
Redirect users to the checkout page, other pages or custom URLs using Add to Cart links
Show Cart Notice to nudge users to buy more and qualify their order for free shipping
Set min-max product quantity and enable direct checkout using Buy Now links for that product quantity
Side cart – Allow customers to update cart items without sending them to the cart page.
Compatible with popular WooCommerce plugins like Subscriptions.
Ongoing enhancements, new features, and updates.
Upcoming enhancements
Cashier aims to enhance the entire cart and checkout flow. We will add features regularly and keep the plugin up to date with WooCommerce. Here are some things on the roadmap.
Cost of Goods Sold – Easily track total profit and cost of goods for simple and variable products. Costs are automatically calculated on checkout.
One Page Checkout – Offer the entire purchase process on a single page – product selection and checkout form.
Updating variations in the cart itself
Checkout field editor
Conversion optimized checkout page templates
Better checkout is a worthwhile investment…
Every interaction during checkout matters. When you optimize your order process, abandonment rates come down, sales pick up, and your business scales. If you want a solid checkout optimizer plugin, an all-in-one solution, it's Cashier for WooCommerce!
Buy with confidence! 👍👍👍
---
Need any more reasons to buy? Cashier for WooCommerce is built by StoreApps, a leading WooCommerce.com Extension developer. You can trust you're getting high-quality code backed with first-class support.
Check out our other best-selling and popular plugins on WooCommerce.
---