Show / Hide available payment methods based on a customer's billing or shipping address, or order total. Increase conversions while reducing fraud and payment processing fees.
---
Conditional Payment Gateways = Lower Risk, Higher Sales
Not all payment gateways are equal. Some work better for fraud reduction, some have lower fees, and some have higher acceptance from customers.
Conditional Payment Methods for WooCommerce adds restriction rules for available payment gateways during checkout. You can hide (or show) gateways by the customer's order total or billing or shipping location. And you can set up all conditions with a simple screen within WooCommerce, so there's no need to hire a developer or work with custom code.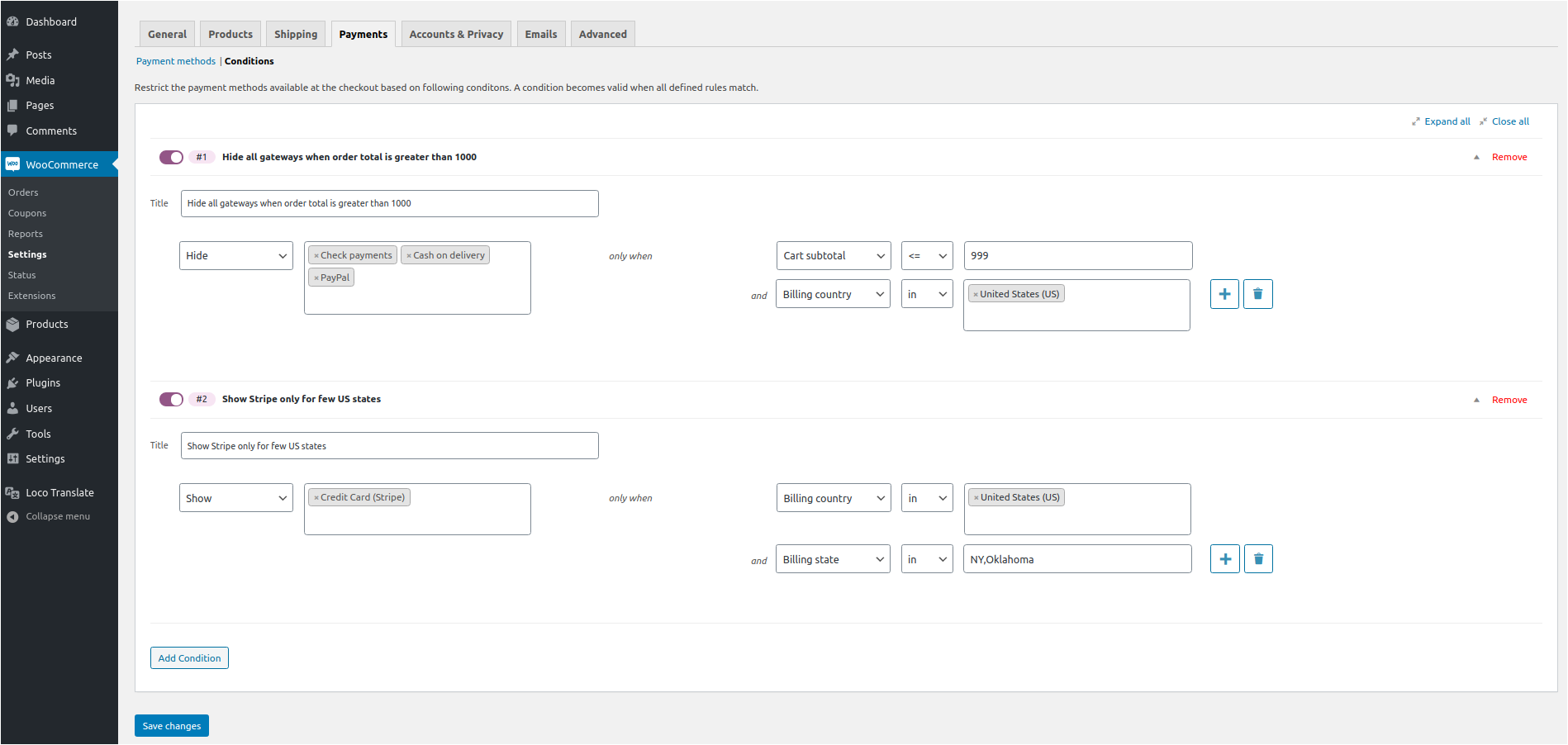 Why enable conditional payment methods?
Quite a few reasons…
Show gateways people know and trust: PayPal, Stripe… When people see them, they feel safe and secure — and don't abandon their carts.
Local payment methods increase conversion: Offering a payment gateway popular in specific geography significantly increases conversion because it makes potential customers are more comfortable, but showing this gateway to all other customers might be confusing counterproductive. Making it conditional gives you all the benefits without the confusion.
Lower fees for you: Some gateways charge high fees for international transactions. Using a direct bank transfer may be better for higher value orders, lowering your costs and increasing your profits.
Minimize frauds, refunds, and chargebacks: Certain locations have higher fraud rates, and some payment methods make it easier for customers to dispute transactions than others, costing you much more than the original order money. Disabling payment methods that are problematic in certain situations can lower your risk.
Choices, but not overwhelm: It makes sense to offer customers different options for payment, but showing them every possible option during checkout can increase confusion — and therefore abandonment. Conditionally showing relevant payment methods solves this problem.
Given that 12% of customers will abandon their cart if the checkout process is too complicated, choosing the wrong payment gateway can hurt your sales numbers – Chris Lema
Easy + Powerful
Simple setup, easy to use. No coding or customization required.
Restrict payment methods based on customer's billing or shipping address: country, state, city and postal code.
Show / hide payment methods based on cart order total.
More Rule Types Coming Soon
Restrict based on products in cart – recurring subscriptions / virtual products etc.
Conditional rules based on customer's "geolocation" based on IP address
What else would you like us to add? Let us know!
---
Conditional Payment Methods is made by one of the most reputed WooCommerce extension development teams — StoreApps. You can trust the product, and know you'll get excellent support and help when required.
Check out our other best-selling and popular plugins on WooCommerce.
---