Custom My Account Dashboard for WooCommerce
Developed by Extendons

Turn default WooCommerce my account page into the modern dashboard to enhance the customer experience. You can make users' account page fancy by enabling widgets for orders, wish list, rewards points, downloads, and store credit. You can display a Quick Access section to help users visit any tab in account with a click. Display recent orders, wish-list products, downloaded products, etc. in a table, so that customers can easily view their recent activities. It also displays users' profile summary in a widget. 

Features 
Customize my account page for store users

Enable widgets for orders, downloads, wish-list & more

Quick Access: Display large icons for links

Display avatar & user info in the attractive widget

Showcase recent downloads, orders, etc. in table

Create new endpoints with respect to user roles

Multiple layouts for My Account page menu
Customize My Account Pages for Better UX
It helps you to enrich user account pages with easy to use links.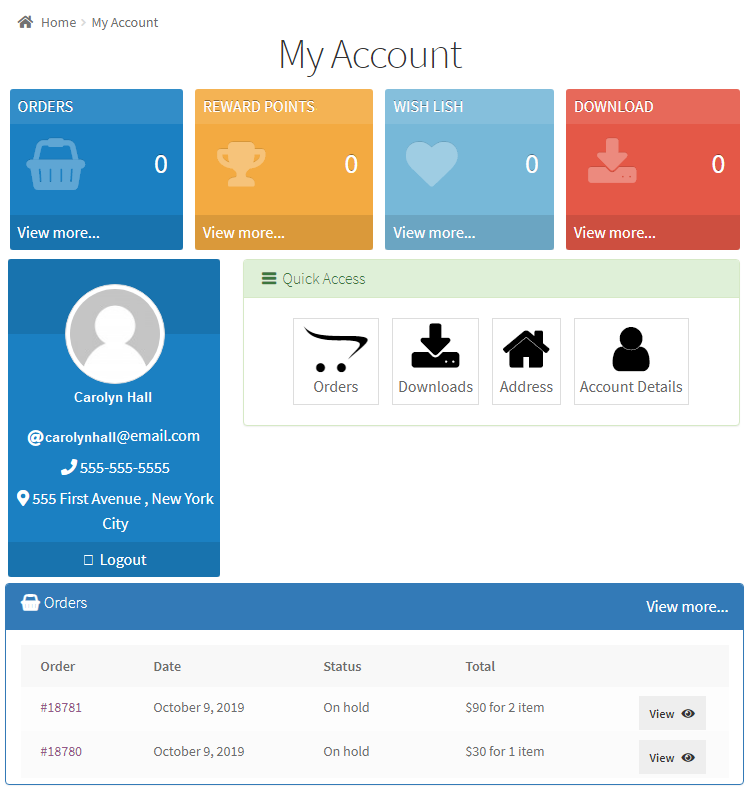 Display 'My Account' Tabs in Widgets / Cards
You can display orders, downloads, wishlist, reward points and more in attractive cards/widgets.
Enable Quick Access Section for Account Links
Facilitate users with quick access to different account links by representing them with icons. With this, users can visit any link with a click.

Display Recent Orders, Downloads, & more in Tables
With custom my account dashboard for WooCommerce plugin, you can display the recent orders, downloads, wish list, and more in a table.

Display Profile Info in Attractive Widget
You can display customers' profile info in an attractive widget and you can customize it as well.
Create Additional Endpoints for My Account Page
With custom My Account page plugin, you can create new endpoints based on user-roles. You can edit the content of endpoints with WYSIWYG editor and include the links as well.
Display New Dashboard in Default My Account Page using Shortcode
You can display the revamped 'My Account' dashboard in the default dashboard tab by just copying the shortcode i.e. [account_dashboard]