Allow Customers to Request Order Cancellations
Build trust among customers by allowing them to cancel orders they made by mistake with WooCommerce cancel order.
Customer Order Cancellation allows you to approve or decline cancellation requests. You can restrict order cancellations to specific order statuses, user roles, and products. You can charge an order cancellation fee and decide whether to give full or partial refunds.
Customers are required to submit a reason for canceling their orders. This information can help you decide whether to approve requests and give you data on customer behavior. Find out if they changed their minds due to an error, price, quality, or other reasons.
Features
Allows customers to cancel orders
Auto or manual approval of order cancellation requests
Option to charge an order cancellation fee
Option to pay full or partial refunds for a canceled order
Ask customers for a reason for their order cancellations
Provide a list of cancellation reasons for customers to select
Inform customers and store owners about cancellations
Hide cancel button or display it to specific users
Allows order cancellations for selected products and categories
Enable the Cancel Order button for selected statuses only
Allows customers to order again with the reordering button
Hide the Cancel Order button after a specific time
Allow customers to cancel orders
WooCommerce order cancel for customers enables admin to allow customers to cancel orders and get refunds, or reorder with the exact product or its variation, and ask for customizations rather than getting an item they won't like.
Restrict order cancellation to specific users
The plugin allows you to restrict cancellations to users with specific roles. For example, VIP customers can revoke orders while subscribers cannot.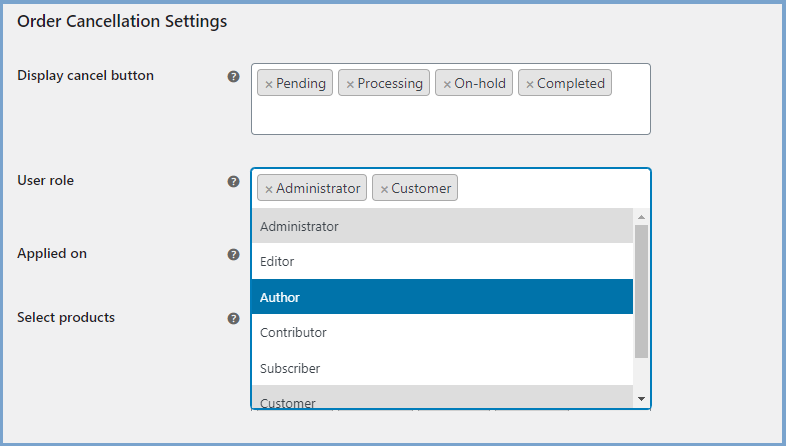 Automatically cancel orders
Let customers cancel their orders as soon as they submit the request with WooCommerce auto cancel order. It ensures a swift and hassle-free shopping experience.

Manage Cancel Order requests
WooCommerce cancel order plugin collects all the order cancellation requests in a dashboard for you to review and choose to decline or approve. You can decide which order to approve or disapprove of according to your business policies.
Display Cancel Button for specific order statuses
Display the cancel button for the specific order statuses. It enables you to show or allow order cancelation for a specific status. For example, you can allow only the pending orders to cancel and let the processing orders complete.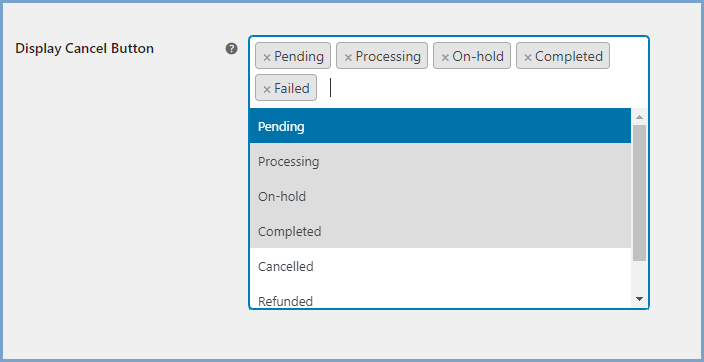 Impose an order cancellation fee
To discourage a higher rate of order cancellation, you can impose a fee to let the customers know that it is going to cost them. It can be a fixed amount or a percentage of the order amount.
Refund the full or partial amount of the order
Allow customers to ask for a refund even when the order is completed with WooCommerce partial refund. Considering the consumer relationship in mind, the admin can give them a full or partial refund for their canceled orders. You can decide to make a partial refund in a percentage of the order amount. Customers can ask for a refund on selective products rather than all products.

Capture order cancellation reason
Improve the user experience and reduce order cancellations in the future. WooCommerce customer cancel order allows admin to get customers reasons behind their order cancellation.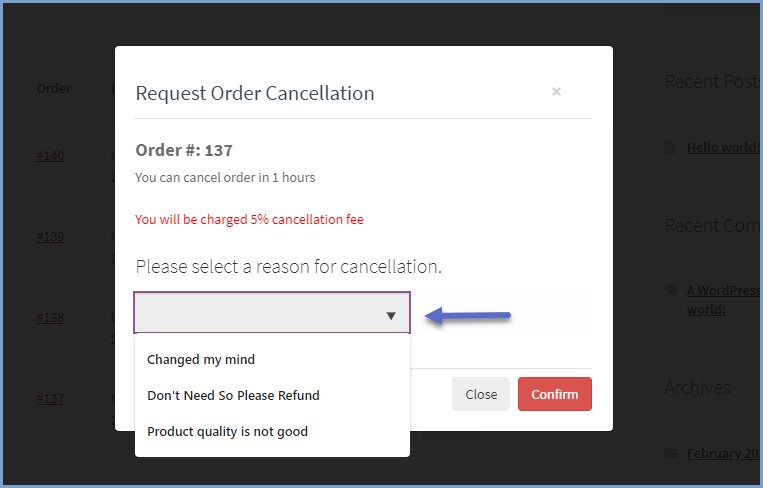 Create a list of cancellation reasons or allow users for a custom message
Create a list of reasons customers may cancel for them to choose from. Help make the cancellation process user-friendly. You can also enable the customers to write a custom message to state their reason for order cancellation.
Email notifications for customers and store owners
You can enable email notifications for the customer and owner of the store. Notifications will keep them informed and enable them to take additional steps when needed.
Hide the Order Cancel button
You can choose to hide the Cancel Order button when a set time period passes after customers place an order. Beyond the time you select, customers will not be able to cancel orders.

Restrict order cancellation to specific users
WooCommerce refund order allows you to restrict cancellations or refunds to users with specific roles. For example, VIP customers can revoke orders while subscribers cannot.
Allow order cancellation for selected products  
You can allow order cancellation of selected products or categories. You can choose to exclude certain products so stock levels, on those products, won't be disrupted.

ReOrder button to recover cancelations
WooCommerce cancel order adds a ReOrder button on canceled orders so customers can easily place their orders again.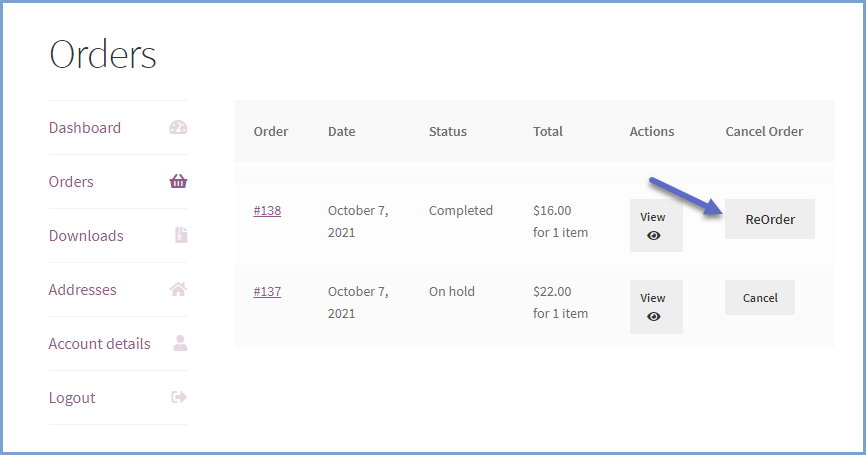 Set a minimum amount for order cancellation
To prevent recurring order cancellations, you can set a minimum amount for allowing order cancellation. This way you will be able to easily manage order cancellations and will encourage your customers to make purchases in a particular amount.

Display Message Non-Refundable products
WooCommerce refund order enables the admin to set non-refundable products. Display a message with non-refundable products to inform customers beforehand. This way customers will know if a product is refundable or not before they make a purchase, saving you from all the later inconveniences.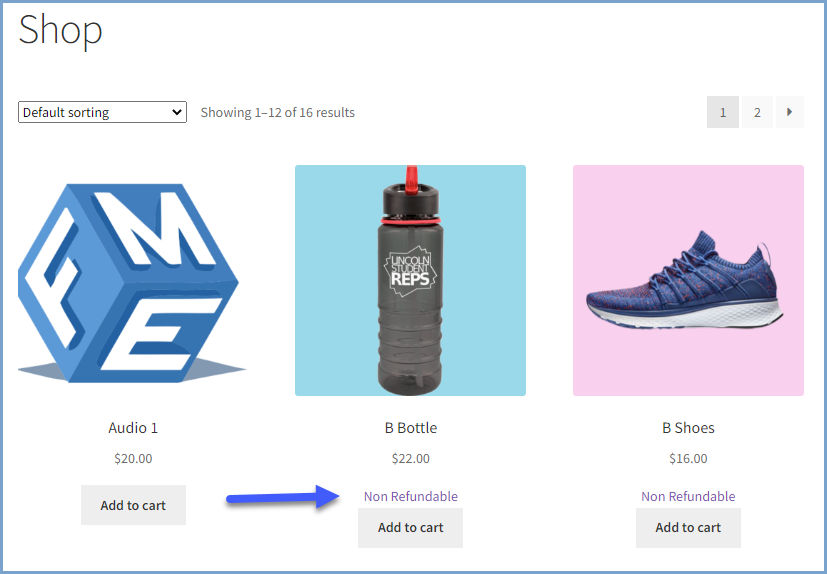 Customize the cancel button
Admin can customize the cancel button according to the outlook of your store. You can change the text of the cancel button, background color, and cancel button text color with help of WooCommerce cancel order button.

Benefits
Increases customer confidence
Improves store by gathering helpful customer data
Boosts conversions with improved UX and reorders
Requirements
Minimum PHP version: 5.2