Does your store need flexible options for discounts and price changes? Dynamic Pricing, Cart Discounts & Checkout Rules will give your WooCommerce store the flexibility it needs!
It works in conjunction with regular WooCommerce coupon codes. With exclusion settings, you can prevent WooCommerce coupons from being applied on top when a dynamic pricing rule is already used.
Offer Product Price Changes, Bulk Discounts, Cart Discounts, Free Shipping & Flexible Shipping Fee
With this plugin, YayPricing, you can create multiple rules to discount or markup product prices. And, instead of setting prices for all customers, this Dynamic Pricing, Cart Discounts & Checkout Rules extension allows you to configure individual customer and cart item conditions.
Targeted prices and discounts enable you to increase your store revenue by rewarding specific customers and logged-in users. The extension is easy to use and configure and integrates seamlessly with WooCommerce. If you're looking for a way to offer complex pricing structures in your WooCommerce store, get started with Dynamic Pricing, Cart Discounts and Checkout Rules today!
For instance, you can create a discount that decreases the product price in the following ways:
By a specified percentage, such as 20% off the product's regular price
By a specified amount, such as $20 off the product's regular price
Flat price
Fixed discount per individual cart item
The price adjustment can require a specific purchase before it applies, such as a Buy X, Get Y discount, or you can offer a simple discount with no minimum purchase required.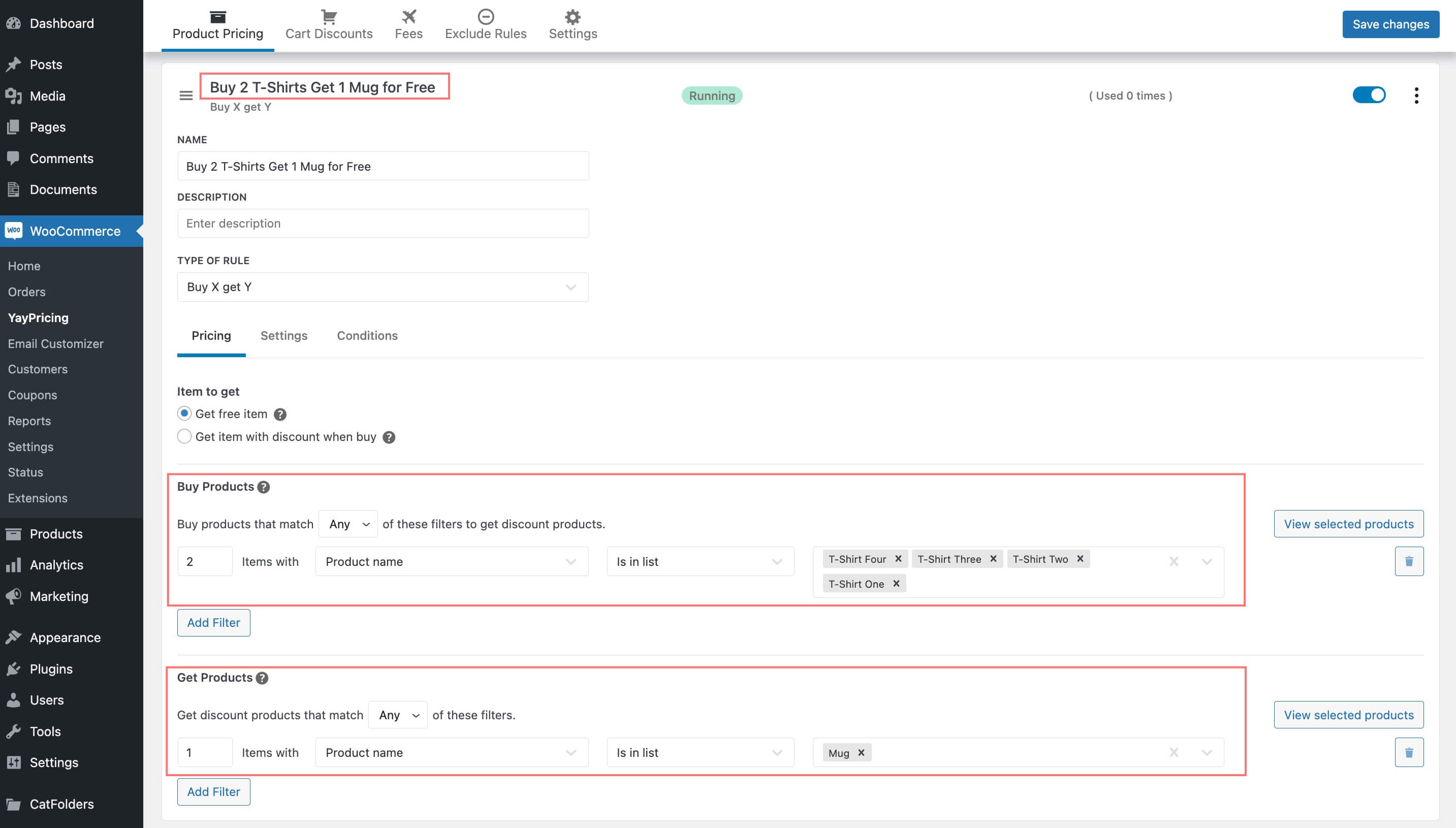 You can also create Buy One Get One Free deals, bulk pricing discounts, or other conditional discounts based on several conditions. These settings include but are not limited to:
Product pricing: Pre-defined rules, required conditions, schedule, product page notice, cart options, and more.
Cart discounts: Minimum purchase required, user role conditions, applying to specific customers, etc.
Excluded rules: You can rule out those products you don't want to include in discounts.
Fees: Configure shipping fees and custom fees.
Display options: Design and customize advanced options before publishing discounts.
A WooCommerce dynamic pricing & discounts strategy in four steps
It's easy to get started with YayPricing as the plugin comes with readily set campaign templates. Even if you want to start from scratch, it only takes you a few minutes to complete the setup:
Select a pricing type and define its discount rules,
Apply the pricing rules to a product or groups of products,
Add user requirements or cart value conditions (optional),
Launch the new offers on your product page!
Build WooCommerce dynamic discounts using our pre-defined rules and conditions. The Dynamic Pricing, Cart Discounts & Checkout Rules – YayPricing extension allows you to create multiple pricing modes without any coding knowledge.
A user-friendly user interface
We built the Dynamic Pricing, Cart Discounts & Checkout Rules extension with the best practices in mind, both on the front store side and the WordPress back end. There, administrators and merchants can seamlessly add new pricing rules, set up price adjustment methods, and publish deals.
Admin setup screen
Admin settings come with a convenient user interface that includes:
A collapsible box for each set of rules
Drag and drop function to prioritize discounts and pricing rules
A display of relevant options on-demand
A simplified and pre-defined workflow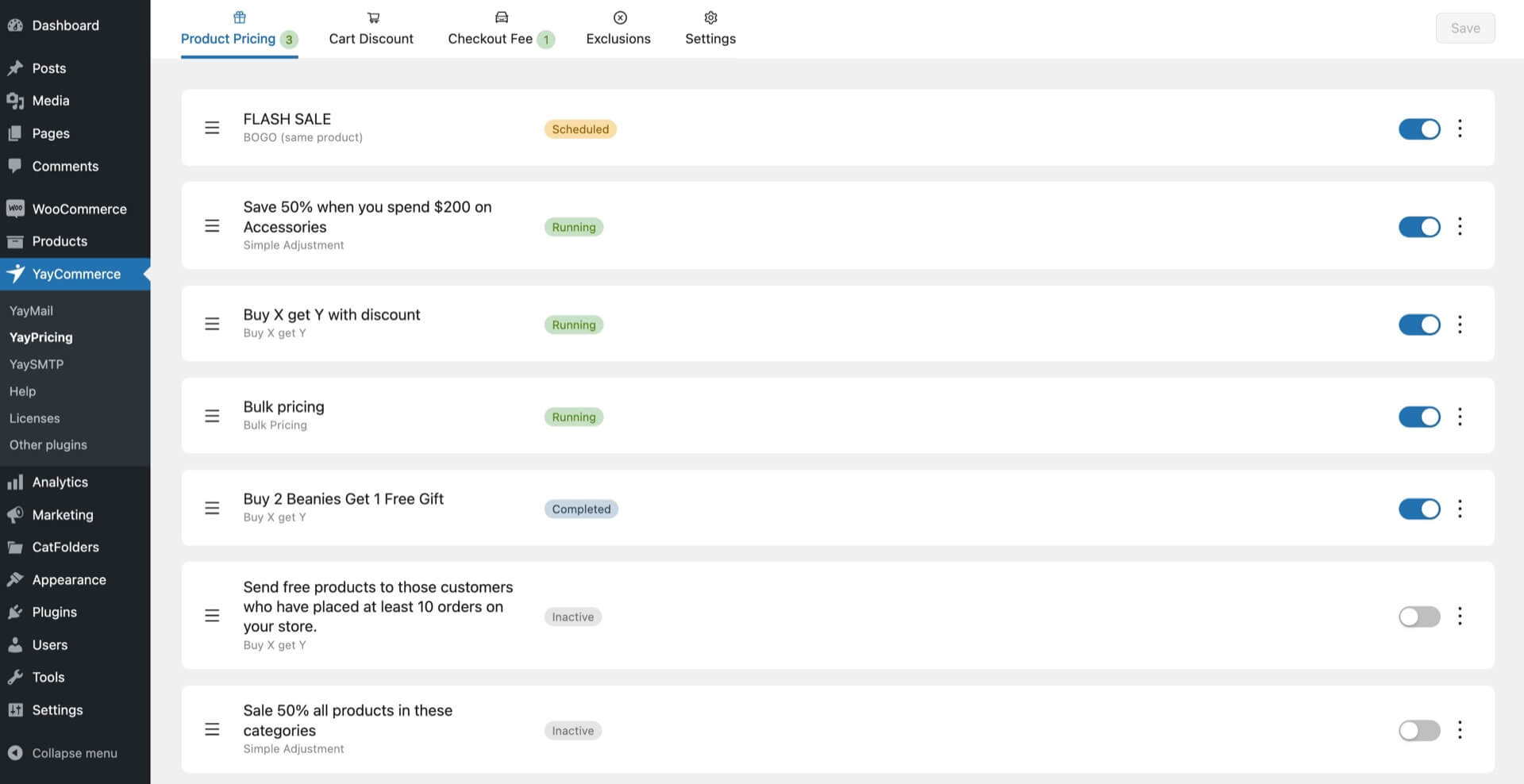 Product page and customer-facing details
Highly competitive and efficient sales info displays on the product page including:
Various design options for product and cart pages
Customizable text for quantity discount tables
Shortcodes to filter and display products that meet defined conditions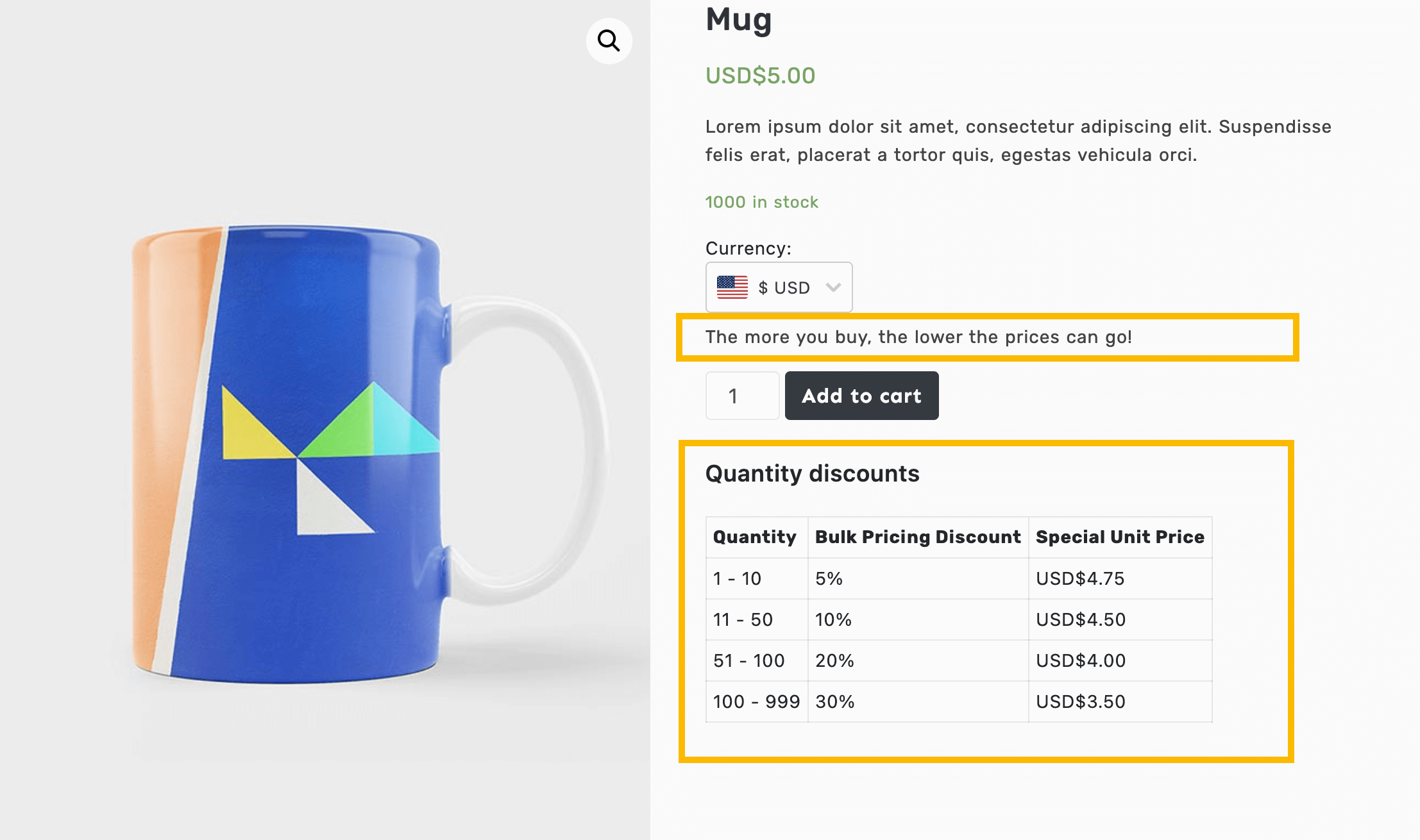 Scheduled campaign with countdown timer
Display a dynamic countdown timer based on the start time and end time you have set in each promotion campaign. This acts as a global notice on product page, shop page, and categories.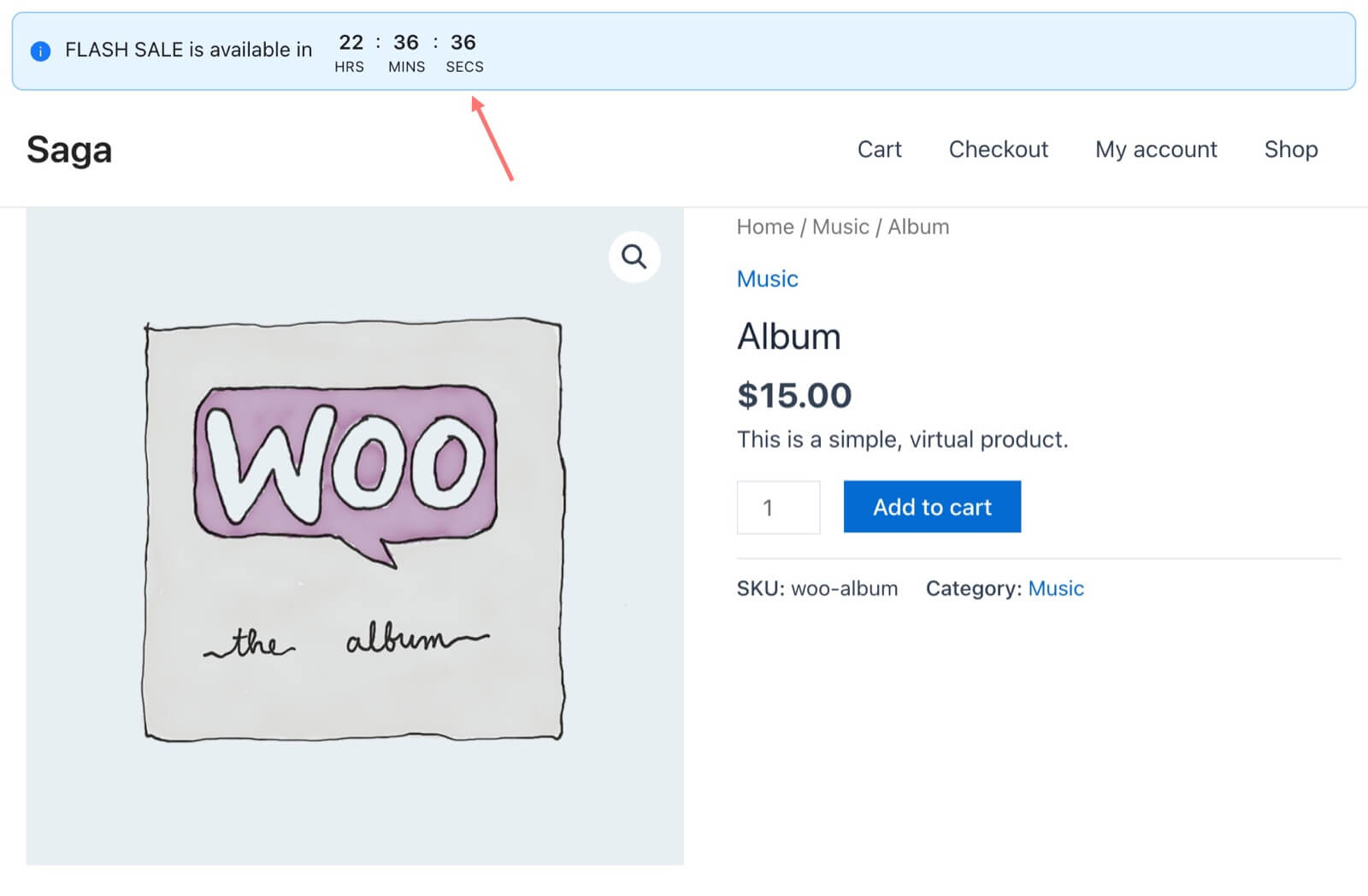 WooCommerce upselling notice
You will be able to show various notices at product page, the bottom of cart page, or checkout page to encourage purchasing.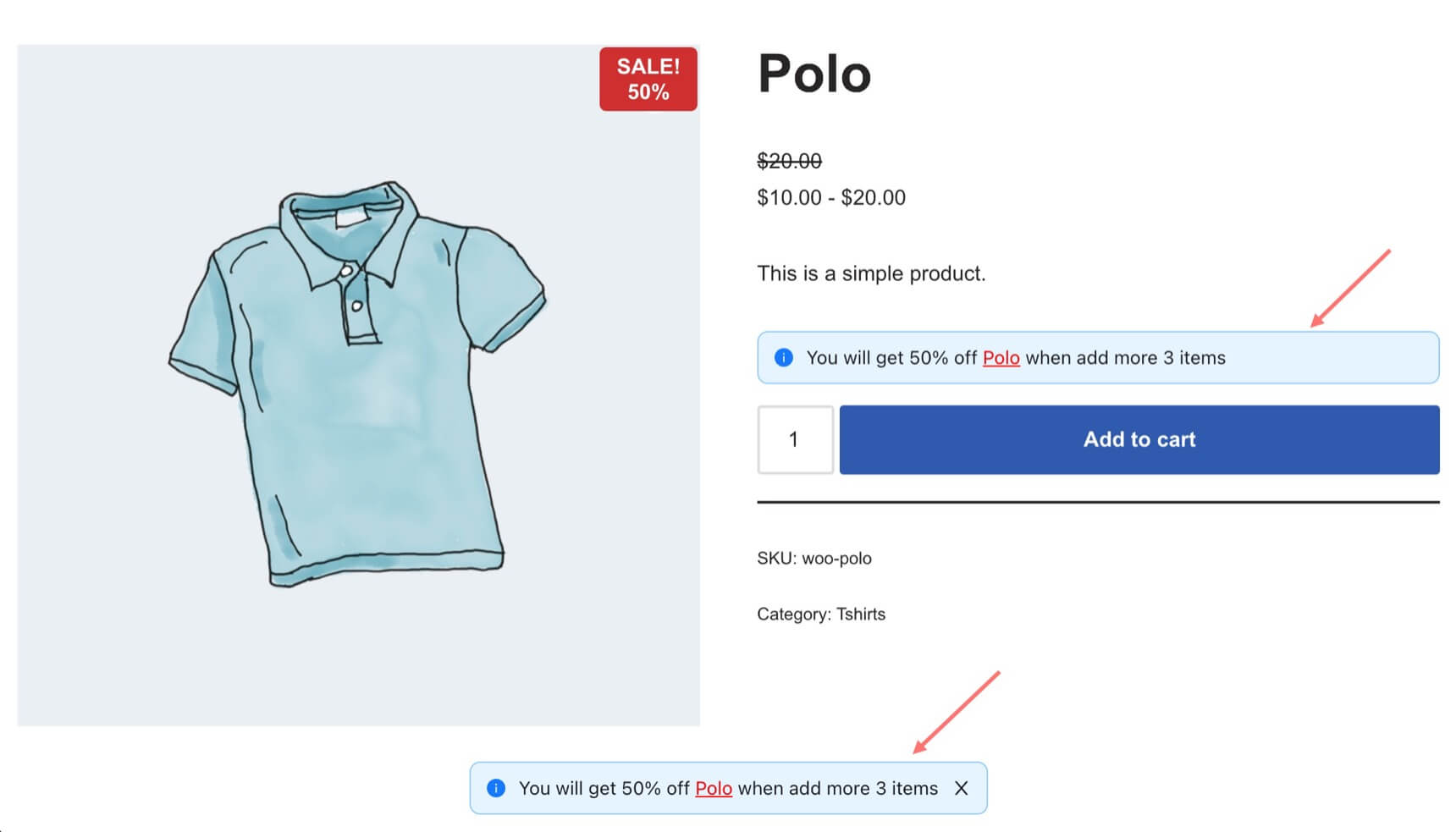 It's also easy to dynamically print on checkout page a custom message such as "If you add $50, you will get free shipping."
Dynamic Pricing, Cart Discounts & Checkout Rules – Global Settings
Further settings for WooCommerce dynamic pricing & discounts can be found easily in the plugin admin dashboard.
Calculate new prices based on product regular price or sale price.
Show countdown timer on product page.
Add custom text to display your personalized discount message.
Display sale tag for those discountable products on shop page and product page.
Bulk pricing display options
Customize the location of the bulk pricing table to display:
Before or after the Add-to-Cart button
Before or after the product description
Before or after the product meta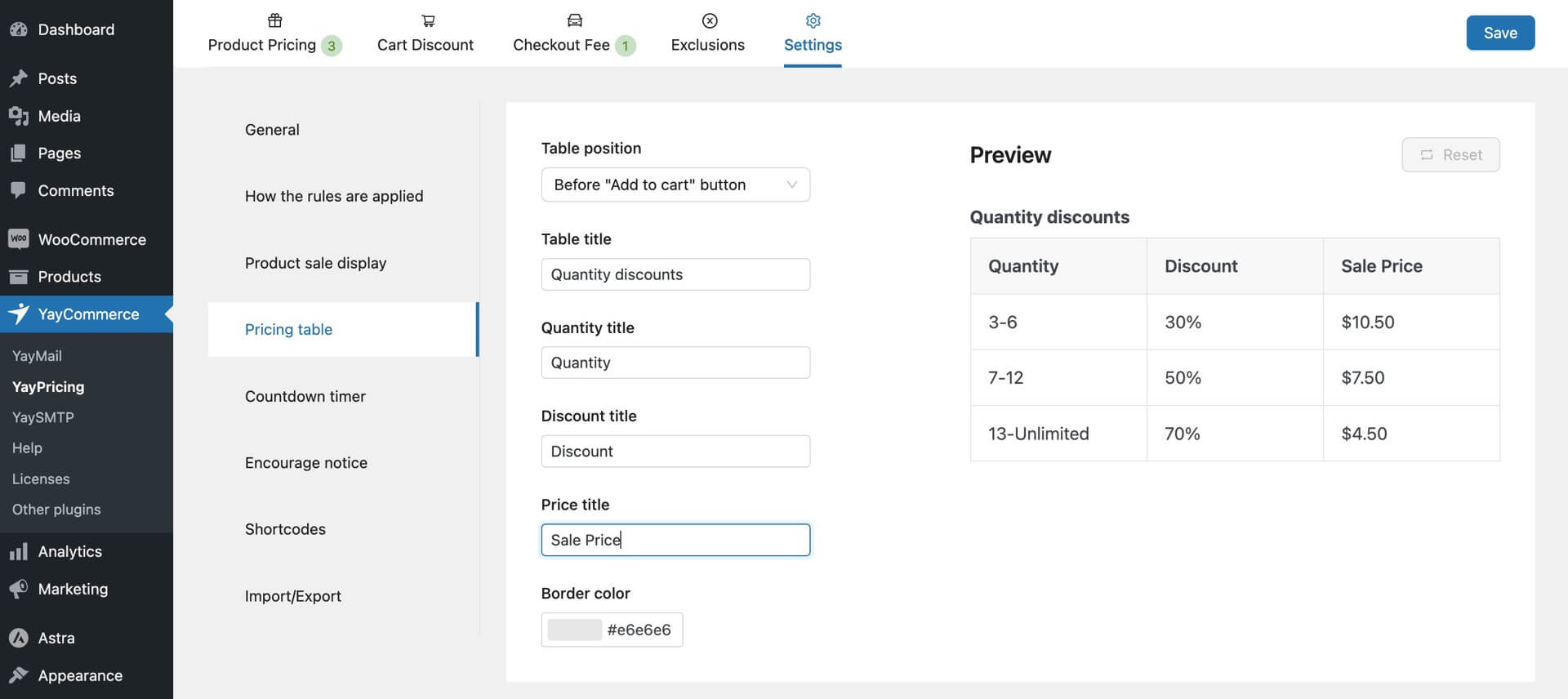 Use variable tags
As an advanced dynamic pricing extension for WooCommerce, this plugin provides a variety of tags to output the actual information on the product or cart page:
[discount_amount] – Amount off product
[discounted_price] – Product sale price with a discount applied
[discount_value] – Pricing value in percentage or fixed amount
[campaign_name] – Name of the pricing rule
[timer] – Remaining time until campaign's start/end time
[items_full] – All items required to add to the cart to qualify for and apply the discount – deprecated
[items_rest] – The remaining number of items required to add to the cart in order to qualify for and apply the discount – deprecated
Conditional free shipping discounts
Here are the steps on how to offer conditional free shipping discounts with YayPricing:
Install and activate the YayPricing plugin.
Go to YayCommerce > YayPricing > Checkout Fee.
Click on the "Add Rule" button.
In the "Rule Type" dropdown, select "Reduce Shipping Fee".
In the "Percentage Discount" field, enter "100%".
In the "Conditions" section, you can specify the conditions that must be met in order for the free shipping discount to be applied. For example, you could set a minimum order amount, or require that the customer be a member of your loyalty program.
Click on the "Save" button.
Here are some examples of conditions that you can use:
Minimum order amount: The customer must have a cart total of at least $200 to qualify for free shipping.
Specific products: Free shipping is only applied to certain products, such as books or electronics.
Customer location: Free shipping is only available to customers in certain countries or regions.
Customer membership: Free shipping is only available to members of your loyalty program.
You can also combine multiple conditions to create more complex rules. For example, you could offer free shipping to customers who spend at least $50 and who are also members of your loyalty program.
Once you have created your free shipping rule, it will be applied to all orders that meet the specified conditions. Check out the tutorial below for how it looks in action.
You can test the rule by adding products to your cart and seeing if the shipping fee is applied.
Our goal is to make your ecommerce store more successful, and we enjoy doing it!
As an ecommerce-store creator team, we've helped many merchants build and grow their online stores on multiple platforms. We know what it takes to grab and keep a customer's attention. From then on, we've poured our entire skills, knowledge, and experience into making this WooCommerce extension.
I've included a comparison table below to help you compare the different options built in WooCommerce dynamic pricing extensions.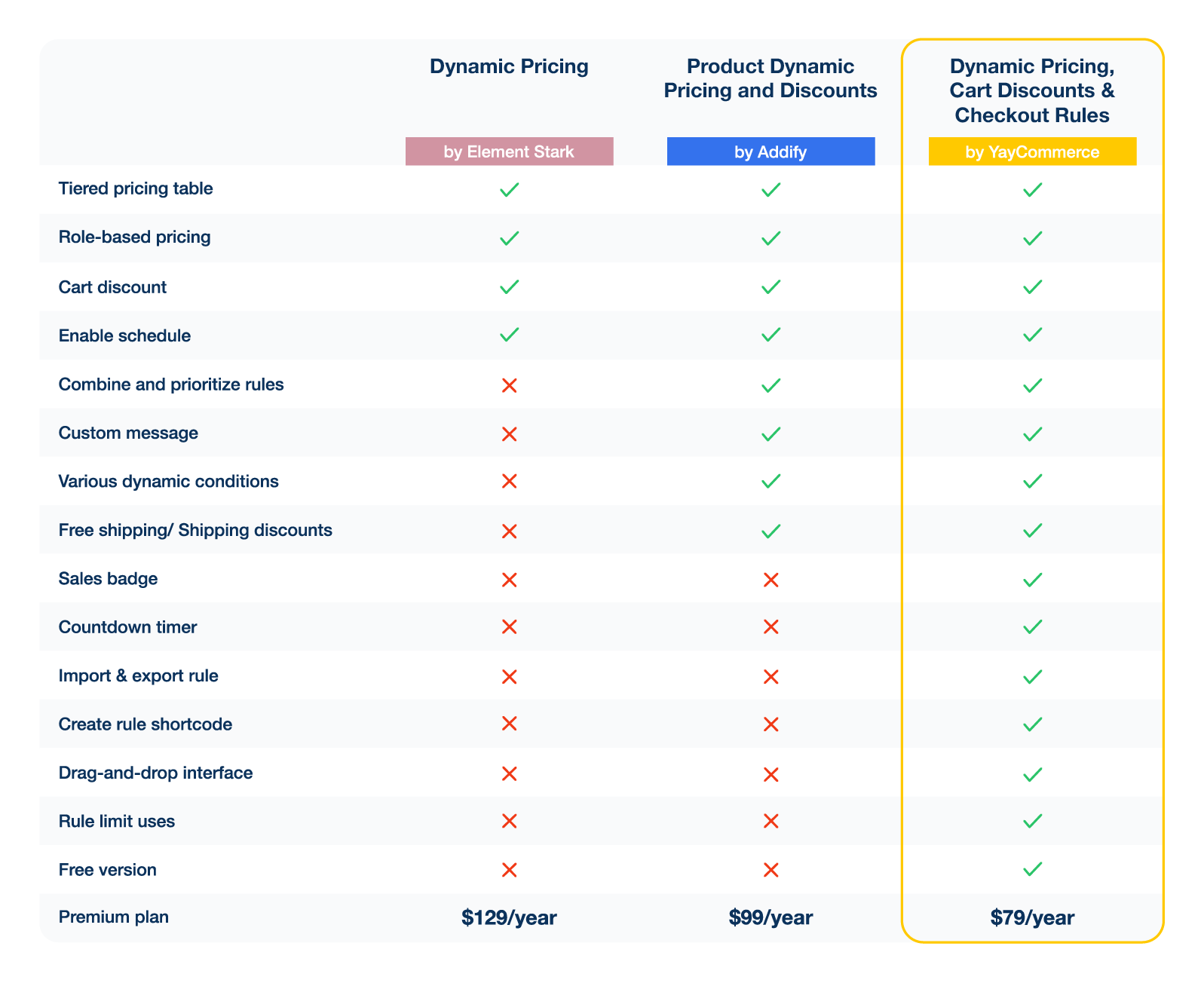 With WooCommerce and YayPricing, you can offer attractive product discounts and advertise them in a live discount banner. Today, let's unleash your sales potential by creating polished sales campaigns with Dynamic Pricing, Cart Discounts & Checkout Rules.
FAQs
What kind of discounts can I create with this extension?
The extension supports store-wide discounts, BOGO, Buy X Get Y, tiered pricing, wholesale table pricing, free shipping discounts, extra fees, and many more!
For example:
Buy two t-shirts, get one mug for free,
Get a 10% discount when a customer buys any product that costs more than $100, etc.
If I have multiple pricing rules for the same product, how do I know which rule will be executed first?
In the Settings tab of YayPricing, you will see an option called "How the rules are applied." From there, you can prioritize the first applicable rule, the rule that brings the largest or smallest discount amount to the customers, or apply all available rules.
How do I pick the rule that will apply first?
From the list of pricing rules under the Product Pricing tab, you can order rules by dragging and dropping them. Just grab the three-line icon on the left end of the rule and move it to your desired position. The top position will be executed first when the rules' conditions are met.
Does this plugin notify visitors about ongoing and scheduled discounts & sales?
Yes, this WooCommerce dynamic pricing & discounts plugin adds injection to product page, and various notices on cart page to let your customers know what they need to buy in order to get the discounts. Moreover, you can use the product pricing rule's shortcode to showcase those discounted products and special offers.
Requirements
Minimum PHP version: 5.7
Minimum WordPress version: 5.2
Minimum WooCommerce version: 3.0