Add EU Energy Labels to Product and Shop Pages
Products that consume energy like appliances, electronics, light bulbs, and vehicles must have special energy-related labeling in the European Union (EU). The labels for products in these categories sold to EU consumers (online and offline) must document the product's energy consumption. The EU Energy Label for WooCommerce plugin creates EU energy labels.
This Extension is fully Compatible with High-Performance Order Storage (HPOS) and WordPress Multisite.
Features
Add EU Energy labels to your WooCommerce products.
Options to enable labels on both shop and product pages.
Option to display a tooltip when you hover over an image.
Enable hovering tooltips on product and shop pages.
Create previous and the latest versions of EU Labels.
Option to set the position of labels on individual product pages.
Overview
The EU Energy Label for WooCommerce plugin allows you to create energy labels according to the European rules for your products. In addition, an add-on can rank the energy consumption of a product by giving it a rating. The plugin contains all needed energy labels developed by the EU.
The EU Energy Label is a significant driver to help consumers and customers choose more energy-efficient products.
Enable and disable EU energy labels
Setting options on the admin dashboard enables EU labels for Product, Archive, Tag, Category, and individual product pages.
How does it work?
Enable labels for product and shop pages from the WP-Admin dashboard-setting option page.
Position labels via setting options. You can have all the relevant positions listed on the setting-page drop-down menu.
Find additional settings for product-specific options on individual product pages.
Setting EU Energy Labels for products
Select the EU Labels tab (new or old labels) on product pages to set labels for each product.
Click on the EU Energy Label product tab to configure product labels.
Enable the configuration by checking the checkbox and selecting the label type (one or two).
Select the category of the EU Label and add an optional tooltip (with an option to upload a custom image).
Front-end view of EU Energy Labels
Shop page
Customers can view EU Labels on shop pages. Different types of products have specific-colored labels. The EU defines the colors for each category.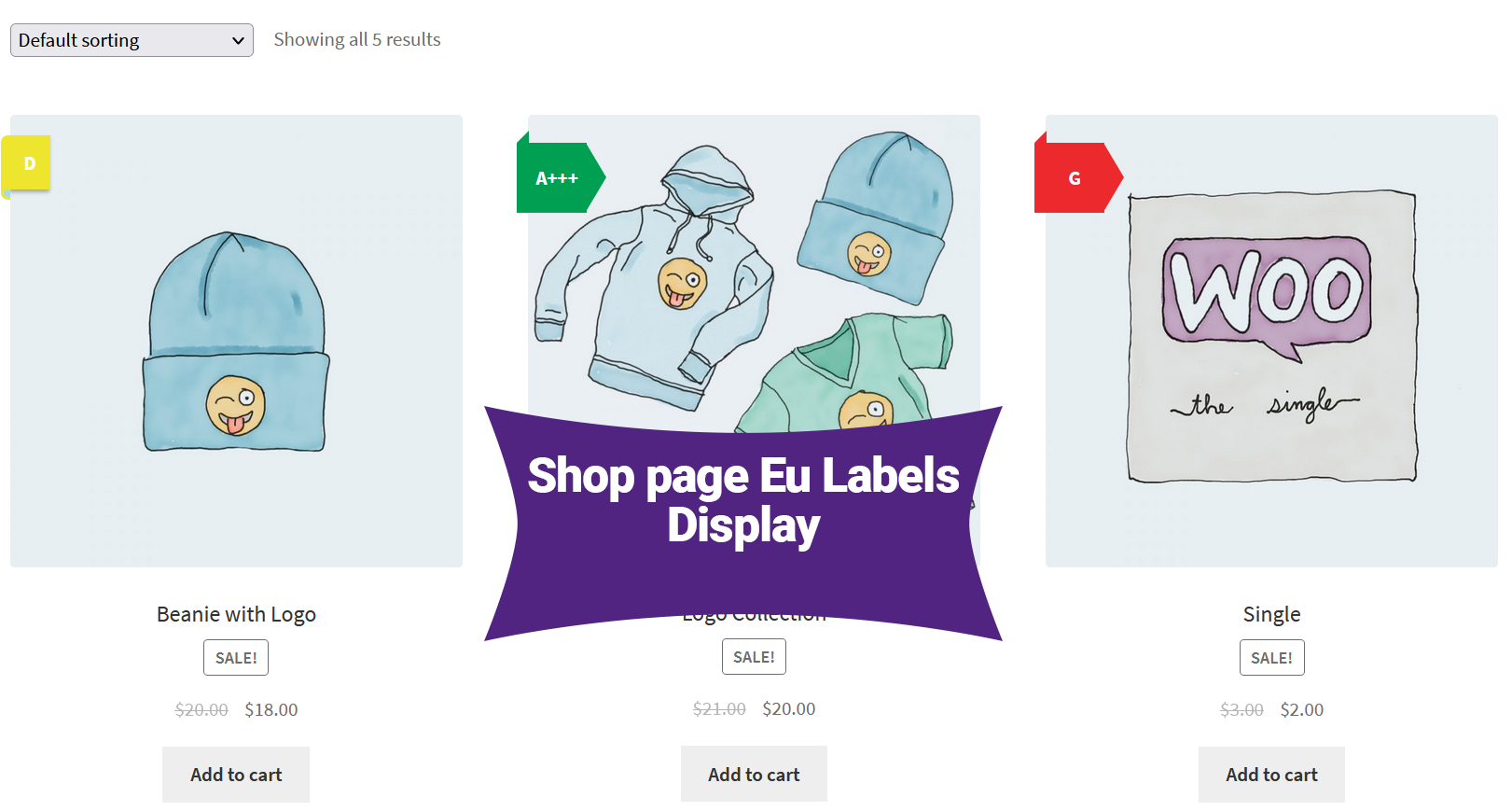 Tooltips
To show the EU label on shop pages, add tooltips. Customers can view the whole energy label chart on shop pages when they hover over the tooltips.
Product page
The default view of the EU labels is on the right side of product pages. It's also possible to display the product image on the left side.
Compatible with many popular themes, and page builders such as!
Elementor Builder
Wp Bakery Builder
Divi Builder
Storefront Theme
Enfold Theme
Avada Theme
Woodmart Theme
Divi Theme
Flatsome Theme
Porto Theme
Xstore Theme
Shopkeeper
Extension Translation!
The extension provides a user-friendly POT language file for easy translation into multiple languages.