Protect Your Site With reCaptcha
WooCommerce reCaptcha extension enables you to add Google reCaptcha on your login, registration, password reset, and other WordPress and WooCommerce pages. It supports v2 and v3 versions of Google invisible captcha.
With increased spam and hacking attempts, the extension can act as an extra security gate to block bot traffic from making login attempts, checkouts, passwords resets, spam comments and more. Using invisible V3 reCaptcha, you can make sure that the captcha appears only for suspicious visitors keeping it hidden from your valued genuine customers.
Features of WooCommerce reCaptcha:
Supports V2 and V3 versions
Individually enable reCaptcha on specific pages
Customize reCaptcha sizes
Choose from dark or light reCaptcha themes
Disable reCaptcha for specific countries
Exclude specific IP range
Customize spam score to trigger reCaptcha
Enable reCaptcha on following WooCommerce Pages

WooCommerce Registration
WooCommerce Login
WooCommerce Lost Password
Checkout
Payment Method
Pay for Order
Product Review

Enable reCaptcha on following WordPress Pages

WordPress Registration
WordPress Login
WordPress Lost Password
WordPress Comments

Supports V2 and V3 reCaptcha:
Google reCaptcha for WooCommerce enables you to add any Google V2 and V3 reCaptcha type to your store to validate visitors.
Customize reCaptcha for each WooCommerce and WordPress Page

The extension allows you to enable reCaptcha on specific WooCommerce and WordPress pages. You can also customize the following reCaptcha options for each page,

Field

title

Themes (Light or Dark)

Size (Normal or Compact)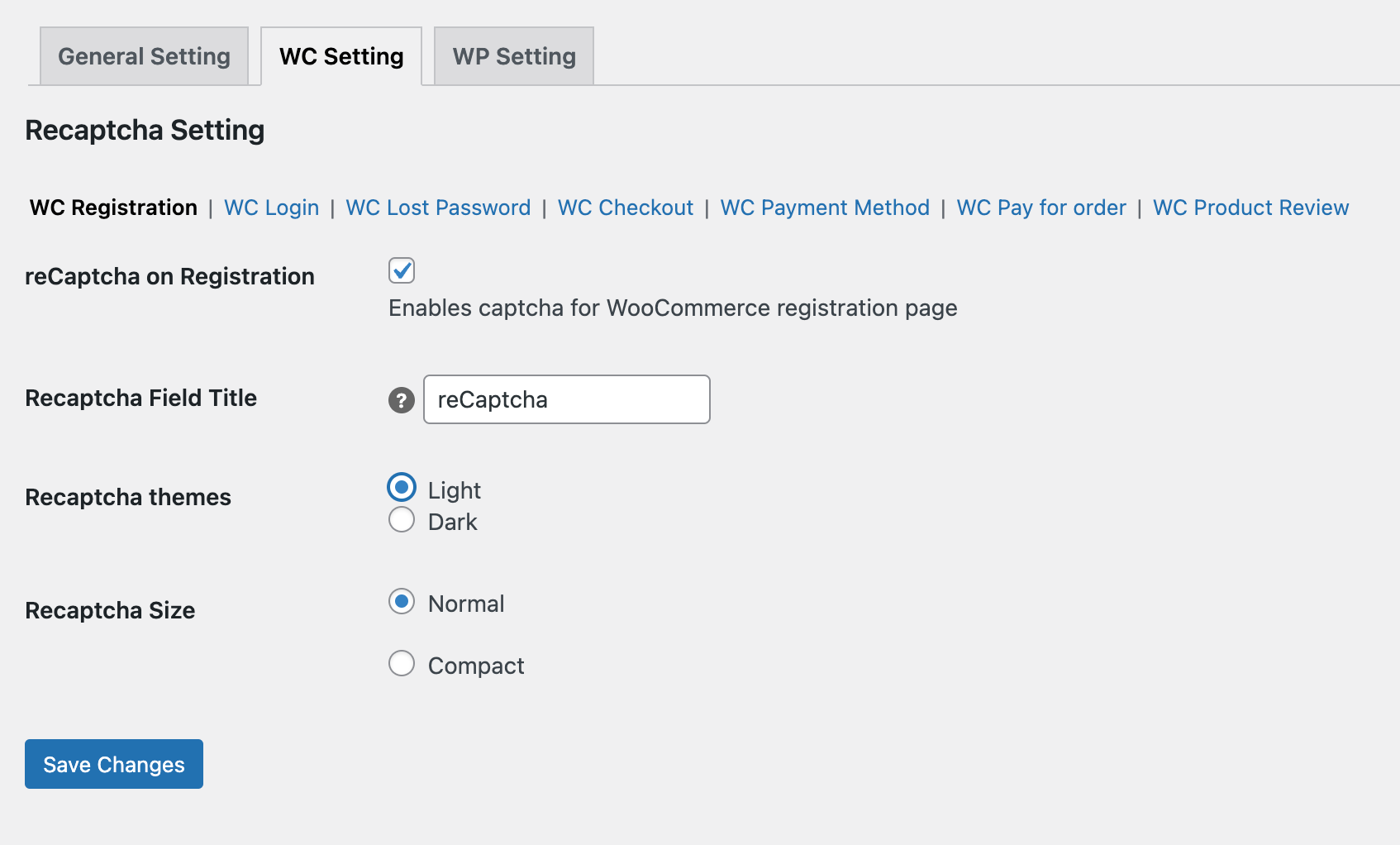 FAQs:
Not blocking the registrations, card checking, card testing or fake checkout attempts?
If the card checking attempts are made by bots, the extension will be able to block those attempts. However, if the card checking attempts are made by real users, the extension won't be able to block it. Since the reCaptcha is built to block automated bots but if its a real person, they can solve that reCaptcha to prove as human and place card testing checkouts.
You would need a fraud prevention extension along with reCaptcha to block card testing orders. Here is how WooCommerce advises to fight the card testing attempts.
Requirements
Minimum PHP version: 5.6