Offer multiple currency options for international customers
Multi-Currency Switcher is the ultimate currency solution for international stores. It comes with a currency converter, currency switcher, additional conversion fee, price based on country, auto-update exchange rate, custom price rounding, checkout permission for different currencies, payment methods, and more.
Also known as YayCurrency, Multi-Currency Switcher is a must-have extension for your WooCommerce store! It helps keep your customers happy no matter where they're from.
Features
Automate currency conversion
Save time with scheduled periodic, automatic updates of currency exchange rates. You can also quickly set up fixed rates, and additional conversion fees by percentage/fixed amount to compensate for the local exchange services.
User-friendly settings
Easily add new currency from the dropdown list of 160+ national currency units. Drag and drop to organize them in order to show the prioritized ones first in your shop.
Switch currencies at checkout
Allow changing currencies at checkout so customers can pay with their preferred currency. You can also pick suitable payment methods for each currency.
Mobile-friendly
Compatible with all major themes. Display the currency switcher including national flags at header, top menu, footer, footer widget, and so on.
Custom rounding
YayCurrency's built-in price rounding features with live preview and testing help you set up price endings to tailor the currency styles to the well-grounded common sense.
Intuitive design
We apply the best patterning practices in crafting WordPress UI/UX designs, so you don't have to struggle to set them up.
How Does Multi-Currency Work?
It starts with a top-notch simplified user interface to set up currency conversion fees and formatting options
Easily drag and drop currencies in the back end to reorder them on the front end. Place the currency switcher in different spots on your storefront.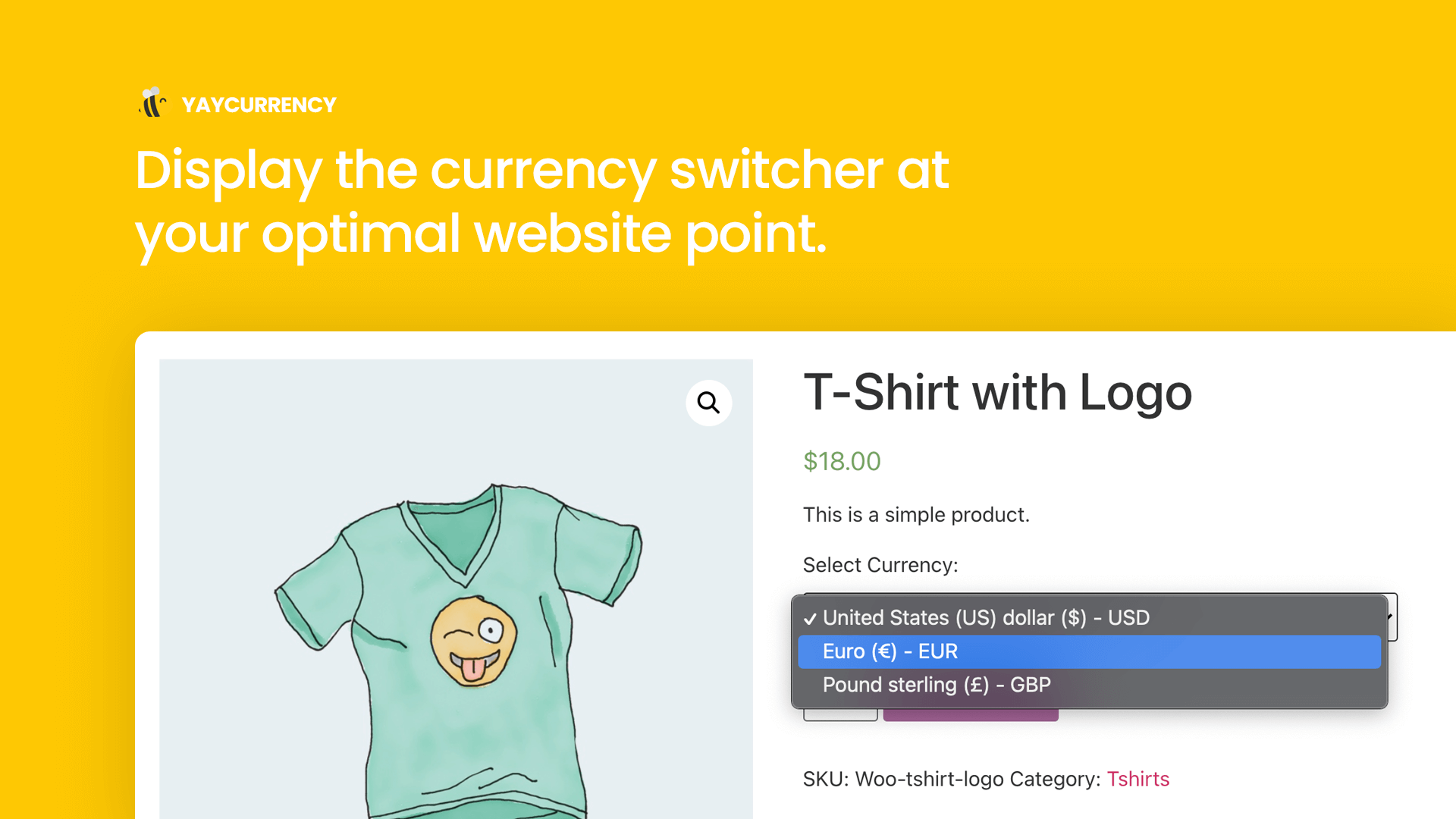 Add unlimited currencies and customize the converted price ending to serve your psychological trick.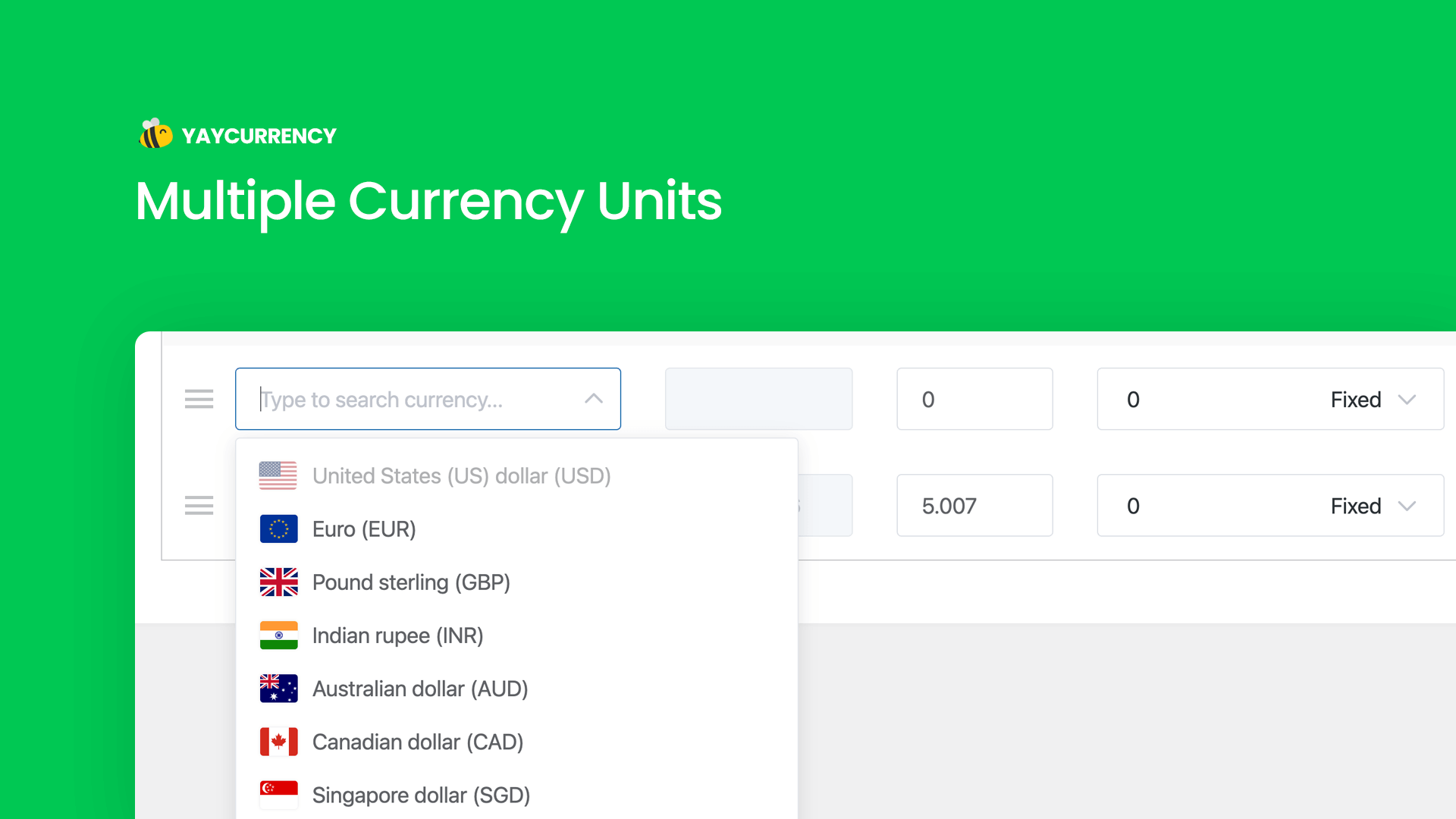 Config currency formatting, custom rounding, and psychological price ending in a single panel. Quickly preview each currency format display.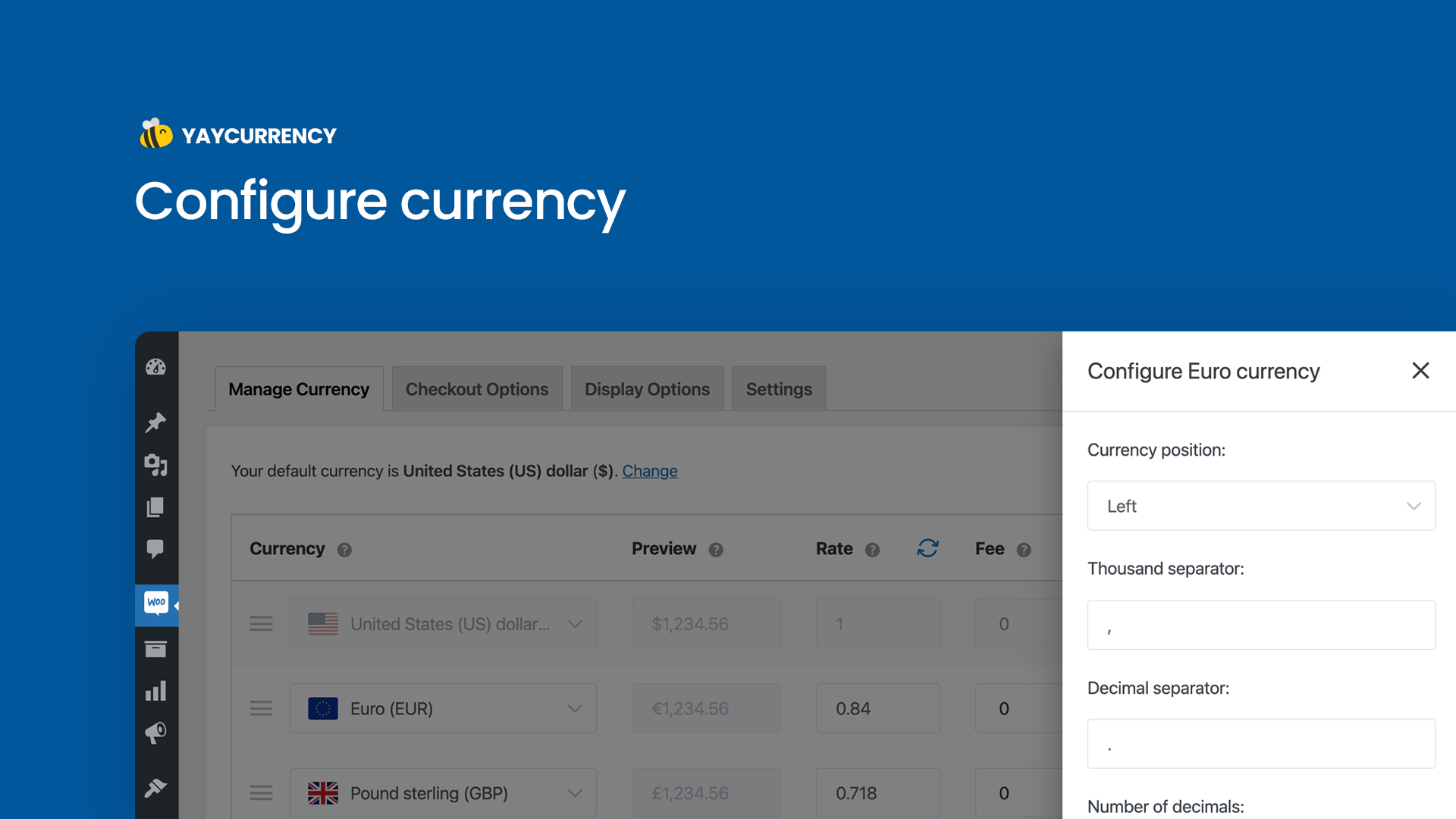 Set checkout permissions depending upon each currency and its available payment methods.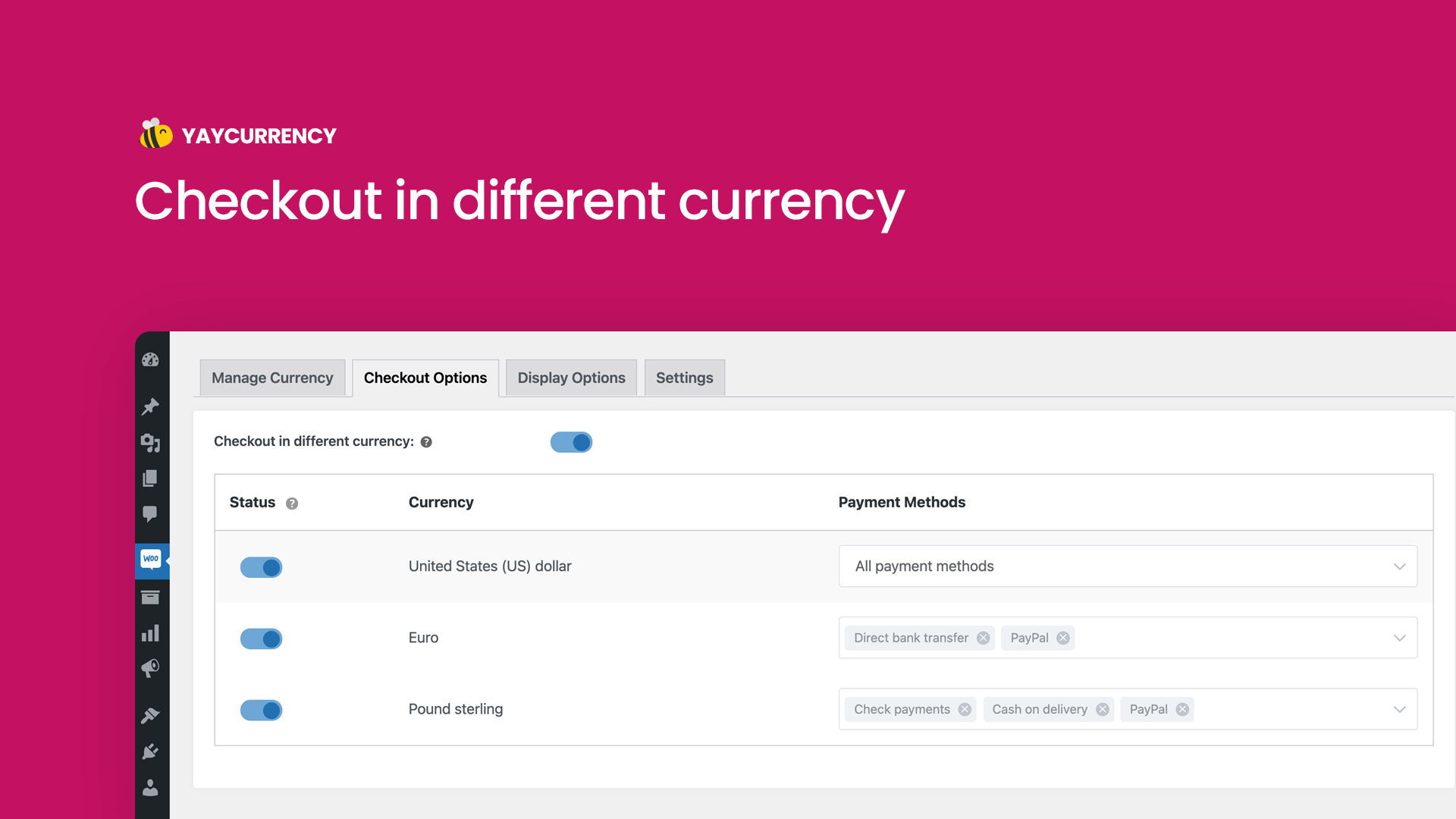 ✅ Well done! YayCurrency comes with advanced options that are readily configured via simple on/off buttons. It only takes moments to get it up and running with some clicks and switches.
Here's a breakdown of how this multi-currency switcher benefits you and your business: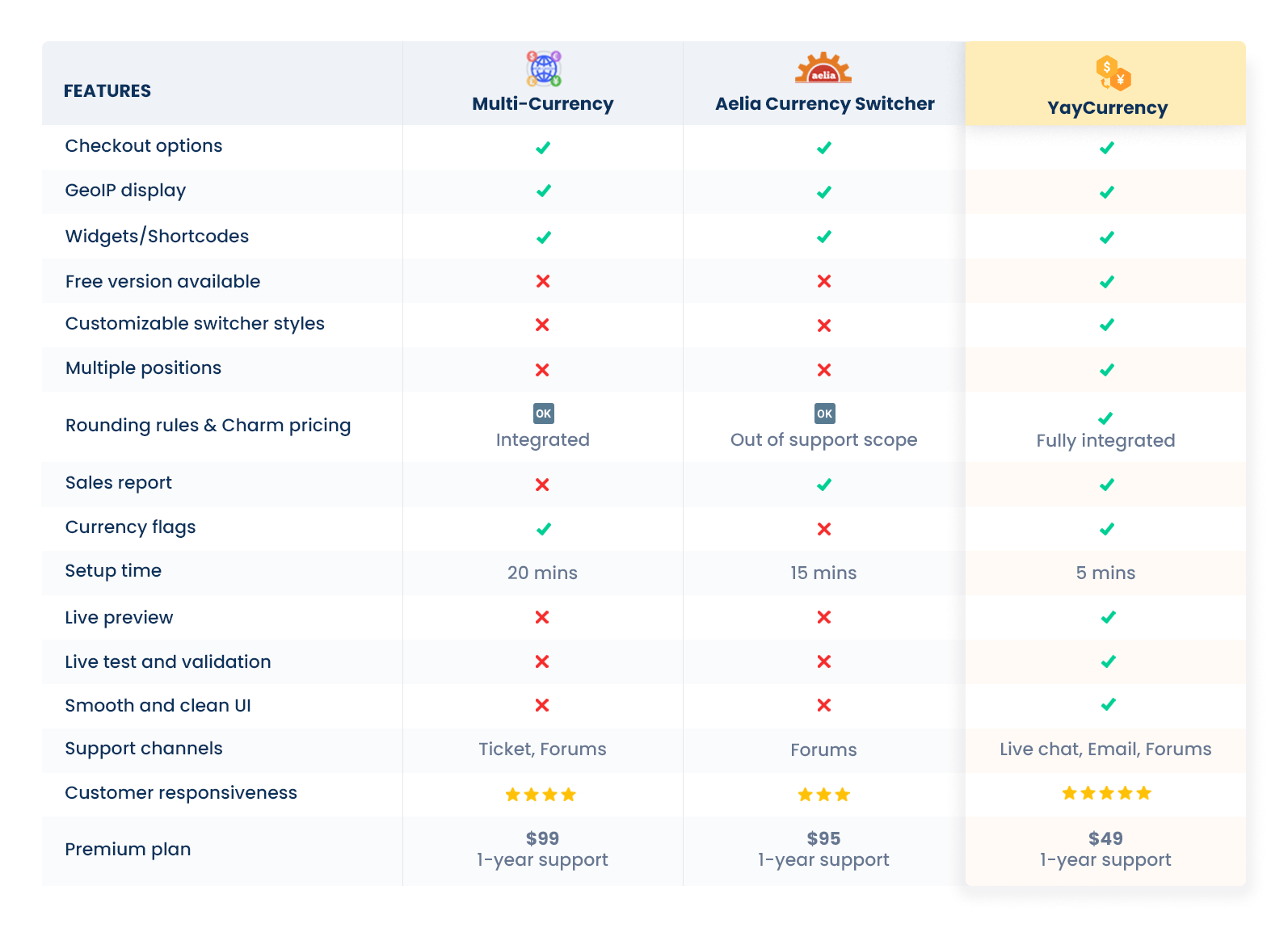 WooCommerce Currency Switcher made easy
Multi-Currency Switcher allows you to set a list of different currencies. You can place them on shop pages so customers can easily switch between different currencies that calculate automatically based on the current exchange rates.
It takes only a few clicks to install and activate Multi-Currency Switcher. Rest assured, as we provide VIP live chat support to integrate YayCurrency with your favorite theme!
Use live exchange rates or manually add foreign exchange figures. Add conversion fees to prevent cash losses.
FAQs
Can I set fixed product prices to be displayed in each currency?
Yes, with this WooCommerce multi currency plugin, you can add a fixed price to a specific simple product or each variation of variable products. The settings can be found in WooCommerce → Products → Edit product.
Is there a shortcode for displaying the currency switcher in a specific location?
Yes, you have a variety of display options including using shortcode [yaycurrency-switcher] to show the currency converter anywhere you want.
Where can I find the list of accepted cryptos? And how do I set up cryptocurrency rates?
You can find the supported currencies from the currency manager's dropdown list such as Bitcoin (BTC). Please note that cryptocurrencies may not be included in the major currency pairs, so you're supposed to use manual exchange rate rather than automatic rate from the Finance API.
Not happy with YayCurrency?
We'll happily offer you a full refund within 30 days of your purchase. No questions asked. Chat with us →
WooCommerce
The most customizable eCommerce platform for building your online business.