Integrate your WooCommerce store with the OnBuy international marketplace
Integrate your WooCommerce store with the OnBuy marketplace and expand your business internationally. The OnBuy Integration for WooCommerce plugin enables a hassle-free selling experience for your online business. The excellent features created by CedCommerce enable real-time inventory synchronization, bulk upload, order management, and many more options.
Why sell on OnBuy?
OnBuy is one of the most promising marketplaces globally. It's a smart decision to integrate with OnBuy and expand your business. Wizards of the e-commerce industry, OnBuy makes it simple for sellers to get started and benefit from an excellent opportunity to increase revenue growth.
Since 2016, OnBuy has become the fastest-growing marketplace in the world. OnBuy has 35M+ products, 7M+ buyers, and 11K+ sellers.
With incredible 24,000% growth in just four years, OnBuy is ready to expand to 140 countries by 2023. They started with 40 new markets in 2020 and continue to expand the reach of sellers to a global audience with significant opportunities for retailers across the globe.
OnBuy offers sellers:
Competitive selling fees.

Immediate payment on item dispatch.

180-day PayPal Seller Protection.

UK-based support.

Their complete support in growing your business.
Features
One-click authorization

Experience quick access with one-click authorization to OnBuy Store by simply entering your Seller Id, Consumer Key, and Secret Key through the OnBuy Integration for WooCommerce extension.
Profile-Based Product Upload


Upload your products based on their categories and attributes on OnBuy as it will be easy for buyers to navigate through products, which in turn increases your product visibility.
Automated and simplified listings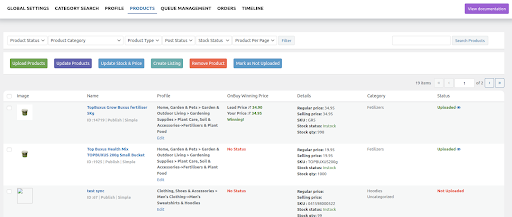 The plugin lets you upload 'n' number of products with just a few clicks. You can upload products based on category and product type and set separate inventory rules, pricing plans, or listing details in one go and control them from a single dashboard.
Feed Management
You can easily check the status of your bulk uploads using our feed management section. Get updated information about the percentage completion of your jobs along with the logs, if any, of your products failed to get uploaded then you can easily check the status of the upload jobs by clicking the View Details link alongside each Job.
Centralized Order Management

Manage your orders from a centralized location. OnBuy integration for WooCommerce enables you to manage orders of the products you sell from the OnBuy store right into your WooCommerce orders section.
Real-time and Regular Synchronization of Data
Increase your conversion rate by drawing more prospects to your products through the OnBuy marketplace. Keep track of inventory and orders on the WooCommerce store and avoid overselling.
BuyBox Feature
Mark your presence among the competitors with the OnBuy Buy Box. The feature lets you stand out by providing priority over the price range of any product among the other sellers.
Timeline
Manage your logs in the Timeline which stores the information related to the Inventory, Order, and Product Activities and also displays the cron information which is present in the plugin. It shows the last execution time and the next execution time for the cron events.
Additional benefits
Dedicated account managers
CedCommerce provides a dedicated account manager to help you assist with the setup and onboarding process.
24/7 Free support
Reach out to us anytime; we will be there to help. Contact us through WhatsApp and Skype. Feel free to explore CedCommerce.
Why choose OnBuy Integration for WooCommerce?
Selling with WooCommerce comes with many benefits, including customization, flexibility, and more. CedCommerce aims to provide efficient solutions for small and large businesses. If you opt to set up your business with CedCommerce, you get dedicated human support working with your business to expand it swiftly over to the marketplace.
Experience a hassle-free selling process on the OnBuy marketplace through OnBuy Integration for WooCommerce.