Popup Pro for WooCommerce draws buyers' attention to your promo offers with customizable popups. Tweak popup messaging and timing to get shoppers the right message at the right time to grow your conversion rates, profits, and subscriber numbers
Why Popup Pro?
Are you a store owner? Start using Popup Pro, and start:
Collecting emails from potential customers with a

"Subscribe and get coupon" or

"Create an account and get coupon" popup  

Selling more items with c

ross-sell popups

Increasing order totals with u

psell popups highlighting related items

Getting more social network traffic with a

"Follow us in social media" popup
Boost all your metrics, and use Popup Pro's built-in performance stats to see how each popup is performing and iterate on your offers and timing. Increase customer satisfaction with:
Fast and visual access to discounts and promotions

Assistance in selecting and purchasing just the right item

Timely discounts and special offers to save money and help decision making
Features
Add Linked Products and Subscription popups

Display popups on any page

Configure triggers for popups

Choose from extensive design options for a look that matches your store

See click-through statistics for popups,

Synchronized subscribers with Mailchimp
A mobile-friendly interface lets you take advantage of Popup Pro with any device.
Highlights
Two popup types
Use the Linked Products popup to display upsells, cross-sells and related products to increase sales. Define linked products on product pages, and set a maximum number of linked products to feature.
Use the Subscription popup to grow the size of your mailing list by targeting non-subscribed visitors.

Multi-location display
Linked Products popups appear on the Cart page to promote upsells. You can display one any time a shopper clicks an "Add to Cart" button to cross-sell related products.
The Subscription popups can be displayed on any page of the store, without restrictions.
All popups displayed in the center of the page. Add triggers and logic to your popups to display particular popups on particular pages.
Popup triggers
There are a few triggers which define when to show popups, and they're customizable based on the popup.
The Linked Products popups appear either on click of an Add to Cart button or on load of the Cart page.
The Subscription popups have a configurable "When to Display" parameter, so you can decide whether to show the popup after X viewed pages are viewed or X minutes after the visit.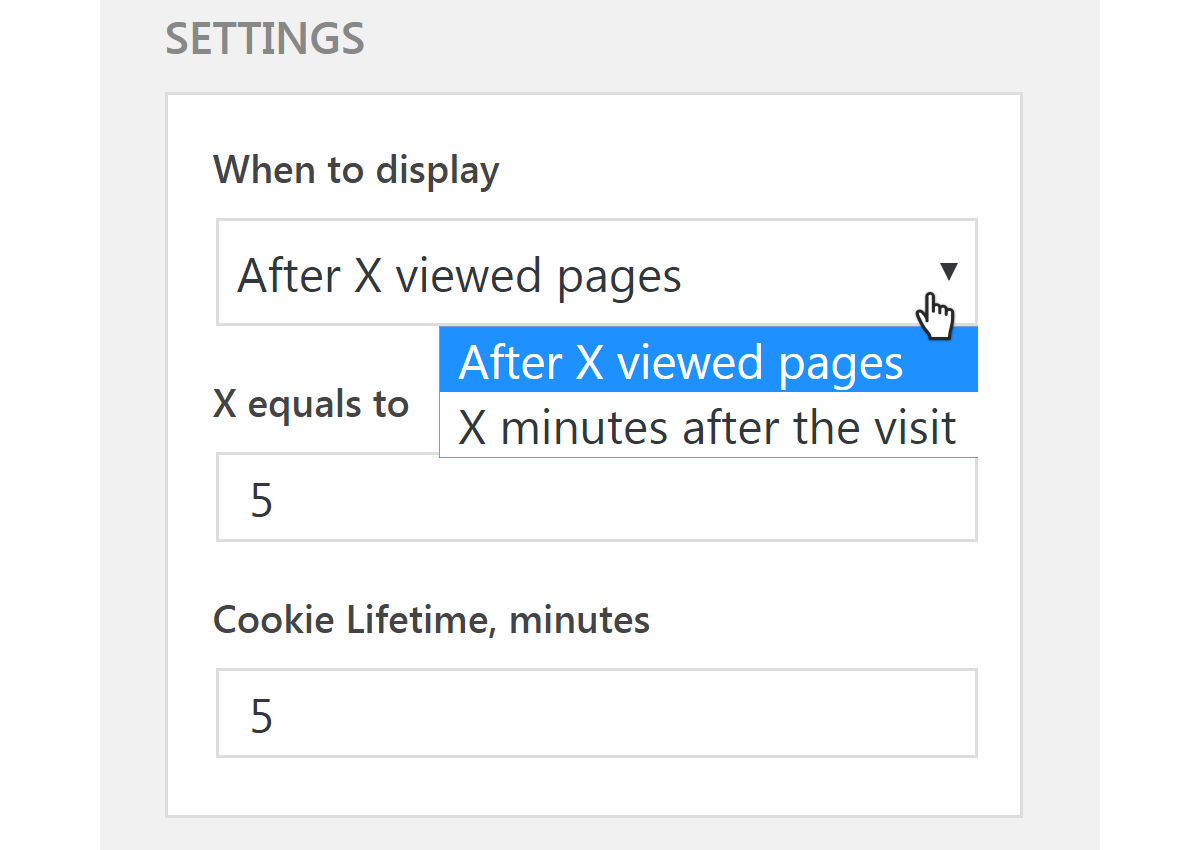 The Cookie Lifetime option is available in both types of popups. We recommend setting one to prevent popups from being show too frequently and becoming a distraction.
Design options
Each type of popup has a customizable title.
The Linked Products popup features the image, price, and title of the product, alongside an Add to Cart button. You can set the number of products that appear.
The Subscription popups have more extensive formatting options. Choose from 7 preconfigured templates, and customize the title, email form, Subscribe and Close buttons, and background. Each of those also has its own tweakable elements like color, font face, font weight and size, and background image. You can preview your designs before launching the popup.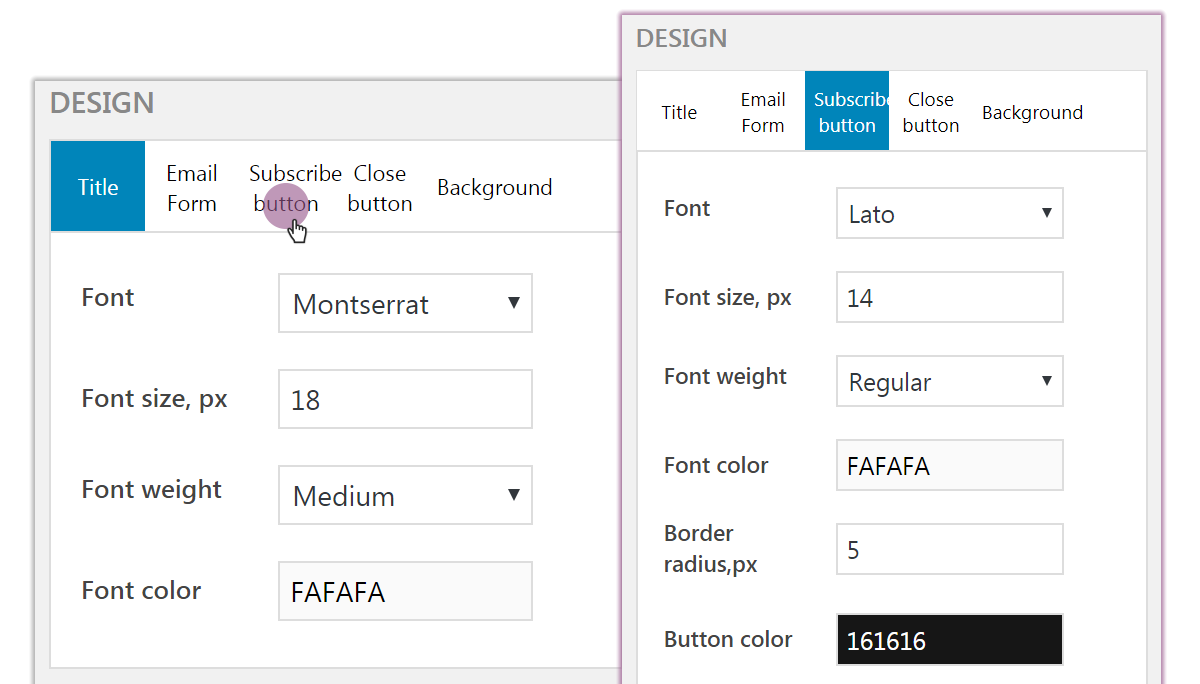 Click-through rate (CTR) statistics
The extension features two grids with CTR statistics for all active popups on your store. The statistics are collected and calculated for popups within each category separately. 
The statistics are meant to help your analyze the efficiency of the popup and decide when to make changes to the promo or the popup.
Subscriber list 
Gauge the effectiveness of your subscription popups by monitoring who responds to the call to action in the popup. The subscriber list displays the name of the subscriber, email address of the subscriber, the subscription date, and the and Popup ID.
Integration with Mailchimp
If you have a Mailchimp account, all new subscribers collected via a Popup Pro subscribe popup will be available in your Mailchimp account, too.