Convert More Visitors into Buyers with Powerful Social Proof Tool
Social Proof for WooCommerce helps build credibility, increase conversions, and sales by displaying engaging social proof notifications on your store. 
It automatically tracks purchases, added-to-the-cart products, and product reviews to use them as social proof later. 
The extension also allows you to create events if you want to draw attention to specific products or don't have enough real orders. 
Three types of notifications: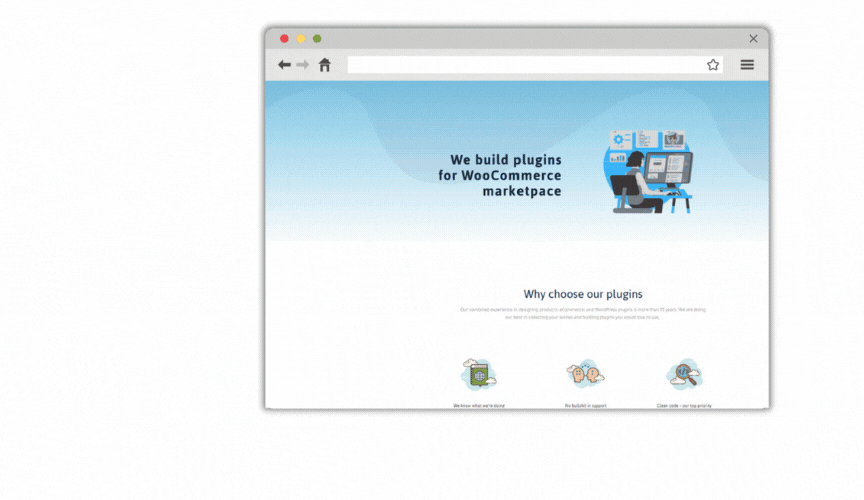 New purchases notifications
After a new purchase arrives Social Proof for WooCommerce collects customer and products data, which can be immediately displayed in the Social Proof pop-up to website visitors. 
Added-to-cart products
When your clients drop a product in their carts, the extension records it and lets other site visitors know about it right away. As a result, it helps you build demand and increases the FOMO effect. 
Product reviews left
Sometimes product reviews are overlooked. And social proof notifications can help you make them more noticeable and effective. Social Proof for WooCommerce stores every product review and draws attention to them. 
You can also configure the lifetime of each kind of event, so if you feel a kind of product review is more significant, you can make this type appear in greater numbers.
External events
If you have any other sources where your products are available for purchase (marketplaces, offline stores, etc), you can also manually create events (purchases and added-to-cart). Set all purchase parameters (customer name and location, and choose the desired product) and make notifications that will look the same as events made by the customer. 
It's an excellent opportunity to promote new arrivals or products on sale. 
Customizable templates 
Create a unique message for every type of event to reach out to your customers in the most efficient way. You can use variables from the recorded events like customer names, locations, product names, and quantities to compose a message in any language. Or you can use build-in defaults to not reveal your customers' data. 
Flexible design options

Easily adjust the look and feel for Social Proof pop-ups to make them attention-grabbing and match theme designs.
You can change pop-up position, margins, sizes, backgrounds, texts, shadow colors, text alignment and sizes, picture sizes, many types of animations, and more adjustments are available in the live customizers. 
Smart targeting
Using the product context, you can bring people back to product pages by promoting products that they have already visited in your store.
This powerful feature helps you to boost sales and reduce the number of bounces. 
Adjustable pop-up and events conditions
You can specify how long each type of event will stay relevant, when pop-ups start displaying, for how long, and with what frequency. You can also define the maximum amount of notifications per user session, update, or remove outdated events.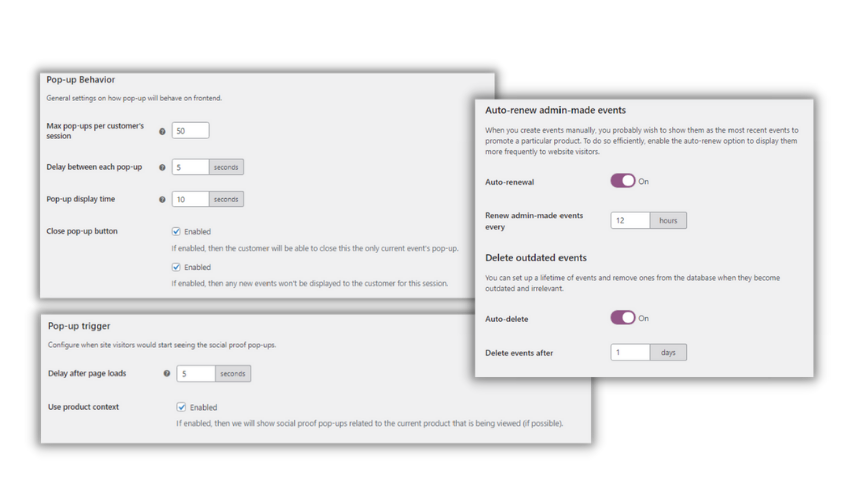 Restrict pages, user roles, and product categories 
The plugin lets you decide on which pages to display notifications and helps you restrict recording events from specific user roles or product categories. So if you have products you don't want to promote or customers whose orders you don't want to show, that's easy to do. Also, you're able to disable pop-ups on mobiles.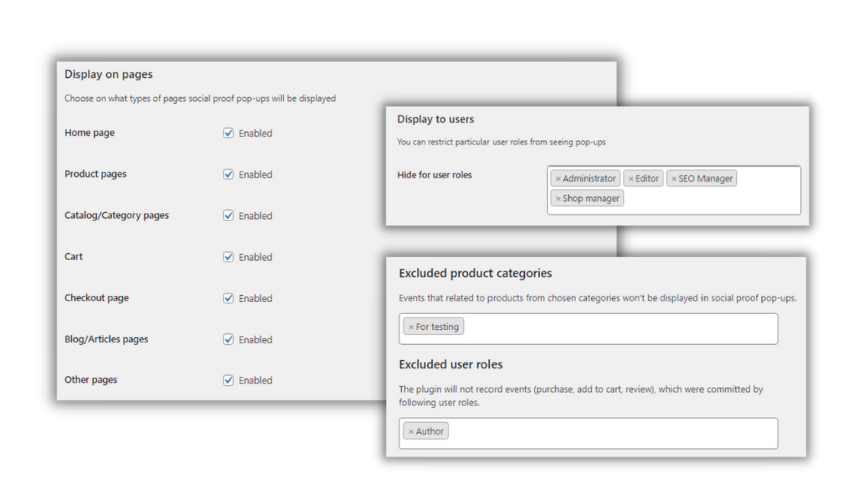 Be kind to your customers 
We want you to find balance and not annoy your customers with too much communication. That's why Social Proof for WooCommerce provides you a variety of options to decide if users can close the pop-ups permanently, close one by one, or can't restrict them at all. 
And since data plugin records may be quite sensitive, you can also choose not to use real names and locations at all. As well as restrict some user roles from seeing notifications. 
Plus, we utilize customers' cookies to not show them their events. 
No limitations and 3rd-party integrations 
We don't limit you to the number of recorded events. And you don't need integrations with external services that store data and trigger pop-ups. Everything is recorded to your database, and you can decide how long you want to keep it. 
Many other settings, a fully customizable look, and powerful features will help you create user-friendly notifications and turn viewers into buyers using Social Proof for WooCommerce.