Square for WooCommerce
| Developed by WooCommerce
Information & Requirements
An account with Square
WooCommerce version 2.6 or higher
A valid SSL certificate is required
WooCommerce Square is currently only available for the U.S., Canada, Australia, Japan and the UK.
View documentation for more info →
Online and in-person payments made simple with Square
Get the WooCommerce extension for Square at no cost and instantly start accepting payments. With Square and WooCommerce, you can easily track all your inventory and sales from online and offline in one place.

Square helps all types of businesses start, run and grow with intuitive, powerful tools
Accept payments anywhere, any time: Take payments online, in person or on the go with Square and never miss a sale. Square accepts all major debit and credit cards. (Available in the U.S, Canada, Australia, Japan and the UK)
Clear pricing:

Pay 2.75% (2.65% for CA, 1.75% for UK, 1.9% for AU, and 3.25% for JP) per in-person transaction and 2.9% + $.30 (2.5% for UK, 2.2% for AU, and 3.6% for JP) for online transactions. 

Custom rates available for some businesses with annual revenues over $250K and an average ticket size over $15– Get in touch.
Fast deposits: See your funds deposited within one to two business days.
PCI-Compliance: Square complies with the PCI-DSS standards and there are no fees.
Square Secure: Get Chargeback Protection and fraud detection at no cost so you can stay focused on your business.
Keep your inventory up-to-date and easily manage your business.
Getting your products set up in both platforms is easy. Manually sync products from WooCommerce to Square, or from Square to WooCommerce — no need to set up items twice. When an item is purchased your inventory will automatically sync from Square to WooCommerce.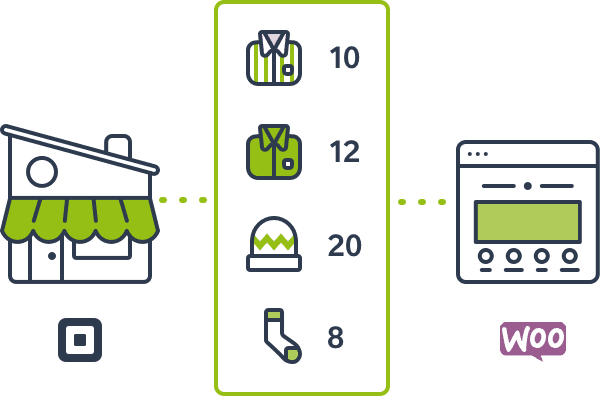 Save time by updating once
New products created in WooCommerce will automatically be added to Square. Create and update products in WooCommerce and instantly see those changes in Square. All changes including product names and prices will be reflected in both WooCommerce and Square.
Don't have a Square account? Sign up.