Square for WooCommerce
| Developed by WooCommerce
Information & Requirements
An account with Square
WooCommerce version 2.6 or higher
A valid SSL certificate is required
WooCommerce Square is currently only available for the U.S., Canada, Australia, Japan and the UK.
View documentation for more info
Take payments online and in-person with Square
Get the Square extension for WooCommerce at no cost and instantly start accepting payments. With Square and WooCommerce, you can track your inventory and sales across all channels in one place.
It's easy to get started with Square in minutes. There are no long-term commitments, hidden fees, or surprises. With Square, you only pay when you make a sale.

Features and Benefits
Accept payments anywhere, any time: Take payments online, in person or on the go with Square and never miss a sale. Square accepts all major debit and credit cards. (Available in the U.S, Canada, Australia, Japan and the UK)
Clear pricing:

Pay 2.75% (2.65% for CA, 1.75% for UK, 1.9% for AU, and 3.25% for JP) per in-person transaction and 2.9% + $.30 (2.5% for UK, 2.2% for AU, and 3.6% for JP) for online transactions. 

Custom rates available for some businesses with annual revenues over $250K and an average ticket size over $15– Get in touch.
Fast deposits: See your funds deposited within one to two business days.
PCI-Compliance: Square complies with the PCI-DSS standards and there are no fees.
Square Secure: Get Chargeback Protection and fraud detection at no cost so you can stay focused on your business.
Easily manage your inventory
Getting your products set up in both platforms is easy. Manually sync products from WooCommerce to Square, or from Square to WooCommerce — no need to set up items twice. When an item is purchased your inventory will automatically sync from Square to WooCommerce.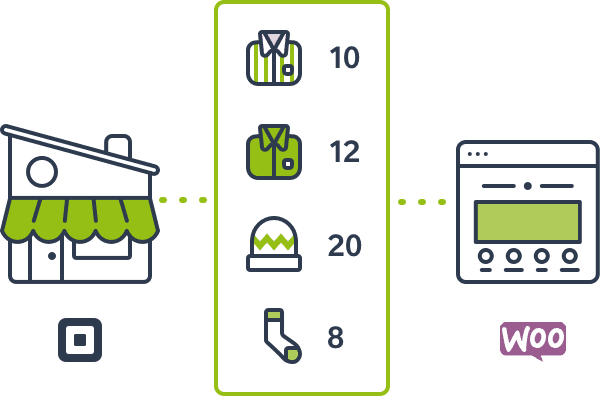 Save time by updating once
New products created in WooCommerce will automatically be added to Square. Create and update products in WooCommerce and instantly see those changes in Square. All changes including product names and prices will be reflected in both WooCommerce and Square.
Protect your business
We're industry leaders in security and fraud prevention. But Square Secure isn't only a suite of risk management services. We've also developed tools and resources to help your business thrive. And if you join Square, it's all included at no additional cost to you.
Payment disputes
Where there are purchases, there are payment disputes. As with any transaction, there's always a risk that your customer will dispute the validity of the purchase. Square has a dedicated disputes team standing by to walk you through the process.
Dedicated disputes team

: Square has a team of experts to walk you through the process of challenging payment disputes with your customer's bank.

Disputes management made easy

: With our Disputes Dashboard, you can submit all the necessary documents to us electronically. We send them to your customer's bank so that they can make a ruling on the dispute.
Fraud and account takeover protection
Our fraud prevention team watches over your account's security 24/7. We're not just looking at your account activity to keep you safe. We take a holistic look at the entire Square ecosystem to analyze a wide variety of signals and keep ahead of fraud trends.
Square detects fraud before it happens

: We use machine learning models and live monitoring programs to analyze transactions as they're happening

Advanced account takeover prevention

: We offer customization options to layer your security by adding 2-factor authentication, employee permissions and account change notifications.
Advanced security
We're industry experts in security. Square protects your data like our business depends on it – because it does. We're the merchant of record for every transaction, which means we're dedicated to keeping your business safe.
End-to-end encryption

: Square protects your data with industry-standard secure coding guidelines, such as those recommended by OWASP. Our applications are developed in-house and are subject to strict security review.

PCI Level 1 compliant:

Sixty-five percent of small businesses miss the mark on the minimum compliance requirements. We shoulder the burden of paying for assessments to make sure you're compliant, saving you up to $5,000 in PCI consulting fees.
Don't have a Square account? Sign up.