Use Sticky Cart for WooCommerce to give your shoppers a Smart Cart Feature — let store visitors buy from any page on your site with a Sticky Cart that appears as they scroll, and boost your sales and conversions.
A Sticky Cart that Always Appears Below the Fold
Product descriptions, large images, and product reviews can cause your "Cart" and "Add to Cart" buttons to disappear as visitors scroll. Sticky Cart shows a sticky cart form prominently on every product page — it's always accessible, even when your usual buttons can't be seen.
It's also great for encouraging return visitors to convert. If a customer visits your site, leaves with items still in their cart, and then visits again, Sticky Cart will show them the items and give them the option to check out directly from whatever page they're on, without visiting the cart or product page.
Your visitors will always have an opportunity to buy, boosting your store's sales.
Direct Checkout with Sticky Cart
Your visitors will have an opportunity to check out from any page — no need to visit the cart page.
Convert Default Cart to Smart Cart
The Sticky Cart provides you the Smart Cart feature.
You can convert your default cart functionality into Smart Cart, just one click and its done.
Smart Cart skips the cart page, customer will get all cart features on same page without page reload.
Fully AJAX Functionality.
Fully Customizable, Easy Installation, No Coding or Special Expertise Needed
Use our auto mode to instantly generate a color scheme that works perfectly with your theme. No messing around with complicated CSS or html.
Or customize your color scheme — we know your site is unique, and you know what colors convert the best with your customers.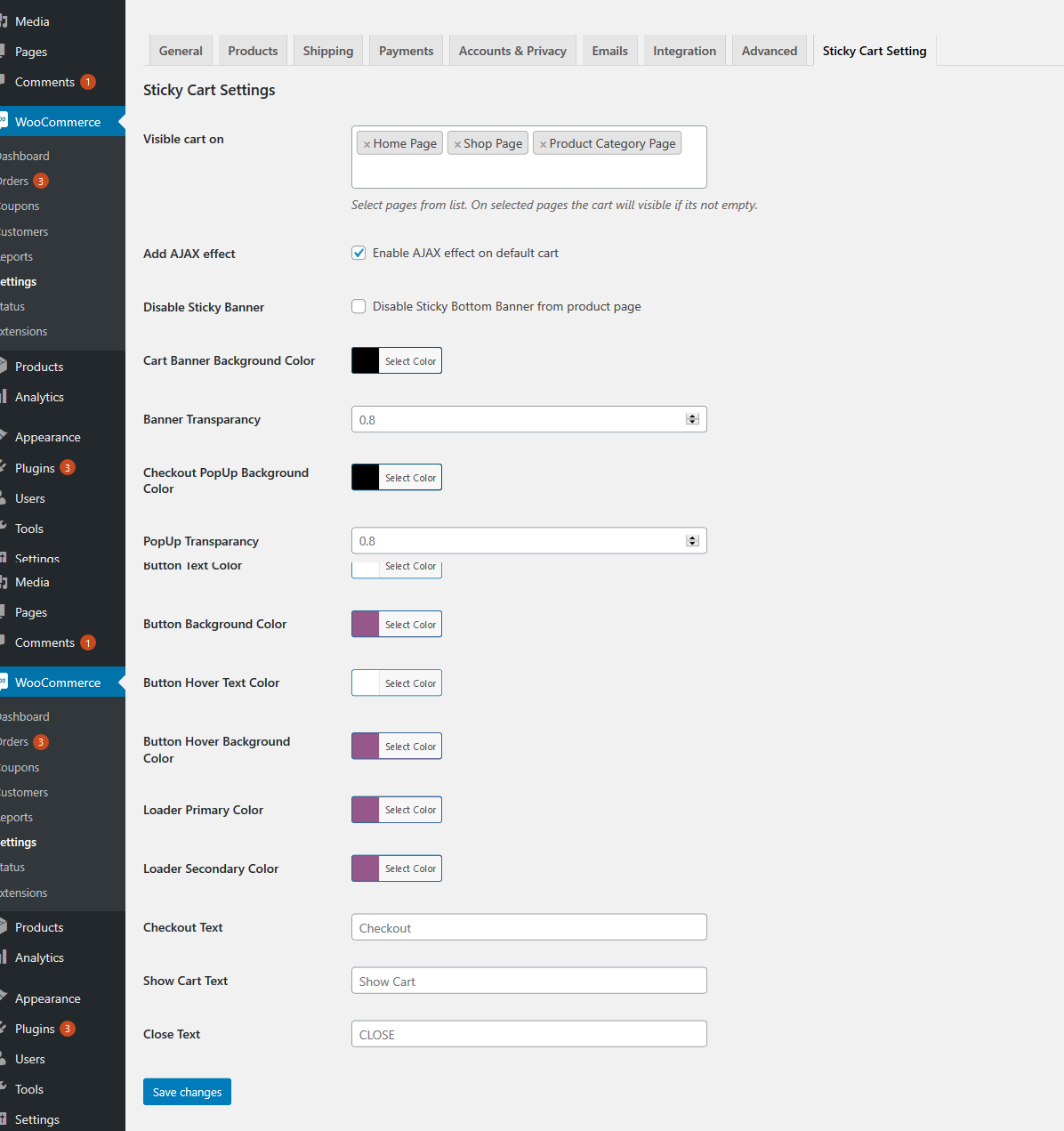 Boost Conversions By Reminding Your Customers to Buy
The Shopping Cart is one of the defining features of an eCommerce site. But it's usually not very visually imposing, and can get lost among product descriptions and images. Making the cart more visible is a good constant, persuasive reminder for customers to buy.
And once they have decided to buy, Sticky Care ensures that their cart is always easy to find. You won't lose out by having customers lose interest while scrolling back up the page trying to find the right button to click, and that means more conversions — and more revenue.
Fully Mobile and Desktop Responsive
Sticky Cart works across all devices, whether your customers are on desktop, laptop, tablet, or smartphone.
You already work hard getting people to your store! Make it as easy for them to purchase as possible.
WooCommerce
The most customizable eCommerce platform for building your online business.