Increase conversions by highlighting positive product reviews
It's a well known fact that customer reviews play a big role in eCommerce. Reading a positive review can be what tips the decision to purchase for many customers, but many sites hide reviews away on individual product pages.
The Storefront Reviews extensions enables you to display reviews on your homepage in a variety of styles, or anywhere on your site via the included shortcode.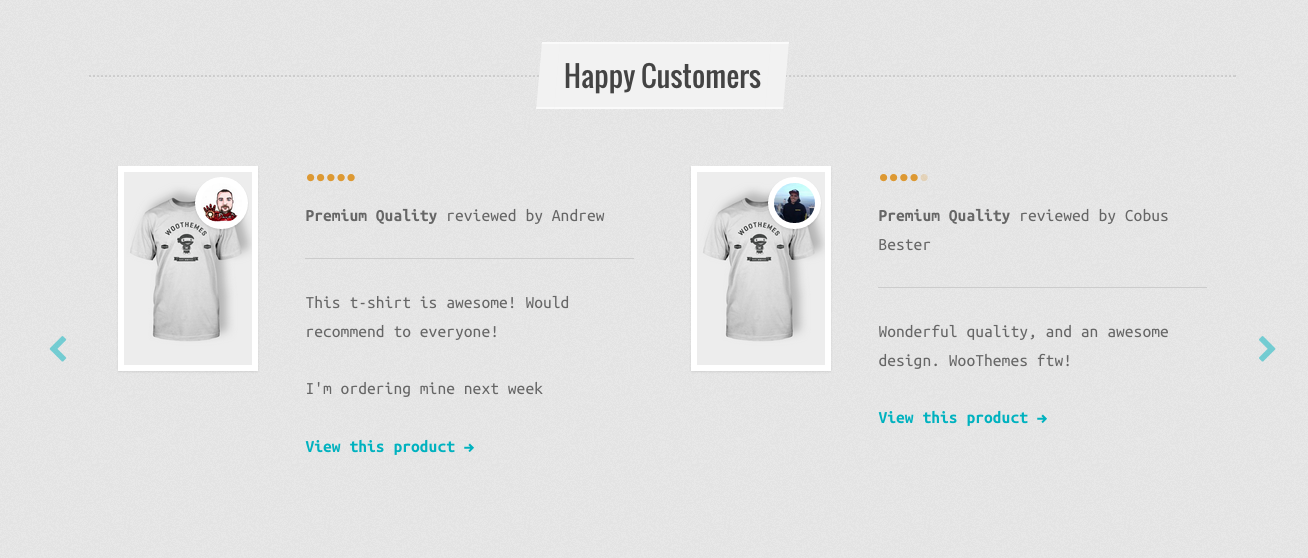 Features
There are a variety of display options for the homepage component including:
Title – Specify a title for your reviews
Review scope – Specify whether to display the most recent reviews, reviews from a specific product or even specific reviews themselves
Review display – Choose from 3 different review styles as well as specifying how many columns to arrange reviews in to
Carousel – Create an attractive, touch-friendly scrolling carousel to display reviews
Colors – Gain control of the rating colors throughout your WooCommerce powered store

Shortcode
Each of those display options are also available as attributes on the Storefront Reviews shortcode. This can be added manually, or via the handy shortcode generator button.
Storefront Required
This extension is designed to work specifically with Storefront, the official WooCommerce theme. It will not work with any other theme.
Storefront is available to download for free. Read more.