For a hassle-free, automated selling experience on Walmart Canada
With the Walmart Canada Integration for WooCommerce, integrate your WooCommerce store with Walmart Canada Marketplace to expand product visibility and make cross-selling a seamless experience.
Why sell at Walmart?
Walmart.ca is a trusted marketplace, known for its unparalleled customer support and quality products.  With over 14 million monthly users, Walmart.ca is a great environment to expand your product reach and potentially boost your brand's growth, sales, and profits.
Stay ahead of your competitors, provide free 2-day shipping and competitive pricing, and further boost sales by winning the Buy Box.
Benefits of selling on Walmart.ca:
Pay only when you make a sale: Unlike other marketplaces, Walmart.ca doesn't charge any monthly fee. So you pay commission only when a purchase is made.
No second-guessing your performance: Walmart also has a Seller Scorecard that allows you to easily track and optimize performance.
Easy and secure checkout process: Walmart Canada enables you to offer a quick and secure checkout experience to your shoppers.
Excellent SEO Tool: Walmart provides an option to profile your products based on category and attributes, which helps with broader audience reach and more result pages with advanced variant and attribute mapping.
Features
Automated and simplified listings
The integration extension automatically uploads your WooCommerce listings to Walmart in bulk with a click. You can set various pricing plans, product details, and fulfillment rules for Walmart listings depending on existing WooCommerce inventory data.
Centralized order management
Centrally list, sync, and manage orders, cancellations, and other updates for the products you sell on Walmart from the extension's admin panel in WooCommerce to experience hassle-free selling and streamline sales and order management.
Profile-based product upload
Automate the process of product upload by creating profiles and filling category-specific data like brand, color, size, material, etc. through the integration extension and assign these profiles to your products on the Walmart marketplace.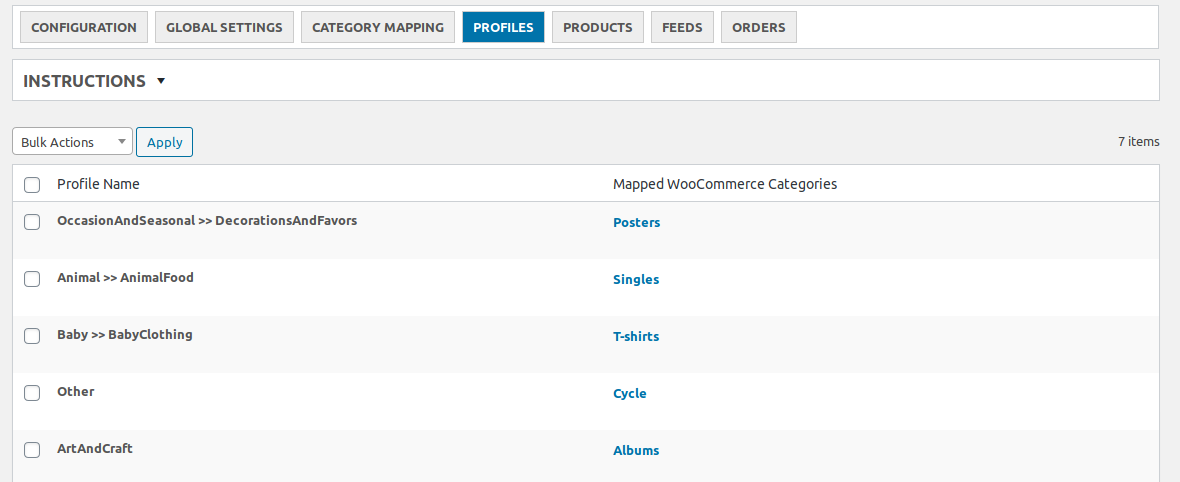 Category mapping
Align your product to the relevant product categories and attributes on Walmart. The integration extension helps in structuring your catalog and makes it easy for shoppers to navigate through related product searches, increasing your products' visibility.
Auto-acknowledge orders
Maintain a reasonable acceptance rate by auto-accepting Walmart.ca orders. You can even accept partial orders and forward the unavailable items for other sellers to fulfill!
Feed management
Review the status of your products on Walmart. Whether your products are staged, published, unpublished, or have any errors, everything can be inspected and resolved through a central feed.

Real-time synchronization
Get regular and (near) real-time synchronization of data. Changes are reflected within seconds, helping you keep track of prices and stock across both Walmart and your WooCommerce store.

Submit shipment
Submit product fulfillment and shipment details to your seller Walmart account. This enables buyers to easily track their orders while you maintain transparency, which helps boosts customer loyalty and confidence.
Benefits
Experience effortless selling on Walmart marketplace through Walmart Canada Integration for WooCommerce and leverage its automated features along with:
Dedicated account managers
After the successful purchase of Walmart Integration for WooCommerce, you'll get a dedicated account manager to support you with installation and onboarding.
24/7 free support
Integrate your WooCommerce store with the Walmart marketplace and take advantage of our free 24-7 support system.
Why should you choose Walmart Canada Integration for your WooCommerce store?
The Integration Solution provides you with a plethora of automated features, designed specially to make your selling process effortless. The solutions will also help you drive a significant potential customer base to your WooCommerce store. So, let our experts help you sell more efficiently and increase your overall ROI!