WooCommerce AvaTax
Developed by SkyVerge
Automate Tax Rate Calculation and Tax Returns with WooCommerce AvaTax
Avalara and WooCommerce have partnered to offer Avalara AvaTax within WooCommerce. AvaTax calculates sales tax based on concise, geo-spatial mapping – accurate down to the rooftop level. Your buyers can get an accurate calculation automatically on every checkout.
Guaranteed accuracy – AvaTax calculates accurate sales tax for all US states and thousands of product codes. Not in the US? AvaTax can calculate tax rates for other countries as well!
Real-time integration – Sales tax calculation within your WooCommerce checkout process with results automatically saved in your Avalara account.
Stress-free returns processing – Your filing is done on time, every time.
Audit-ready reports at your fingertips, including reports, tax returns, and audits.
Affordable tax automation – AvaTax is priced based on what you need and use. Annual contracts are available with monthly payment options, starting at $5 per month.
Already signed up? The WooCommerce AvaTax extension is a seamless integration for Avalara's tax calculation services and your WooCommerce-powered store! Automatically calculate tax rates, submit documents to Avalara for transactions, and enable address validation at checkout for supported countries.
With WooCommerce AvaTax, you can stop guessing at your tax rates and immediately streamline tax rate calculation and management. Rather than manually adding a bunch of tax and shipping rates to your store, you can use Avalara's tax codes to automatically calculate the appropriate tax for each order based on your store address and the customer address. All tax information will be recorded properly in your Avalara account to make return filings as (relatively) painless as possible. 😉
WooCommerce AvaTax Features
Show automatically calculated tax rates from Avalara at checkout
Easily configure product tax codes globally for our store, or on a per-category or per-product basis
Tax rates are calculated per line item to support orders with multiple shipping destinations NEW
Includes full support for WooCommerce Subscriptions — tax is always calculated properly for initial purchases vs renewals NEW
Compatible with several other plugins, such as order export plugins — view a list here
Automatically submit paid orders as transactions in Avalara
Opt to send transactions to Avalara as committed, or as uncommitted for review
Supports tax-exclusive or tax-inclusive pricing display NEW
Supports calculating tax rates via AvaTax for manually-created orders
Automatically manages partial and refund tax adjustments in your Avalara account when refunds are processed in WooCommerce
Enable address validation for customers at checkout (for supported countries)
Displays helpful success or error messages for checkout address validation
Set tax exemptions for particular users as needed
Supports Landed Cost from Avalara to estimate customs duties and fees for cross-border sellers NEW
Automatically Calculate Tax Rates
WooCommerce AvaTax will automatically show the AvaTax tax rates during the checkout proess based on your store's origin address, the customer's address, and the tax codes set for your products and shipping methods. You can also get tax rates for manually created orders in WooCommerce before marking the order as "paid".
You can even enable address validation from your settings to allow customers to click "Validate Address" at checkout if purchasing from a supported country. This will validate and correct addresses for submission in checkout and to Avalara, ensuring taxes are 100% accurate (and as a bonus, reducing shipping errors!).
Customers will be informed with success or error messages if using address validation, but will never be blocked from submitting the order.
Full Subscriptions Support – NEW
When your customers purchase a subscription, WooCommerce AvaTax is aware of the initial order tax vs the renewal tax, and calculates ongoing renewal taxes appropriately. If your payment gateway supports modifying recurring totals, AvaTax is the only integration for WooCommerce that will properly recalculate taxes for each renewal before the payment gateway processes the order, ensuring your original and renewal orders always calculate accurate taxes, protecting you against customer address changes or new tax regulations.
Manually Submit Transactions
For any order that's paid immediately (think credit cards and eChecks), orders will be sent as transactions to Avalara to create a tax transaction. However, what if you also accept checks or create manual payments? You'll need to control when the final tax transaction is recorded, so you can use the "Send to Avalara" action to support any kind of ordering workflow.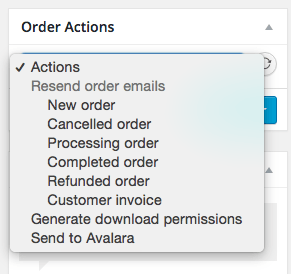 This does a one-time send to Avalara to record the order and generate final tax calculations.
Easy Tax Code Set Up
While you can set a default tax code for your products in the plugin settings, chances are you'll need to implement several tax rates for your shop. You can override these on a per-category basis for quick tax code set up, and override codes on a per-product basis for fine-tined control (even supports product variations, too!).
Set Tax Exemptions
While much of your tax handling is done via tax codes, you can also manage tax per user. If any of your customers should be tax-exempt, you can edit user to set an exemption reason, which will be used for any of the customer's orders while logged in.
Landed Cost Support – NEW
For merchants who sell internationally, estimating duty and customs fees can be a large task, and one that delays your fulfillment process. Avalara can now bring these estimates directly to your store at the time of checkout!
Enabling Landed Cost via your Avalara account will let you estimate customs fees and tariffs, and optionally charge these up front to the customer as a checkout fee.
How to Get Started
Sign up for AvaTax if you don't already have an account, then log in and grab your Account Number / License Key
Download this free extension 🙂
Install the extension into your WooCommerce store
Save this information on the settings page and setup your tax codes / settings
That's it! Sit back and enjoy automated tax rate management!
Ready to take it further? You can learn more about installing and configuring WooCommerce AvaTax in the plugin documentation.
Need any more reason to download? When you use a SkyVerge-developed extension, you're getting the highest quality extensions for your WooCommerce store. Gain peace of mind by knowing that when you use our plugins, your store's performance is as important to us as it is to you.