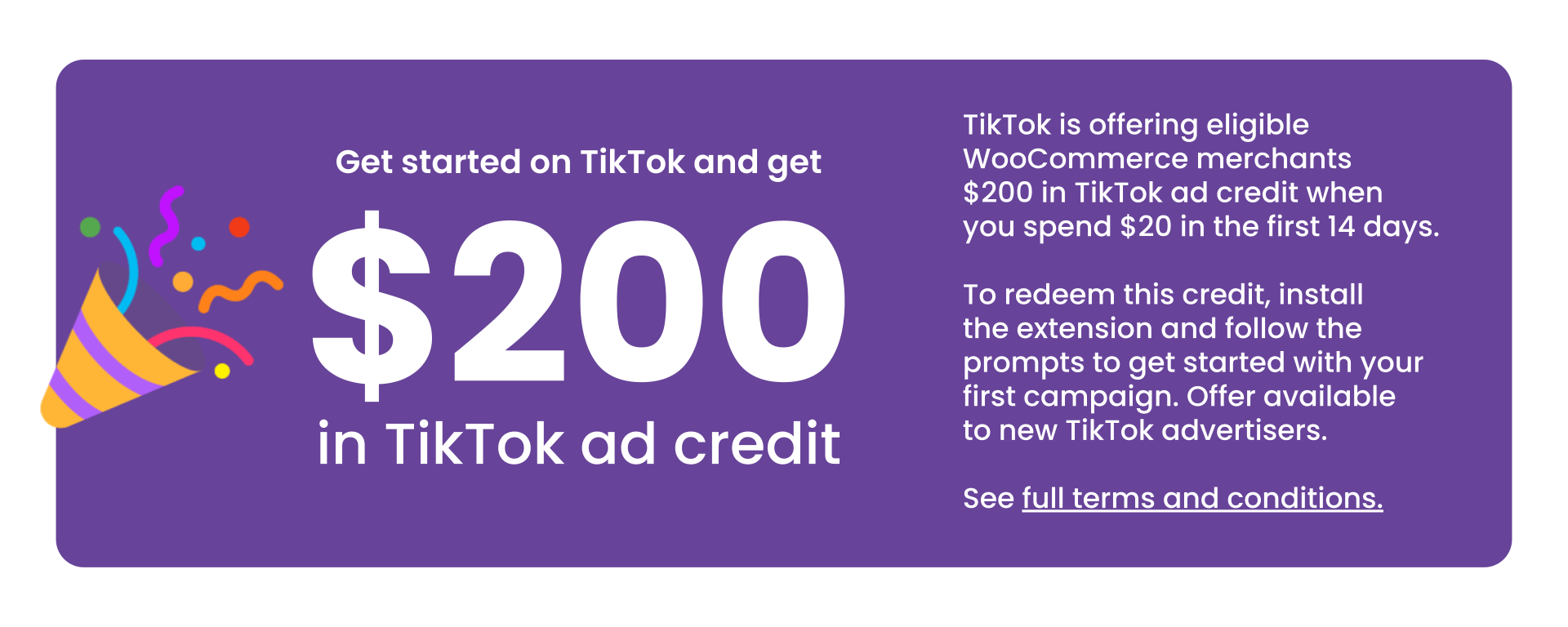 Grow Your WooCommerce Business with TikTok
With TikTok for WooCommerce, you can sync your store catalog, install the TikTok pixel for campaign performance tracking in one click, and set up ads to target your audience in minutes.
TikTok for WooCommerce Features
Seamlessly add TikTok to your WooCommerce store and connect directly to your TikTok For Business account. Then, automatically sync your product catalog and create ads that instantly connect shoppers with what they want to buy.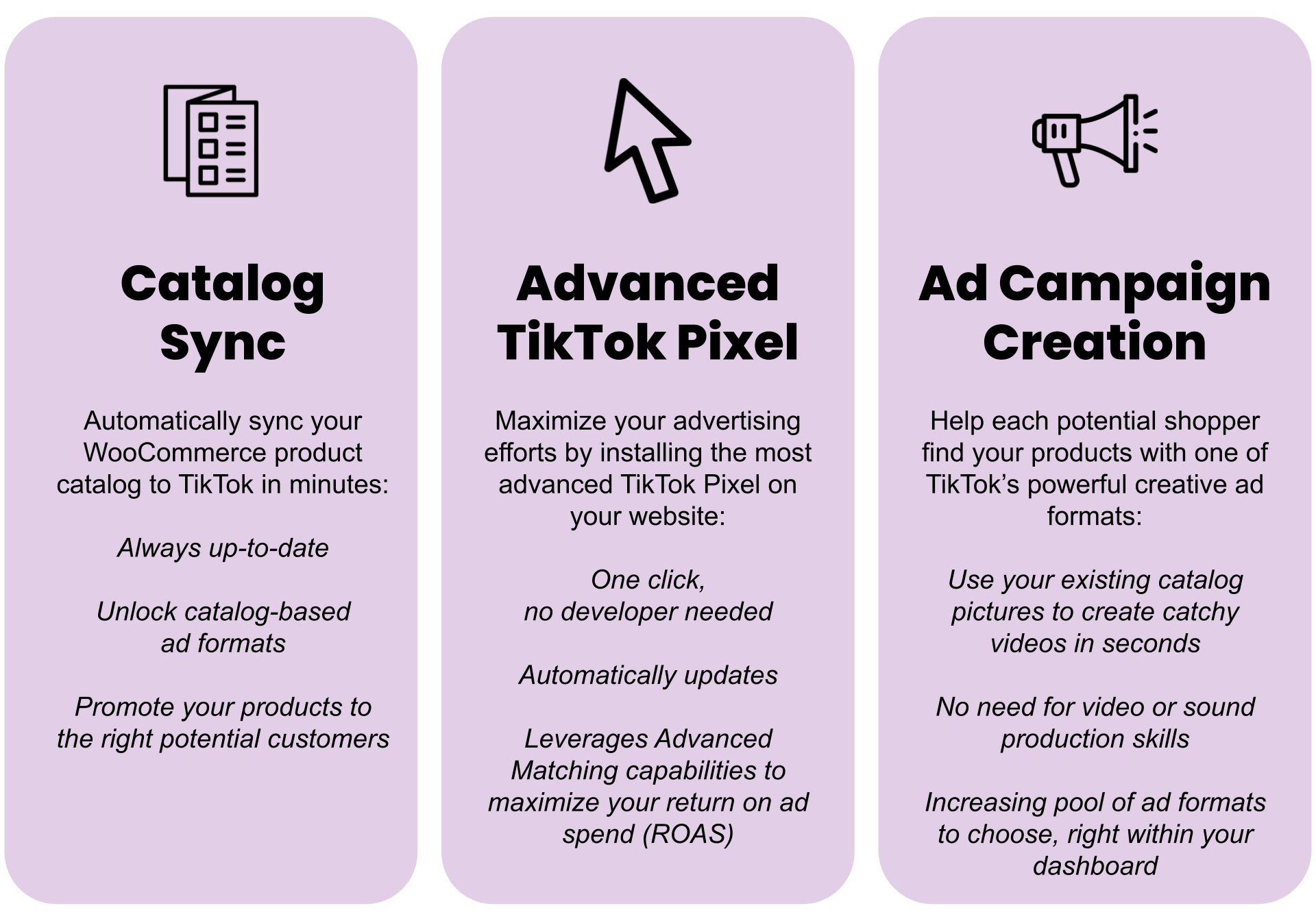 Ad solutions available on TikTok via the WooCommerce integration:
After you've synced your catalog on TikTok via the WooCommerce integration, check out all the in-feed ad formats available to you on
TikTok Ads Manager
, including:

Download and add TikTok for WooCommerce to your WooCommerce store.
Under the marketing sidebar menu in your admin dashboard, select TikTok.

For WooCommerce versions 6.5 or greater, the marketing sidebar menu may not appear by default. 

Navigate to WooCommerce > settings > advanced  >features

Un-check the "Navigation" option and save changes

You should now see TikTok under the "Marketing" tab and initiative your setup.

Follow the prompts to complete set-up and create or connect your TikTok accounts.

Sign-in or create a new TikTok account

Authorize WooCommerce to connect with TikTok for Business

Connect your existing Business Center

Install the pixel and activate Advanced Matching for optimized tracking

Sync your product catalog

Add your billing & payment info to test your first campaign (and don't miss our $200 ad credit!)

Interested in setting up the integration but still have some questions?
Schedule a one-on-one session with a TikTok Ad Specialist to learn how to unlock the power of TikTok!
Note: Available only to merchants based in North America and Europe and subject to TikTok terms and conditions
_________________________
FAQs
What does TikTok for WooCommerce enable? 
With the TikTok channel setup you will have:
Easy TikTok For Business and Ad accounts set-up

Pixel installed in one click

Automatic catalog sync, which powers access to ad formats
Do I need to have a TikTok account?
You don't need an organic TikTok account to run ads like Collection Ads. To use more upcoming Shopping features, you will need an account with an organic presence.
What events does the TikTok Pixel for WooCommerce support?
The pixel automatically installed during the TikTok channel set-up supports View Content, Start Checkout, Add-to-Cart, and Purchase.
What is Advanced Matching?
Advanced Matching is an enhancement to the TikTok Pixel. It allows you to send privacy-safe hashed customer information (email addresses and phone numbers) to increase the match rate between TikTok ad clicks, views, and conversions on your website.
Why am I not seeing TikTok in my WordPress Admin?
Navigate to WooCommerce > Settings > Advanced > Features, un-check the "Navigation" option, and save the changes. You should now see "TikTok" under the "Marketing" tab.
How can I create ads on TikTok?
You may create ads on TikTok Ads Manager and, or via our TikTok integration (for a conversion campaign). For access to all other campaign objective types (such as reach, traffic, app installs, video views, and lead generation), please use TikTok Ads Manager. See how to choose the right objective here.
Are there any prerequisites before ads creation? 
You must have your Ad Account in an approved state and have payment methods set up before an ad campaign can start delivery. For more details on account approval, please click here. For more details on accepted payment methods, please click here.
Will I be able to see all campaigns implemented via the TikTok for WooCommerce integration on TikTok Ads Manager? 
You will be able to see all campaigns created on the TikTok integration on your TikTok Ads Manager account.
Which product categories are allowed for advertising?
Click here for a detailed overview of product category restrictions in our advertising.
Need help with installation?
Submit a customer support ticket here. 
WooCommerce
A plataforma mais personalizável de eCommerce para criar seu negócio online.
Garantia de 30 dias para reembolso
Equipes de suporte em todo o mundo
Pagamento online seguro e confiável