Imagina crear una página de tienda personalizada, una página de destino para una colección de productos o simplemente insertar algunos de nuestros bloques de productos en tus entradas y páginas. Hay mucho por hacer con estos bloques de WooCommerce, así que veamos qué bloques están incluidos en el plugin principal de WooCommerce.
Desde WooCommerce 3.6, hemos incluido algunos bloques geniales (artículo disponible solo en Inglés) que puedes usar para incluir productos donde sea que estés usando el nuevo editor de WordPress. Consulta la documentación del editor de WordPress (artículo disponible solo en Inglés) para obtener más información sobre los bloques y el nuevo editor en sí.
Recomendamos actualizar WordPress y WooCommerce a la versión estable más reciente. Los requisitos mínimos son:
Se requiere WordPress 5.3 +
Se requiere WooCommerce 4.2 +
A continuación, se muestra una lista de bloques que puedes utilizar para mostrar tus productos de diferentes maneras. Como sugieren los nombres de los bloques, puedes crear cuadrículas de productos basados ​​en etiquetas, productos destacados, atributos y más.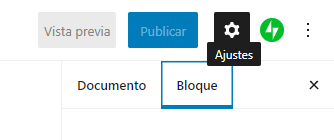 Los ajustes y las opciones para modificar estos bloques se encuentran en la sección Bloque de la derecha. Verás esto si seleccionas un bloque en el editor y tienes abierto el panel de ajustes.
Productos por etiqueta
Producto destacado
Productos elegidos manualmente
Productos más vendidos
Productos por categoría
Productos más recientes
Productos en oferta
Productos por atributo
Productos mejor valorados
Productos por bloque de atributos
Configuración del bloque de productos más vendidos
Productos por categoría Frontend de selección de bloques
Productos por categoría Selección de bloque
Bloque de productos más vendidos
Bloque de productos seleccionados a mano
Bloque de producto destacado
Productos por bloque de etiquetas
Permite que los visitantes exploren tus productos ↑ Back to top
Estos tres bloques te permiten mostrar todas las categorías de productos como una lista o menú desplegable, resaltar visualmente una categoría de producto y fomentar una acción rápida, y añadir un cuadro de búsqueda para permitir a los clientes buscar productos por palabra clave.
Lista de categorías de productos
Categoría destacada
Búsqueda de productos
Mostrar valoraciones de productos ↑ Back to top
Crea una lista que muestre TODAS las valoraciones de tus productos o muestra valoraciones de productos o categorías específicas.
Todas las valoraciones
Valoraciones por producto
Valoraciones por categoría
Crear una página de tienda personalizada ↑ Back to top
Una de las colecciones más interesantes son estos bloques que trabajan en conjunto para crear una página de tienda personalizada, incluidos bloques que permiten a los clientes buscar y filtrar productos por atributos o precio.
Todos los productos
Filtrar productos por atributo
Filtrar productos por precio
Filtros de productos activos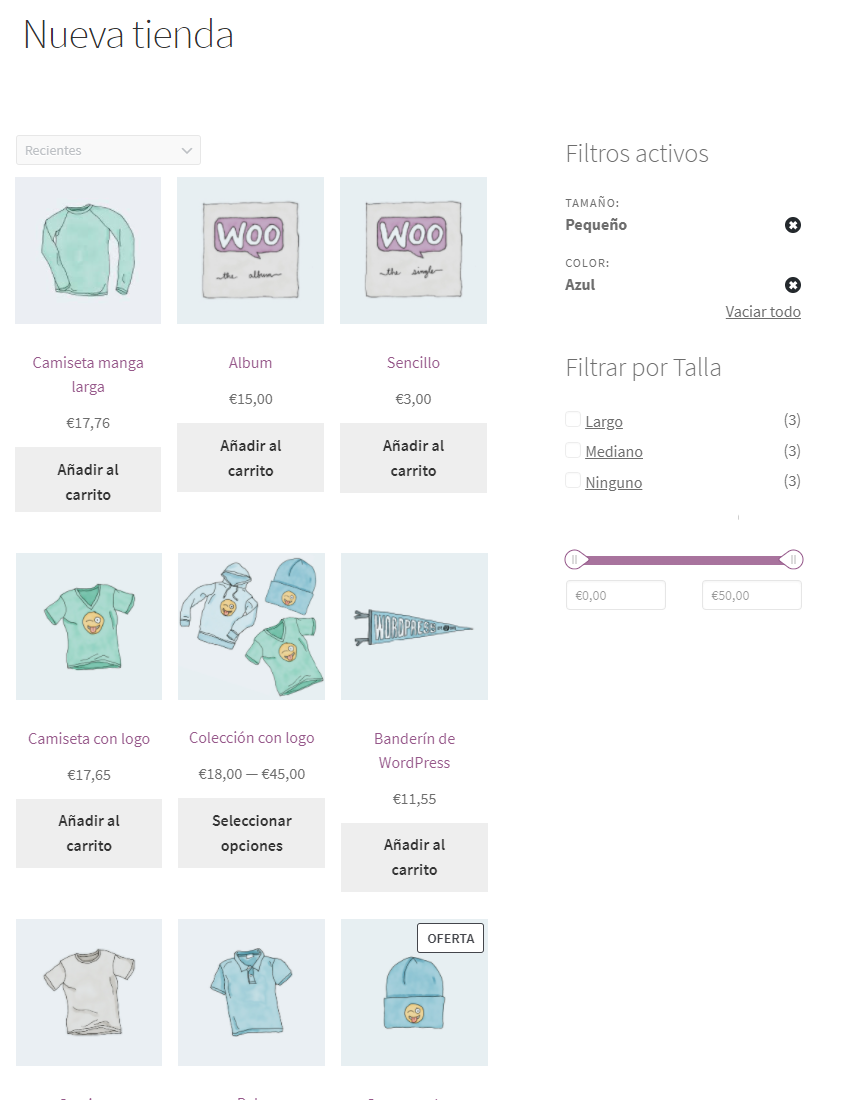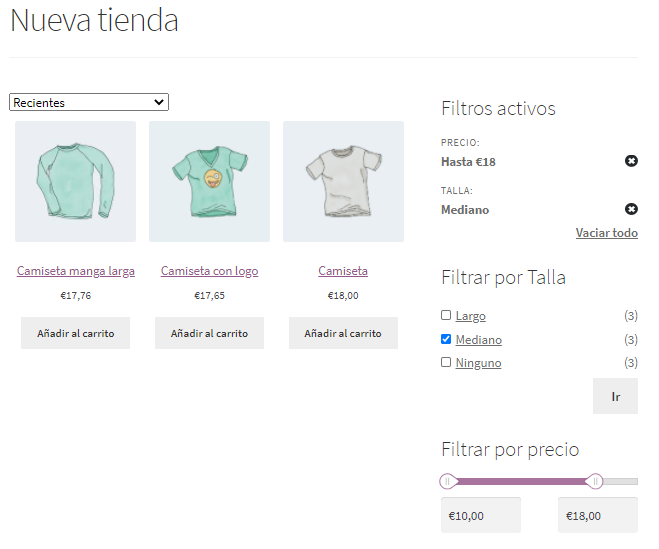 Puedes comenzar con el bloque Columnas integrado en WordPress para crear un diseño de página tradicional con una columna ancha y una columna de barra lateral. A continuación, añade el bloque Todos los productos al área de contenido principal. Este bloque tiene lo que se llama bloques atómicos dentro de él, lo que significa que si seleccionas el bloque Todos los productos y luego el icono Editar, verás nuevas opciones para organizar cómo se muestran los productos en una cuadrícula.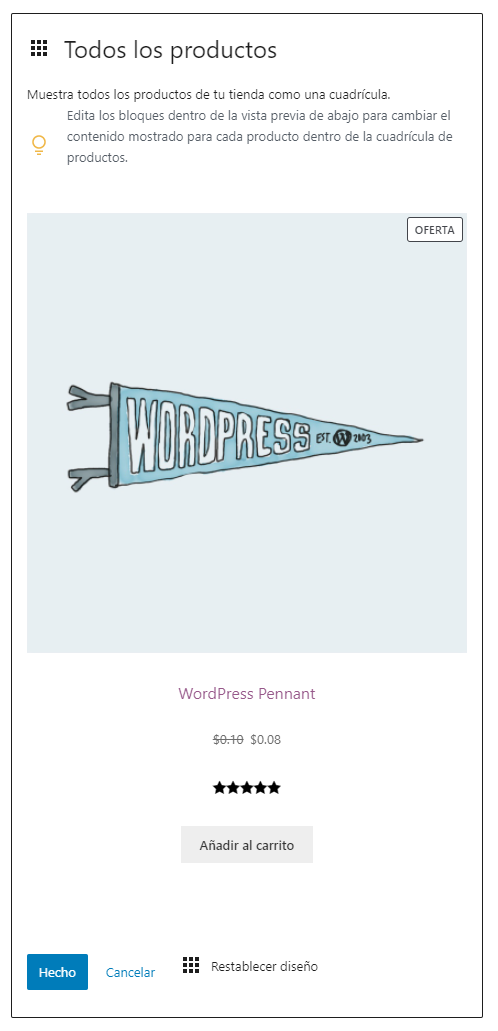 Puedes usar estos bloques dentro de un bloque para añadir, eliminar o reorganizar elementos como la imagen del producto, el título del producto, la valoración del producto, el precio del producto, el resumen del producto y el botón del producto.
Finalmente, añade cualquier combinación de los tres bloques restantes al área de la barra lateral para permitir que los clientes filtren por múltiples atributos o precios.
El plugin WooCommerce Product Blocks y más ↑ Back to top
Todos estos bloques comienzan en un plugin de funciones antes de incluirse en el núcleo de WooCommerce. Instala nuestro plugin WooCommerce Blocks para obtener acceso previo a nuevos bloques y mejoras a los bloques existentes.
Haz clic aquí para obtener más información sobre el estado de los bloques carrito y pago (artículo disponible solo en Inglés).
Si deseas obtener más información sobre el plugin o seguir el desarrollo de nuevos bloques, consulta la página del plugin en WordPress.org o el repositorio de GitHub.