La recogida local es un método de envío que se puede añadir a las
zonas de envío
. Consulta nuestra
guía de zonas de envío
y crea zonas para comenzar a usar.
Recogida local es un método que permite al cliente recoger el pedido por sí mismo.
Instalación y configuración ↑ Back to top
Para utilizar este método, debe añadirse a una zona de envío.
1 / Ve a WooCommerce> Ajustes> Envío.
2 / Selecciona una zona de envío y haz clic en Editar.

3 / En la siguiente pantalla haz clic en Añadir método de envío.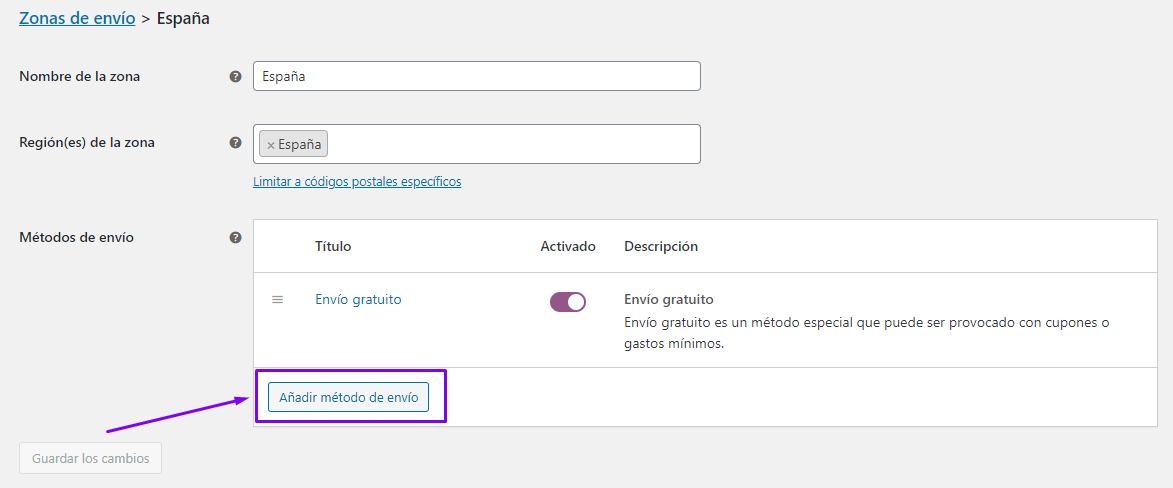 4 / Selecciona Recogida local del menú desplegable.
5 / Haz clic en Editar debajo de Recogida local.
Esto te lleva a una pantalla diferente.
6 / Ingresa un título que se muestre a los clientes al finalizar la compra; por ejemplo , algunas tiendas cambian el título a Entrega local.
7 / Selecciona el estado del impuesto: define si se aplicarán impuestos al importe del envío.
8 / Ingresa el costo: el costo de la opción de recogida local se aplica a todo el carrito.
9 / Guardar los cambios.
Los clientes que residen en la zona con esta opción de envío pueden seleccionarla en el carrito y durante el pago.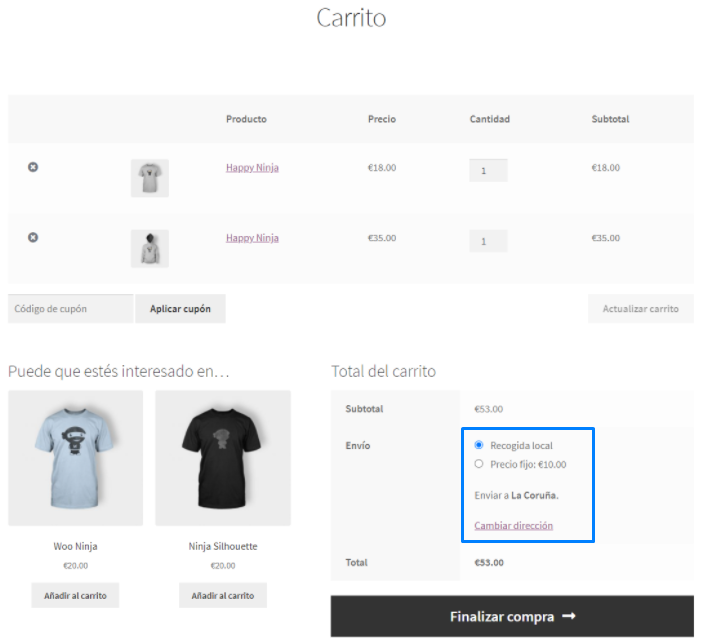 Correos electrónicos personalizados para recogida local ↑ Back to top
WooCommerce utiliza el flujo de pedidos estándar cuando se ha seleccionado el método de envío de recogida local. Por ejemplo, el cliente recibe el mismo correo electrónico de confirmación de pedido si se ha seleccionado la recogida local o el envío de precio fijo.
Para crear correos electrónicos personalizados, usa la guía cómo añadir un correo electrónico personalizado de WooCommerce (artículo disponible solo en Inglés).

Nota:
No podemos brindar soporte para personalizaciones de acuerdo a nuestra
Política de soporte
Desactivar los impuestos locales cuando se utilice la recogida local ↑ Back to top
Nota: la recogida local calcula los impuestos según la ubicación de la tienda base por defecto, y no la dirección del cliente.
Para desactivar los cálculos de impuestos locales para la recogida local, añade este fragmento de código al final del
archivo functions.php
(articulo disponible sólo en Inglés) de tu tema
:
add_filter( 'woocommerce_apply_base_tax_for_local_pickup', '__return_false' );
Los impuestos regulares se utilizarán cuando se seleccione la recogida local, en lugar de los impuestos locales.

Nota:
No podemos brindar soporte para personalizaciones de acuerdo a nuestra
Política de soporte
.
Cambiar la ubicación de los impuestos locales ↑ Back to top
Para cobrar impuestos locales según el código postal y la ciudad para la recogida local, debes definir la ciudad base y el código postal de la tienda con este código:

This file contains bidirectional Unicode text that may be interpreted or compiled differently than what appears below. To review, open the file in an editor that reveals hidden Unicode characters.
Learn more about bidirectional Unicode characters

| | |
| --- | --- |
| | add_filter( 'woocommerce_countries_base_postcode', create_function( '', 'return "80903";' ) ); |
| | add_filter( 'woocommerce_countries_base_city', create_function( '', 'return "COLORADO SPRINGS";' ) ); |