I'm struggling to get creative writing these Thursday blog post titles, so I'm getting straight to the point.
Today see's the release of WooCommerce 1.2.2 and 5 new extensions – and would you believe it none of them are payment gateways?!
We're extremely excited by the amount of developers who have lept at the opportunity of developing for WooCommerce and creating a passive income stream whilst exploring the core of our offering. You're going to like these extensions. Trust me.
WooCommerce 1.2.2
Firstly, let's go over what you can expect in the latest version that just dropped.
We've added customer note email notifications where you can now send customers an update on the status of their order.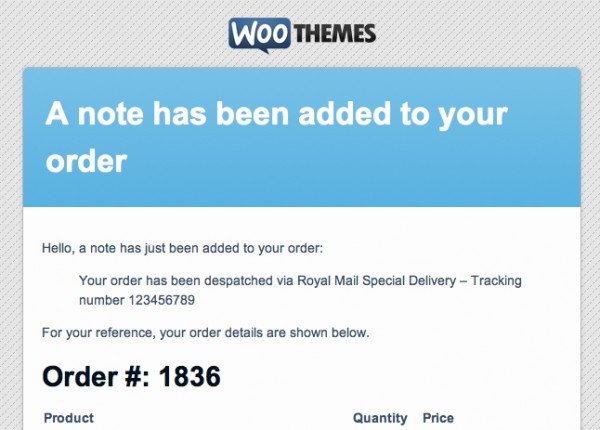 We've also added the ability to make layered nav have an "OR" query so you can expand your search rather than filter it.
After many requests, you can now display size/weight on the attributes tab of your product listing pages.
Another neat addition; users now have the ability to register on the Login/My Account page.
View the full changelog for WooCommerce 1.2.2 as there are far more tweaks, fixes and optimizations to the codebase.
Due to some changes in the plugin, if you are using any of our extensions please ensure you check the changelogs and download any updates from your account – especially if using 2CO, iDeal or authorize.net. This version also updates the download permissions table so please ensure you backup your database before upgrading.
We are working on a notifications system for much easier upgrades to extensions. Expect it really soon.
FedEx Shipping Module
The FedEx shipping module was developed by Andy Zhang and provides calculated shipping options based on FedEx rates to anywhere in the world. The extension does a realtime query to calculate the FedEx shipping rates. This is great for anyone wanting to provide FedEx shipping rates for their customers. Currently this only supports the US as the origin.
View the FedEx extension
Commission King
Developed by Winning Media, this extension allows you to track and pay commissions to users on any products within your store. It adds the 'Commission Recipient' user role, a custom write panel to your edit product pages and a settings panel of it's own to administer and pay commissions.
View the Commission King extension
Jigoshop to WooCommerce Converter
Last week was the CSV Product Importer, now we've taken it a step further and cater for people wanting to move from Jigoshop to WooCommerce. Developed by Agus MU, this extension puts all your products, categories and variations in the correct format for an easy import and switch to our platform. We hope to work on more of these converter facilities soon, and expect our competitors to do the same.
View the Jigoshop to WooCommerce converter extension
Product Add-Ons
This one I'm particularly excited about. Developed in-house by Mike Jolley it allow your customers to customise their products by adding input boxes, dropdowns or a field set of checkboxes.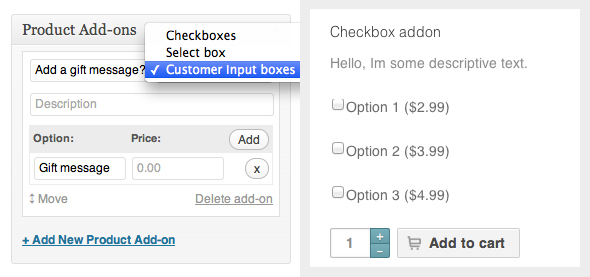 With the Product Add-ons extension, gift messages, donations, laser engraving and any other product which may require user input in some way is now an option for your customers! Think of all the possibilities.
View the Product add-ons extension
Google Product Feed extension
Developed by Lee Willis, the Google Product Feed extension allows you to easily configure data to be added to your Google Merchant Centre feed. This means your products will now appear on Googles product search. As the current king of Internet search, it is clearly a great advantage to have your products appear on Googles own product search engine.
The extension allows you to control which data is added to your Google Merchant Centre feed explicitly. You can also set store-wide defaults agains categories or provide information on specific product pages.
View the Google Product Feed extension