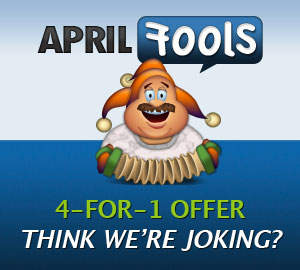 Happy April 1st!
Being April 1st you've probably already had a few pranks played on you today.
Here at Woo we are scattered all around the world so unfortunately we can't cover each others computers with post-it notes, or set Adii's iPhone in jelly, or move ALL the office furniture into Magnus's office. Sigh…
Instead we are going to try prank you. Or are we…
If you head on over to the themes page and select a theme to purchase you might find a pleasant surprise… Perhaps you might find you can select 4 themes and only have to pay for 1.
Hurry though April Fools jokes are supposed to be made before midday on April 1st. We've extended that a bit, cos we nice people, so you have until midday tomorrow (12am GMT, April 2nd 2009)
STATUS UPDATE:
The 4-for-1 offer is now closed. Our usual wonderful 2-for-1 offer still applies