There happen to be hundreds to thousands of e-business conventions, conferences, and events that occur every year, each of them pushing ticket sales to hopeful entrepreneurs and e-business owners who are looking for the next tip or trick to take their business to a new level.
With so many options it may seem overwhelming, and even take your focus off important tweaks and changes you can simply make with a few modifications to your site like building an email list or improving your overall customer retention.
Regardless, these e-business events and conventions are essential for connecting with people who have weathered the storms of online business and battled through some of the troubles you are currently going through.
These events offer training exercises and in-depth tutorials on which tools to use and which to drop.
The only problem is you certainly don't have time to go sifting through giant lists of e-business conventions and events to figure out which ones you should invest more time and money into.
That's why we checked some of the top options out for you and compiled a nice little list of the best conventions that give you a return on your efforts. Keep in mind that some of these events might be a little far for you to travel to, so don't stretch it.
Pro-tip: Look for one of the events that occasionally stops by a location near you in order to save cash on that international plane ticket you're about to book.
Pubcon travels all over the United States to bring together e-business owners who want to hear from the best internet marketers and tech gurus on the planet. They have a tendency hold the conference in Las Vegas, but other past locations have included Boston, Orlando, Austin, and they even ventured as far as London sometimes.
The primary benefit of showing up to Pubcon is for the main speakers. They bring in notable speakers such as Matt Cutts, Guy Kawasaki, Malcolm Gladwell, and David Pogue of the New York Times.
The conference includes keynotes, peer-to-peer discussions and breakout groups, but keep in mind that it is only held once a year so you have to book a ticket in advance.
The Search Engine Marketing Expo has had its fair share of publicity in the past, as it travels to places like San Jose, London, and Sydney during various different months throughout the year.
The whole point of SMX is to bring together people who rely on the Internet for business and to showcase long speeches and questionnaires with search engine optimization experts and other interesting folks like Bill Tancer, Matt Cutts, and people from companies like Coke, YouTube, and Twitter.
The conference is perfect if you want to learn more about SEO, mobile search, improving your conversions, and studying analytics.
eCommerce Expo is a moderately sized conference held only in the UK, but it runs some unique programs if you live in this area or plan to travel there when the conference is being held.
The whole point of the event is to minimize the time you take away from the office—just two days—while covering every aspect of eCommerce that other events miss out on. The conference is nice because it has a more intimate feel and you have a stronger chance of meeting keynote speakers.
You'll hear talks about delivery, logistics, multi-channel strategies, and some of the more specific topics that the larger conferences just can't manage because of their massive size.
The BWG Summit is held in New York every year, which gives the US e-business folks a chance to visit a conference with a smaller crowd. Learn from speakers such as Joe Davidoff from Google and Marshall Porter from GILT.
The entire event is an incredible experience with a cocktail party at the end and several networking breaks to discuss what you learned with others. The conference covers everything from social commerce to customer attraction and loyalty.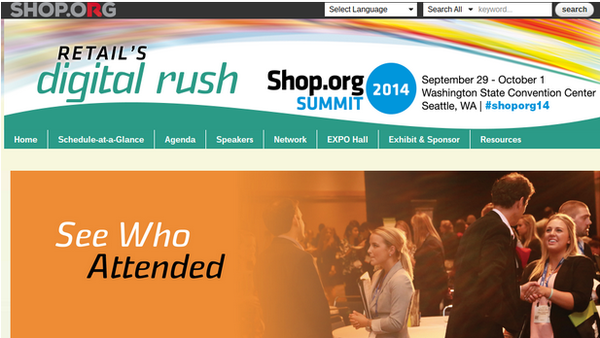 The Shop.org Summit is run by the National Retail Federation, an organization dedicated to connecting industry pros who want to share ideas and learn from each other.
The summit has an interesting differentiation in that it offers a student program and career fair for younger entrepreneurs who want to find jobs or just learn about online business. There's also plenty for older people who want to hear from high-standing keynotes and receive one-on-one website critiques from the experts.
IRCE is a show focused in Chicago, and it truly excels in its dedication to guiding people through the ins and outs of Amazon. Any business that sells products online is eventually going to consider selling on Amazon, so why not do it right?
You'll have rare opportunities to hear from people like Gene Alvarez from Gartner, Jessica Armstrong from Unilever Canada, Elana Anderson from Demandware, and Chad Arnold from Door to Door Organics.
The event winds down with in-depth workshops where you can learn about preparing for upcoming operating systems, using TV commerce, and utilizing apps for your business.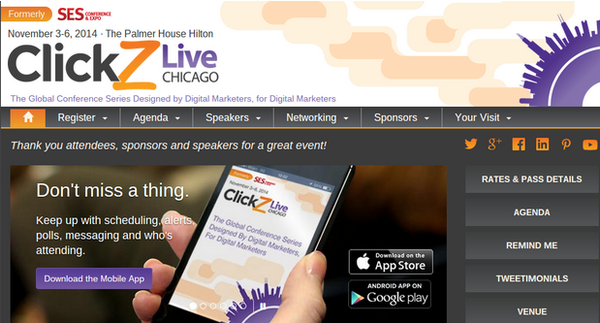 Click Z Live, formerly called the SES Conference and Expo, is a digital marketing event that runs all around the globe to bring valuable information to people who make money online.
You can catch the invigorating show in cities like Chicago, Singapore, London, Toronto, and Hong Kong.
The speeches start with topics covering social innovation, eCommerce tactics, and data driven marketing. As the days progress you can learn about things like email marketing, display advertising and integrated marketing. Speakers come from all over the world, and you may even get a chance to speak with them personally.
Some of the past and future speakers include Lauri Baker of the Huffington Post, Rob Begg of Hootsuite, Jeff Greenler of Monster, and Mark Josephson, the CEO of Bitly. They even schedule dedicated networking events to ensure you don't leave without grabbing some contacts.
MivaCon is all about e-commerce, and speakers like Evan Fishkin from Microsoft can help you achieve success in this area.
The coolest part about this event is that it provides content-focused courses, so you can choose your own schedule and figure out exactly what areas you need to improve on. If you need help with PPC advertising, schedule a time for that course instead of something you excel at.
WooCommerce Conference

If you run a site on the WooCommerce platform then your best bet is to understand it as well as you possibly can. Going to the WooCommerce Conference ensures you can at least hear from the folks who make the tools you work with everyday and understand how to make small and huge changes to improve your revenue.
At the conference, in-house experts talk about how to upsell your customers, make quick changes to increase your site's desirability, scale your eCommerce store, and even how to match data with psychology to better understand your customers. Obviously, it's the best conference of the lot 😉
Conclusion
That's it for the best conventions and events that every e-business owner should attend. Let us know in the comments section if you have ever checked out any of these events, and share your experiences with any other events that helped you ramp up your business.