Coda is our latest magazine theme, designed and coded by our own Forum Ninja, Kirstin Pauk. What sets Coda apart from the rest of our magazine themes is it's unique single post layout, which makes use of a jQuery tab to split the article from the comments.
The single post also has a nice new "Post Meta" widget, which has built-in modal post sharing functionality, so you don't need any third party plugin. It also supports post voting with the I Like This plugin, which adds the voting functionality throughout the theme.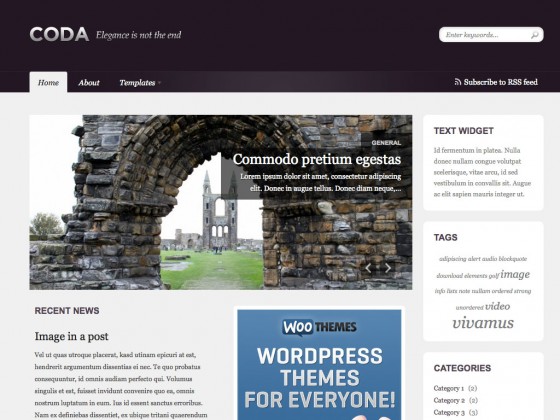 The theme also has a custom homepage that holds a jQuery slider and two widgetized areas where you can use the custom widgets we have setup in the demo (or any widget you want) and also a widgetized sidebar. We also included a new Timeline page template, that shows your post history in a streamlined fashion.