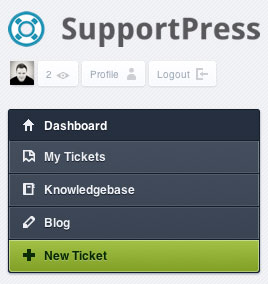 It's been only just over a month since Jay and Mike released FaultPress – an advanced bug tracking application theme, but they didn't just stop there, they went straight back to the drawing board, read all our community's recommendations and suggestions and started developing a new, more general usage support theme catering for a wider range of niches. We are proud to release that theme today – introducing SupportPress.
SupportPress, our second application style theme is designed to create a clean and simple, yet powerful help desk using WordPress core functionality. Customers can submit support requests, but are encouraged to check an intuitive knowledgebase to learn if their issues have already been resolved. Agents (your staff) administrate tickets by setting priorities and delegating tasks to fellow team members.
The solution is perfect for web designers, hosting companies, app developers, training academies, to name but a few examples. It takes WordPress as a content management system and turns it into a basic customer relationship management system.
Once again Jay has worked his magic with the intuitively laid out responsive CSS3 design, tested on iPhones, iPads, and MacBook Pros set at various resolutions, not to forget all the uglier web browsers (you know which ones we're talking about), whilst Mike has done an astounding job in building a stable help desk on top of the WordPress core framework, keeping the code clean and bloat free.
The knowledgebase can house commonly asked questions, and the feature I really like is that you can even convert a support ticket to a knowledgebase article at the click of a button if you are an administrator. You can also easily set your latest blog post as an alert if, for example you are a host company experiencing downtime – this will appear at the top of your homepage for all site visitors.
You can also make your whole site private, accessible only by registered members of the help desk, this is set in the SupportPress theme options.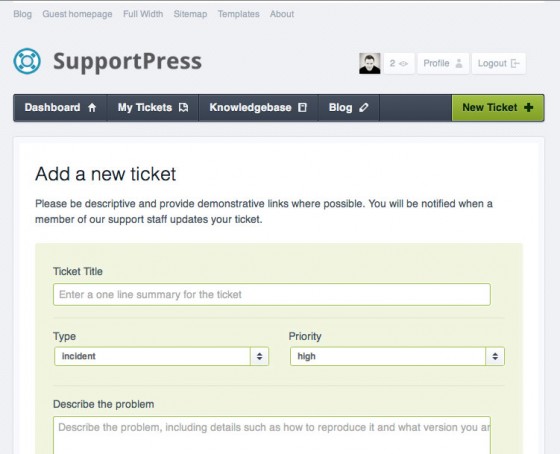 In SupportPress you can even communicate with your agents and manage private information with messages. Think of messages like a blog, but one which is only accessible by your own team. Nifty.
Deciding what to screenshot and preview in this blog post has been difficult, as there is so much functionality packed into this theme that deserves highlighting. I haven't even touched on the professionally styled email messages agents and customers receive.
The best way to get an understanding of what is achievable with this theme is to view the demo, read more about the functionality if offers on the theme listing page, and even test it out on the theme playground.
Competition Time (Again)!
As with Editorial's release last week, we'd like to give you the opportunity to win a lifetime Developer Subscription to the WooThemes club by simply sharing the news about SupportPress's release and telling us what you think of this new functionality in the comments below.
Use the coupon code "SUPPORTPRESS11" to get 11% discount on your purchase of SupportPress (valid until 11 July). Come on, we know you want to… 🙂