We are thrilled to announce that we'll soon be releasing version 5.0 of AutomateWoo which contains one of our most requested features – manual workflows. The release also contains a number of other new features and fixes to improve your experience with AutomateWoo.
As this is a major release we have made a few breaking changes to help modernize AutomateWoo going forward. We have increased the minimum required versions and removed some deprecated features and code. Please read on for more details.
What is a manual workflow?
Workflows are the foundation of AutomateWoo, providing the framework for building automated tasks.
Previously, every workflow needed a trigger to determine when it would run. Triggers fire automatically when certain events occur on your store and generally these events are not initiated by the store manager. If you wanted to run a workflow manually the process was confusing and in many cases, it was simply not possible.
That's why, in AutomateWoo 5.0, we've introduced the concept of a manual workflow! This is a workflow that has no trigger and is instead initiated by the store manager. Existing workflows (with triggers) are now considered automatic workflows in comparison.
What can I do with a manual workflow?
In this version, we've added manual workflow functionality for orders and subscriptions (if you have the WooCommerce Subscriptions plugin active). In future versions we hope to expand this to customers and carts.
Let's look at some example use cases!
Send a one-off bulk email to first time customers who placed an order in June.
Send a one-off email to customers with a subscription that ended in the last 30 days and contained a specific product.
Notify customers waiting on order fulfillment that there will be a delay in shipping a specific product.
Bulk update subscription prices and notify the customer of the change via email.
Some other manual workflow ideas:
Add a tag in MailChimp to all customers who purchased from a specified category in the past year
Send a one-off email to customers with a subscription renewing in the next X days
Send a product recall notification
Recalculate taxes for all subscriptions in a certain region
Send a one-off email to customers who purchased a specific product with a suggestion to buy a new similar product
Creating a manual workflow
When creating a workflow you now have the ability to choose whether the workflow type is Automatic (the default, existing behavior) or Manual.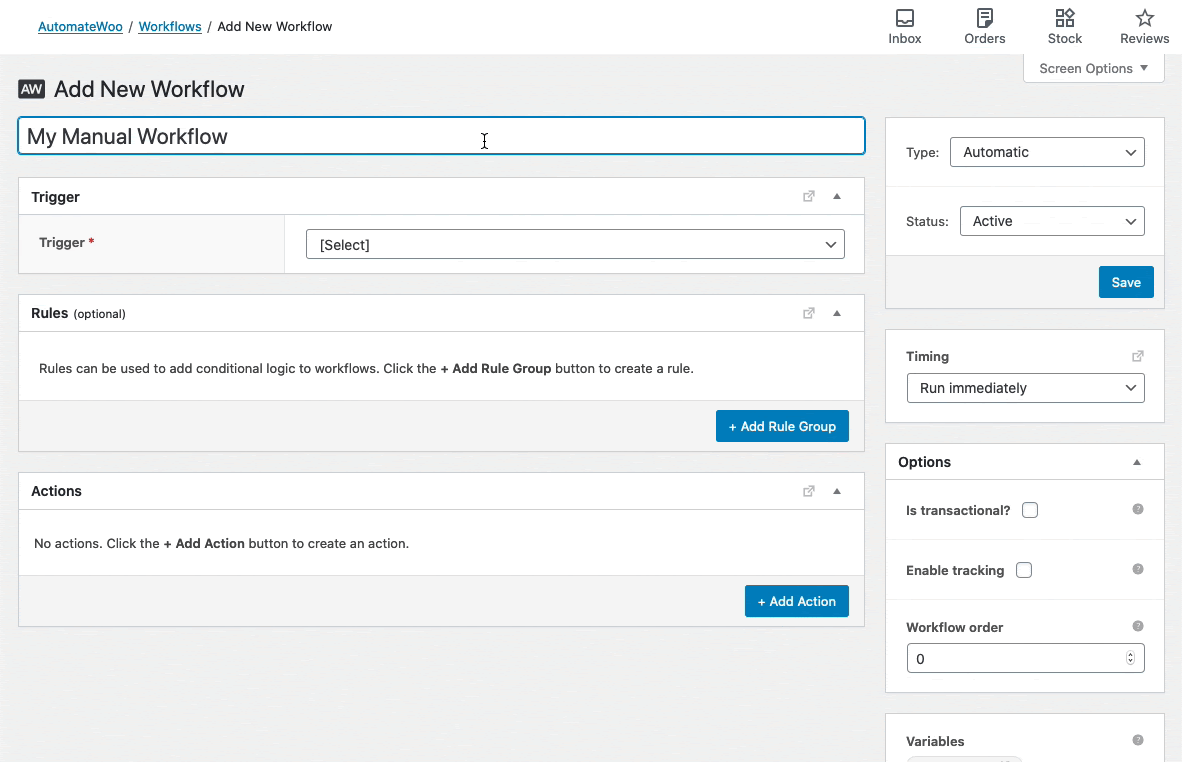 Selecting "Automatic" will give you all the same features/functionality you had previously with the ability to select a trigger, rules and actions etc.
Selecting "Manual" works a little differently. Instead of selecting a trigger, you'll now have an option to select a data type. The data type is how you specify what data the workflow runs on and which rules, actions and variables can be used.
Running a manual workflow
Once a manual workflow has been saved you can begin running it by clicking the Run button.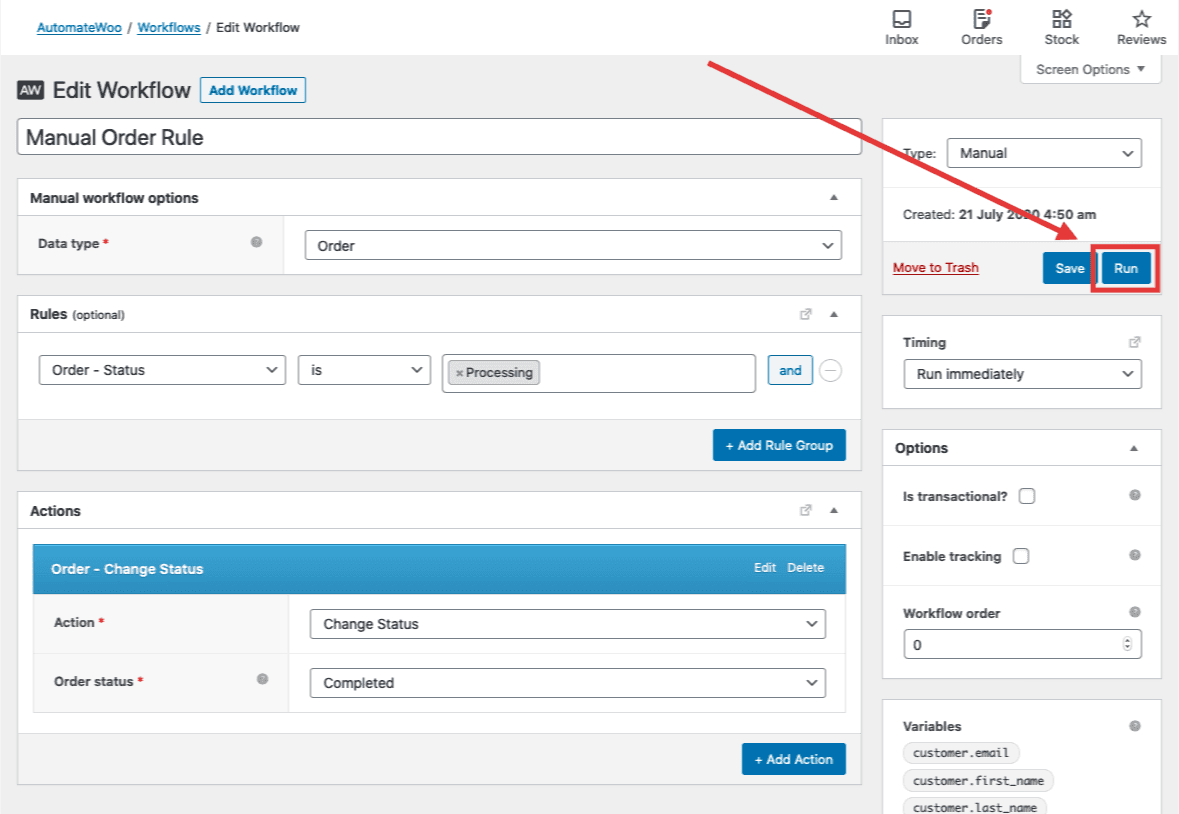 You'll be directed to a new step by step process which guides you through the process of running your manual workflow.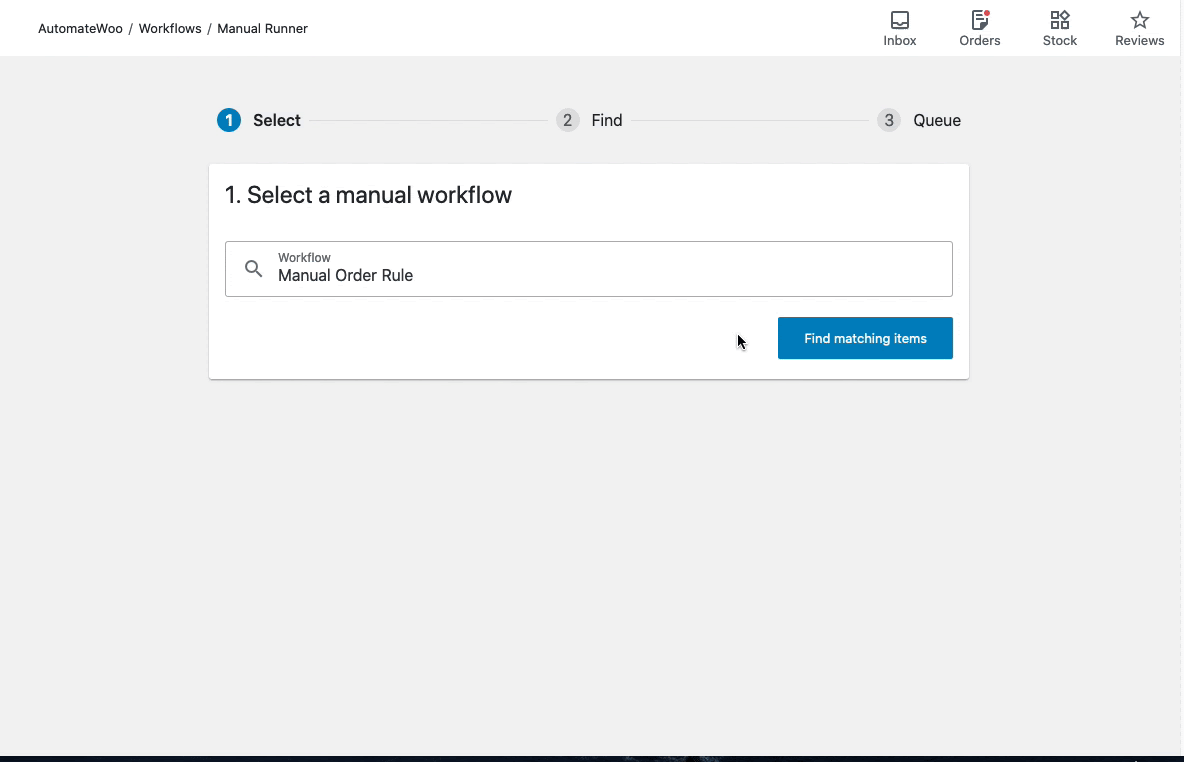 There are 3 steps:
Select a manual workflow – here you are given an opportunity to confirm you have the correct manual workflow selected
Find matching items – Clicking the "Find matching items" button will find all items (orders or subscriptions) that match the rules you added to the workflow. This lets you preview exactly which items the workflow will run for.
Add to workflow queue – Clicking the "Run workflow for X items" button will add the items to the workflow queue.
Additional notes:
The existing manual trigger tools that were found in AutomateWoo > Tools have been removed and replaced by the manual workflows feature.
If your workflow finds a large number of matching items the workflow runner will prompt you to consider updating your workflow rules to help refine your results.
Adding items to the workflow queue doesn't mean they will run instantly – there will be a slight delay as the queue is processed.
Additional Changes
We also included a number of smaller improvements and fixes in this release. The full list:
New – Add trigger: Order Note Added – Each Line Item
New – Add rule: Workflow – Run Count For Subscription
New – Connect all AutomateWoo pages to WooCommerce Admin (adds the inbox/notification center etc).
Tweak – Replace jquery-cookie with js-cookie
Tweak – Set SameSite attribute for JS cookies
Tweak – Set Secure attribute on cookies when SSL is in use
Tweak – Removed "#tab-reviews" link anchor from review product templates based on customer feedback. Instead use the "url_append" field to set your own anchor.
Tweak – Make failed queued workflow deletion more scalable. Failed items are deleted at a much faster rate.
Fix – Deprecated use of implode in PHP 7.4
Removing deprecated features
Because this is a major release we took the opportunity to remove some deprecated features. These have all been deprecated for over 2 years and have been replaced by improved options:
| Removed feature | Replaced with |
| --- | --- |
| Order Includes Product From Category trigger | Order – Items Categories rule |
| Order Includes Product From Tag trigger | Order – Items Tags rule |
| Order Includes a Specific Product trigger | Order – Items rule |
| Campaign Monitor Add Customer to List action | Campaign Monitor – Add Subscriber to List action |
Updates to usage tracking
In AutomateWoo 4.9 we added some usage tracking to help us make AutomateWoo better for everyone. In this release, we are making some adjustments to events to add the workflow type as well as adding some extra events to help us understand how the feature is being used. These events include:
Manual workflow run button clicked event
Manual workflow find matching items cancel button clicked event
Manual workflow queue items cancel button clicked event
Manual workflow run completed event
For details about what data is shared and opt-in settings, please refer to WooCommerce Usage Tracking.
Updated Minimum Version Requirements
We're moving to align more closely with the WooCommerce version support policy by maintaining support for the current and 2 previous minor versions (L-2) of WordPress and WooCommerce at a minimum.
AutomateWoo will now require the following minimum versions:
WordPress version 5.2
WooCommerce version is 4.0
WooCommerce Subscriptions version 2.5
Removing deprecated code
As this is a major release we took the opportunity to clean up the codebase and remove some deprecated code. We also removed the old unsubscribes database table that has not been used since version 3.6. If you have any custom code for AutomateWoo running on your site please take note of the changes before updating to version 5.0.
Removed functions and classes
aw_get_customer_order_ids_by_email()
aw_get_customer_order_ids()
aw_get_order_count_by_email()
aw_get_customer_order_count()
aw_get_total_spent_by_email()
AW_Rule_Abstract
AW_Rule_Abstract_Bool
AW_Rule_Abstract_Number
AW_Rule_Abstract_Object
AW_Rule_Abstract_Select
AW_Rule_Abstract_String
AutomateWoo\Unsubscribe
AutomateWoo\Unsubscribe_Factory
AutomateWoo\Unsubscribe_Query
AutomateWoo\Database_Table_Unsubscribes
AutomateWoo\Action_Add_To_Campaign_Monitor
AutomateWoo\Trigger_User_Purchases_From_Category
AutomateWoo\Trigger_User_Purchases_From_Tag
AutomateWoo\Trigger_User_Purchases_Specific_Product
| Previous class | Renamed class |
| --- | --- |
| AutomateWoo\Database_Table_Carts | AutomateWoo\DatabaseTables\Carts |
| AutomateWoo\Database_Table_Customer_Meta | AutomateWoo\DatabaseTables\CustomerMeta |
| AutomateWoo\Database_Table_Customers | AutomateWoo\DatabaseTables\Customers |
| AutomateWoo\Database_Table_Events | AutomateWoo\DatabaseTables\Events |
| AutomateWoo\Database_Table_Guest_Meta | AutomateWoo\DatabaseTables\GuestMeta |
| AutomateWoo\Database_Table_Guests | AutomateWoo\DatabaseTables\Guests |
| AutomateWoo\Database_Table_Log_Meta | AutomateWoo\DatabaseTables\LogMeta |
| AutomateWoo\Database_Table_Logs | AutomateWoo\DatabaseTables\Logs |
| AutomateWoo\Database_Table_Queue | AutomateWoo\DatabaseTables\Queue |
| AutomateWoo\Database_Table_Queue_Meta | AutomateWoo\DatabaseTables\QueueMeta |
| AW_Rule_Cart_Count | AutomateWoo\Rules\CartItemCount |
| AW_Rule_Cart_Total | AutomateWoo\Rules\CartTotal |
| AW_Rule_Order_Total | AutomateWoo\Rules\OrderTotal |
| AW_Rule_Order_Shipping_Country | AutomateWoo\Rules\OrderShippingCountry |
| AW_Rule_Order_Shipping_Method_String | AutomateWoo\Rules\OrderShippingMethodString |
| AW_Rule_Order_Has_Cross_Sells | AutomateWoo\Rules\OrderHasCrossSells |
| AW_Rule_Order_Is_Customers_First | AutomateWoo\Rules\OrderIsCustomersFirst |
| AW_Rule_Order_Run_Count | AutomateWoo\Rules\OrderRunCount |
| AW_Rule_Guest_Run_Count | AutomateWoo\Rules\GuestRunCount |
| AW_Rule_Guest_Email | AutomateWoo\Rules\GuestEmail |
| AW_Rule_Guest_Order_Count | AutomateWoo\Rules\GuestOrderCount |
| AW_Rule_Subscription_Payment_Count | AutomateWoo\Rules\SubscriptionPaymentCount |
| AW_Rule_Order_Is_POS | AutomateWoo\Rules\OrderIsPos |
| AW_Variable_Comment_Author_Name | AutomateWoo\Variables\CommentAuthorName |
| AutomateWoo\Base_System_Check | AutomateWoo\SystemChecks\AbstractSystemCheck |
| AW_System_Check_Cron_Running | AutomateWoo\SystemChecks\CronRunning |
| AW_System_Check_Database_Tables_Exist | AutomateWoo\SystemChecks\DatabaseTablesExist |
| AutomateWoo\Database_Update | AutomateWoo\DatabaseUpdates\AbstractDatabaseUpdate |
Ready to update?
As this is a major update, we recommend you test and/or monitor any workflows that are critical to your store after updating. If you think you've found a bug, don't hesitate to get in touch.
Feedback
Got feedback? We're listening. Head over to ideas.automatewoo.com and let us know how we could make AutomateWoo even better.
Thank you for using AutomateWoo!