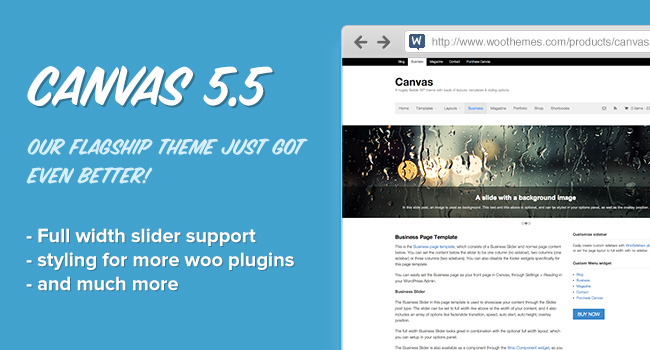 Canvas has come a long way since its birth in February 2010. As we continue pushing out new and updated code in every version, our goal is to make Canvas the ultimate theme for beginners and developers alike, through lean code and a helpful feature set.
Meet Canvas 5.5
Our goal with Canvas is to enable the creation of attractive websites with a few small clicks. If you'd like to dive deeper into the code, that's possible as well.
We read your feedback and ideas daily on WooIdeas. The biggest request we've seen was a full width slideshow option. Canvas 5.5 now includes support for this. We've also updated the styling to move towards a simpler, flatter default styling on navigation, buttons and boxes.
Here are some of the new additions to Canvas 5.5:
Added Full width Business Slider option on Business page template
Added slider overlay options
Added full styling support for Testimonials by WooThemes (replaces Feedback post type)
Added full styling support for Features by WooThemes
Added widgetized area in top right header
Added cart drop-down in the navigation
Updated styling on shortcodes
Updated styling on slider pagination and arrows
Updated default styling on navigation
Updated map location on contact page
View all of the changes in our changelog.
Canvas 5.6 Roadmap
The Canvas train never stops moving. Here are a few of the items we'd like to include in version 5.6:
Improve functionality of Woo Component widget
Re-work the slider code to make it easier to use
Improve our demo by adding many different pages which will showcase the awesome functionality of Canvas
Continue to "lean and mean" the code base and prepare various components for transfer into plugins.
As always, you can vote up existing ideas, and
add new ideas
to our
Ideas Board
.
We're excited to see how the latest updates to our flagship theme help you to develop eye-catching websites with just a few clicks. If you have any issues with upgrading or you think you've found a bug, please submit a ticket to our Help Desk.