Canvas is our most downloaded theme and has been used for just about everything under the sun. Zain Joyce worked with it to build a family of thirteen sites for Oregon Trail Schools and his use case caught our eye. We hope you enjoy hearing a little more about Zain's journey.
Tell us a little about your WP beginnings.
My web design and development career started about 10 years ago. In 2010 I started using WordPress exclusively for client projects, and I have been a dedicated user ever since. There are many reasons that make WordPress the perfect content management system for most websites. For starters, the setup is easy, and the community is both extensive and helpful. The plugins offered for WordPress make developing seemingly complex ideas a breeze. I can easily say I wouldn't be the developer I have become without the assistance of WordPress.
You recently used Canvas for rather a whopper of a project…
My first time working with Canvas was for the Oregon Trail School District project, one of my largest and most expansive projects to date! A website I created for a local gym (now with three locations) was the first time I used a WooThemes Theme (Definition). The main benefits of using WooThemes in my opinion are that the framework is powerful, it is easy to customize with CSS and it provides flexible layout options.
What was the brief for the Oregon Trail Schools project?
The school district in Oregon approached me with several understandable concerns, all of which I was able to address for them. First and foremost they were looking for a more modern, responsive, clean site design. It was also important for the updated website to contain new features and functionality that their existing site could not give them. The features included, but are not limited to, sliders, mobile views, and custom layouts. With countless individuals viewing the site from unknown devices it was important to the members of the school district that the new site contain cross browser compatibility. In addition, visual appeal was a priority with this project as it was important each of the 13 different school sites represented their respective school colors.
Which plugins and extensions did you use, and why?
The six most essential for me, were Gravity Forms, Google Translator, WP Lightbox 2, Theme My Login, Display Posts Shortcode and WooSlider. These plugins, along with the WooThemes framework allowed me to deliver a website with the desired functionality and much more.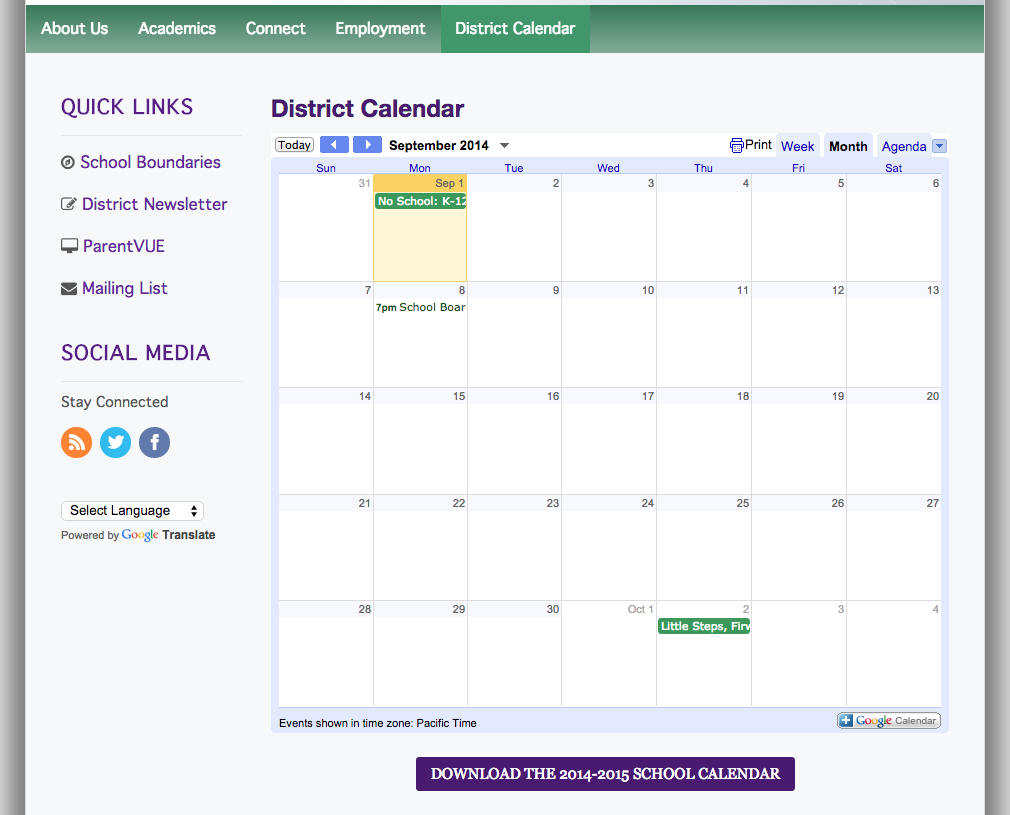 What were some of the specific challenges you needed to solve along the way?
As with any project there were times that proved to be more trying than the others throughout the creation of this expansive website. For me, the custom design posed a big challenge. Each site contains custom headers, navigation menus, and sidebars, which require more effort and customizations than many other aspects of the design and development.

What are the aspects of the site you are most proud of?
While the custom design portion was time consuming, and difficult, I am very happy with the end result. Incorporating the various color schemes and unique homepage layouts my clients requested was important to me.
Customizing the mobile layout of the website was important to my clients, as this wasn't previously available to their users. Fulfilling their wishes makes this feature one that I am very pleased with.
If you explore the website, you will notice there are several different pages you can visit from the home page, including bell schedules, student grades, and transportation information. Creating a user friendly and visually appealing layout for the home page was a challenge!
Have you attended any WordCamp or WordPress MeetUps?
Unfortunately I have not been present at any WordCamp or WordPress MeetUps. I am, however, planning to attend the upcoming WooConference in San Francisco.
Got a WP hero, or someone who you look to?
With a supportive community like the one here at WordPress it is hard to choose a single person to look up to. The entire community here is helpful, cooperative, understanding and driven. Finding answers to seemingly impossible problems or new ideas and suggestions are always only a search away.
Any friendly tips for people new to the world of WordPress?
The first piece of advice I would offer any WordPress user, new and old alike, is to always, always, always backup your site content and database! For those more experienced, I would suggest purchasing the premium themes and plugins, as they are well worth the money you spend on them. Reiterating the strong sense of community here, always search around the community for help with any roadblocks or issues you are having. The odds are somebody is experiencing or has already solved the problem you're dealing with.
Thanks to Zain for these thoughts. If you'd like to submit a site or project for consideration as a Case Study, reach out to marina at woothemes dot com.