Yesterday was the launch of our first Shopify themes. Today sees the launch of something quite different, yet we are equally excited about – our first restaurant/bar specific niche theme called "Diner".
Diner is undoubtedly one of the most powerful restaurant themes available for WordPress. It boasts an impressive feature list including: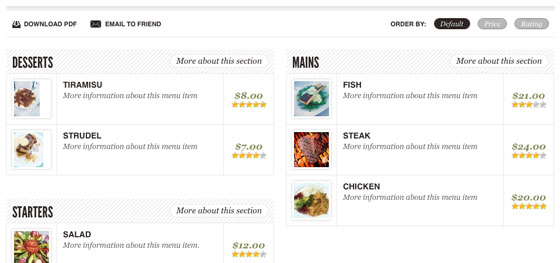 A "Food Menu" custom post type and page template whereby you can add all your restaurant's food menu items, along with pictures and allow users to view them by price, customer rating (in-built functionality) or name.
A custom built reservation system similar to Open Table where site visitors can book a table at the restaurant, which notifies the restaurant manager/site owner in the WordPress dashboard, and receive email confirmation. The amount of tables, business hours and custom email notifications all of which can be set in the theme options. There are also custom widgets allowing for reservations to be placed from any page. The reservations are also a custom post type.
This was our first project by Matt Cohen, our soon-to-be newest team member and WP developer. Kudos to Matt!
Google Maps integration that allows one to have a dedicated restaurant location page where a site visitor can view a Google Map and get directions to the restaurant all the while not navigating away from the page.
If that is not enough the theme comes with 15 custom woo widgets and 8 widgetized regions allowing you to showcase the staff of the restaurant (i.e. the WordPress users set up on your website), the business hours, the monthly special, menu items and blog news.
Phew! To say it is feature rich would be an understatement. The theme also has great layout/style control and slick, clean and spacious alternate styles to use.
Diner is the culmination of a great team effort. Design by Fresh01, reservation functionality by Matt, and theme development by Jeff.
Find out more on the theme listing page and view the demo here. Constructive feedback is welcome.