This Customer Happiness Report marks a significant turning point for us. Drawing a line in the sand, I've dubbed it The Triumphant Return of the Ninja!
Before we get into the stats though, here's a quick recap of the month's happenings. We started out July with a memorable theme named just that, Memorable. We also had a big birthday bash after turning 5 years old, talked how distributed teams are an advantage, and chatted with Brian Krogsgard and how he manages client websites.  We inspired change for Mandela Day, gave a quick overview of running WordPress on Nginx, and even released a free icon set for education sites. Turning gears back to releases, we put out our site maintenance plugin called See You Later, a hot summer selection of WooCommerce extensions, and social reviews for WooCommerce thanks to YOTPO,  Finally we wrapped up the month with WP Migrate DB Pro, Ecommerce stats, trends and tips, and two case studies on Animal Onesies & BobWP Online Classes.
It was a constant stream of content on our blog and our support team matched the pace. See for yourself in the break down below. The blue being new tickets and green being solved tickets. We'll talk more below, but the second half of July has been our tipping point. You can see where we started solving more tickets than were created each week.
Customer Happiness in Numbers
Looking at the numbers:
10,295 new tickets created this month. Down 592.
29,287 ticket touches. Up 2134. (how many times all tickets were opened, tickets with multiple responses, or re-assigned, etc…)
33.40 hours to First Response. Down 7.9 hours. (the amount of time the average customer waits for our first response).
54% of all tickets are responded to within 24 hours. Up 14%; and
88% satisfaction rating on all tickets. Remained constant
Benchmarking & Context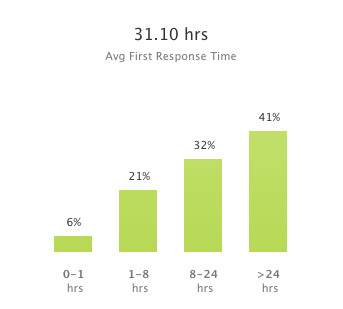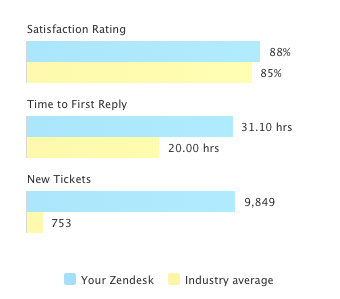 Our tickets are sliding back into the 24 hour range from month's past, and we're always watching our average response times. Our satisfaction rating has remained constant and we've actually had more ticket touches. With most things remaining the same, it shows that we've simply increased our response times. Apparently we've even been able to correspond more on each ticket, since touches are up quite a bit.

You can see that both Account & Support groups are doing fantastic on their response times.  The Account group actually had roughly 700 more tickets than last month, and our response times were 15 hours faster. We've also come to realize we shouldn't expect our more advanced products to have the same response times as, for example, an account ticket. We updated our support policy to outline an advanced request may take up to longer than 24 hours to receive a response. Meaning we may escalate tickets up to the primary developers, or in WooCommerce's case we may be going back and forth with the original 3rd party developer before being able to answer your ticket.
Bonus
Last month's Customer Happiness Report had a little extra added to it, so I thought we'd do the same this month. As mentioned above, July was a turning point for our support team. Each month we've been striving and trying different workflows to try and find where we can respond to tickets the quickest and still provide great support. In the middle of July we decided to set better daily minimums, and these are required for each member of our support team. The number depends on the support group, but the daily minimum can only be counted if they are new tickets that have had no responses yet. We have plenty of replies to tickets that we handle each day, but the minimum was for new tickets in addition to our own ticket queues.
The number for each minimum was based on simple math. We have x amount of new tickets each day, and we have y amount of support ninjas in said group. So for each ticket created that day divide it by the number of ninjas to make sure each ticket receives a response within 24 hours (our ultimate goal)!
Here is some data from that date to the current day. We've solved more tickets than were created, meaning any backlog is steadily diminishing. Our average response time has been cut in half from what it was for the entire month of July, and our satisfaction rating is at 90%! You'll also see that about 75% of all tickets are answered within 24 hours and the green line is above the blue line, solved tickets vs new tickets.
---
Time For Action
Our actionable goals for this month.
Maintain our current response times and low ticket numbers.
Improve our satisfaction rating, we'd love to reach 90% again for the entire average of August.
See what brought up our ticket touches, it didn't hurt our satisfaction, but less touches (per ticket) potentially means even quicker response times for all.
Us ninja warriors in support are energized with numbers like these, and we hope you are happy with the major improvement as well. Knowing we can achieve great support like this I expect the Customer Happiness Report in August will be even better. 🙂