You'll have to forgive us again, we're publishing this a bit later into the month due to our WooTrip that kicked off right at the beginning of October. We're all back home now though fully inspired to take WooThemes to the next level. So let's recap quickly everything that happened in September.
Covering releases or updates first we kicked things off with a free Amazon Advanced Payments gateway, and a free PayFast gateway for WooCommerce shops based out of South Africa. Following that a massive 2.0 update to WooSlider came out.  We also made inventory management easy and gave new life to Standard theme.
Then came three big knockouts in a row. WooCommerce Subscriptions 1.4.0 is a huge and amazing update, the same with Sensei 1.4.0, and finally our theme For The Cause brought up the end of releases for the month.
Beside those awesome releases we've posted some great knowledge on our blog too. We covered 5 free WooCommerce themes, how to improve your WordPress security in 10 steps,  a Vital Health Foods case study, why we price ecommerce projects wrong, build your personal brand using WordPress, automating your WooCommerce store, how to write a WordPress job description, how WooThemes is getting involved in the WordPress community, and finally the dangers of WordPress plugin ignorance.
Be sure to check out all the great releases and content we published in September. Now let's dive into the support side of things. Here are the numbers.

Customer Happiness in Numbers
Looking at the numbers:
8,546 new tickets created this month. Down 954.
24,197 ticket touches. Down 1817. (how many times all tickets were opened, tickets with multiple responses, or re-assigned, etc…)
27.50 hours to First Response. Up 3 hours. (the amount of time the average customer waits for our first response).
66% of all tickets are responded to within 24 hours. Down 2%; and
88% satisfaction rating on all tickets. Remained constant
Benchmarking & Context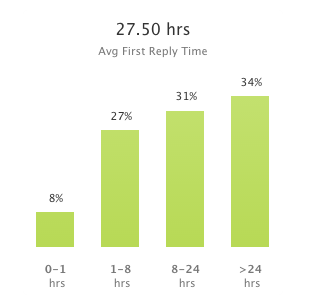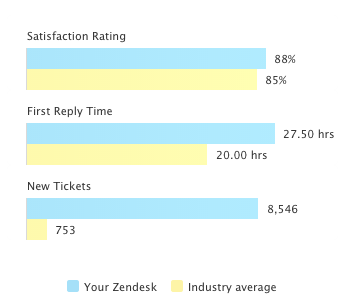 As you see in the comparison our general stats have decreased again from month to month. The number of tickets and ticket touches has decreased as well, with touches adjusting to a more normal number here. Meaning tickets are being solved with less touches and less back and forth.
The downside being first response times have slipped by 3 hours average. You can see more in the group breakdown. Our satisfaction has remained constant overall, which we're still wanting to find a way to bring us to 90%. That would be every 9 out of 10 people happy with their interactions with us. There is that saying that you can't please everyone. 😉

Like we did just last month, we're breaking down the numbers by group. Here is last months group breakdown as well.
In Accounts and Support our ticket numbers decreased, WooCommerce went up 10 tickets. The decrease gives us time to provide better support on each ticket and also time to work on other items. For example WooSlider's update was piloted by a support team member. 🙂 I'm happy to see we lowered accounts first response time by 2.6 hours and raised our satisfaction by a percentage. We've somewhat dubbed our accounts team the first responders. Many people come to them first with pre-sales questions, account issues, and often support questions that we need to put into the right place. Hence that is our front line of our support team.
The bigger let down is response times this month. They got slower by 3 hours. We were so very close to breaking into 24 hours and less as our average. Which is still our goal and our drive towards that should be renewed after this. We have some techniques we are going to experiment with, in particular in WooCommerce support, to tackle the first reply time among other things.
I hope to be able to report back with success from that!
Time For Action
Our actionable goals for this month.
Get back near or under 24 hour first response times (average). We're letting people down if it's slower.
Harping this again, we'd love to reach 90% for an entire month.
Solve our problems and reach our goals with experiments and new techniques to make our users happier and happier.
We took a little bit of a set back in September, maybe we got a bit relaxed knowing how close we were to our goals. This minor setback should only fan the flames as we move forward to gain more ground. I said last month we'd love to settle into a steady rhythm, knowing we're being consistent across the board in our support. That's still a goal, as it would give us to spend time on other projects that make WooThemes as a whole better and better. As always, onwards and upwards!