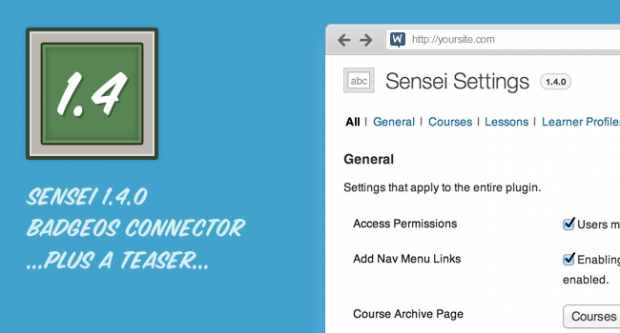 At WooThemes, education and empowerment are two ideals we hold dear. This has been ingrained within our company culture from day one, and is a lifestyle we all aim to practice- educate and empower others, and ourselves, in order to do more, better.
Over time, these ideals lead to the creation of Sensei, a product enabling the creation and running of online courses via your website; or, enabling the transfer of knowledge and empowerment to others.
Today, we're proud to announce the latest incarnation of Sensei, version 1.4.0.
Showcase your successes
Often times, knowing your students (either personally or via data) helps in the education process. In addition, enabling students to view a history of the courses they've taken with you, and how far they've improved, can motivate students to do, and learn, more. To this end, we've integrated enhanced student profiles within Sensei. Each student now has their own profile for showcasing courses they've taken, social information about themselves and their learning experience with your online school.
Alongside a profile to showcase your successes to others, we've included a few additions to show students themselves a bit more information after taking a quiz. Once completed, a quiz shows each question's grade, as well as an optional note from the lecturer, explaining perhaps why the student got 3 out of 5 for a question, or congratulating them on a 5 out of 5 for a difficult question.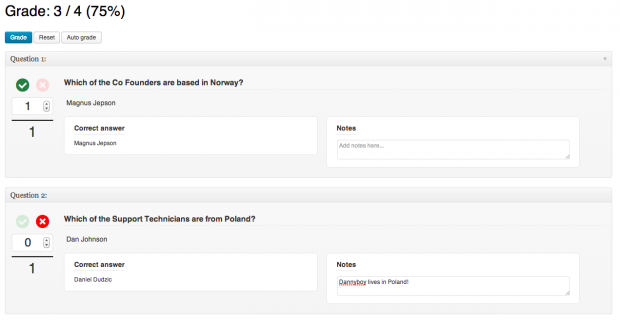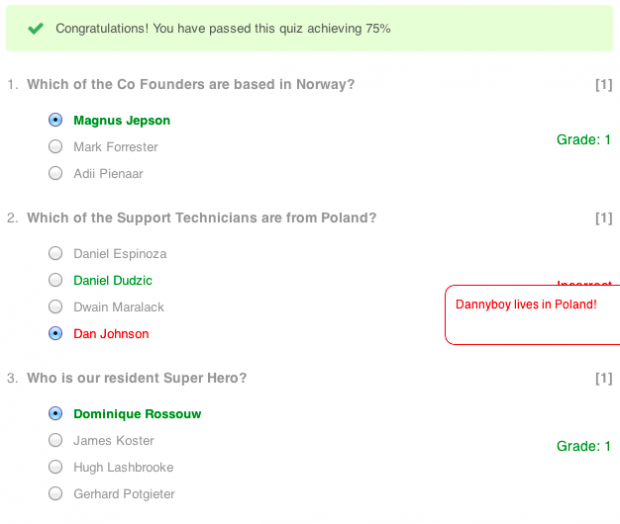 Once a full course has been completed, the student will also see a full summary of their results for the entire course. Positive re-enforcement is a great way to motivate and encourage students to learn more and to empower themselves.
What's under the hood?
This one's for the developers out there, as well as those who appreciate the aesthetic.
Under the hood, Sensei 1.4.0 has undergone a rather significant update. Included in this update are a revamped quiz creation interface, a manual updates screen to assist with debugging for developers & support technicians and a slew of new hooks and filters, all documented in our comprehensive online documentation.
Purchase Sensei 1.4.0 today
Welcome, Sensei Extensions!
Today, along with Sensei 1.4.0, we're proud to announce the first extension for Sensei; a connector plugin for BadgeOS. We've also got a taster of what else we've got lined up for you all.
Help students to earn achievements
BadgeOS, the popular WordPress achievements system, enables website owners to create achievements (badges) which are awarded to users who complete specific tasks, or complete a series of tasks in a specific order. In partnership with Credly, we're proud to release a plugin to connect Sensei and BadgeOS. When your students complete specific lessons, courses or a combination of achievements involving Sensei-related activities, make them feel great by awarding them achievement badges, using BadgeOS.
Purchase Sensei BadgeOS today
Coming Soon…
As always, we've got some exciting new developments in the works, which we're sure you're all eager to hear more about.
For now, we'll leave you with the following taster:
Looking ahead
As mentioned above, we're passionate about education and empowerment, at WooThemes. We see Sensei as the catalyst for furthering this passion, and are excited to share in your experiences running online courses with Sensei.
Do you have ideas for Sensei extensions you'd like to see? Empower other Sensei users to vote for your idea on WooIdeas.
Discount Coupon
Purchase Sensei today. To get $15 off the purchase price, use the coupon code SENSEI14 at checkout. Valid until 1st October 2013.