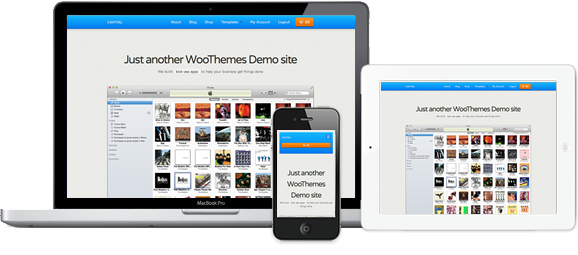 Today's drop is a significant one as it's geared around targeting a particular niche that we feel deserves some attention. Designed in-house by pixel wrangler Jay Koster 'Capital' is a WooCommerce theme which has been designed specifically to sell digital products. There are options to strip functionality right back which makes this the perfect theme for boutique software agencies. Capital has also been fully optimised for use on hand-held, touch screen devices.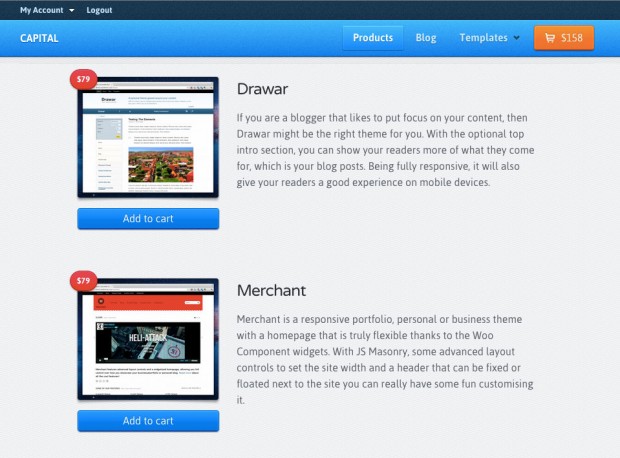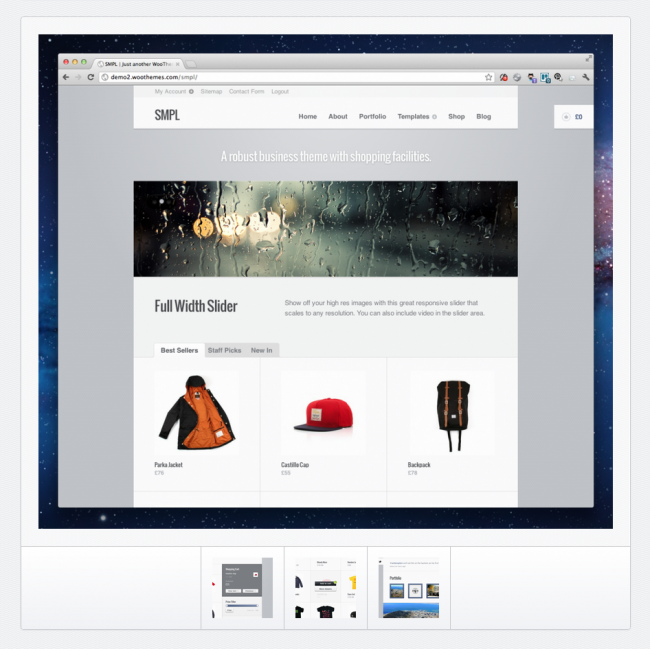 Discount Coupon
Grab Capital with a 12% discount coupon, valid until 24th May, 2012. Just use CAPITAL12 as your coupon code on checkout.
Furthermore we've developed a powerful extension to work hand-in-hand with the Capital theme, and also released it today.
Software Add-on Extension
The WooCommerce Software Add-on gives you the ability to manage licence keys and activations via your store.
The Software Add-on extension lets you define your products as software via the edit product page, and after doing so lets you define software specific properties: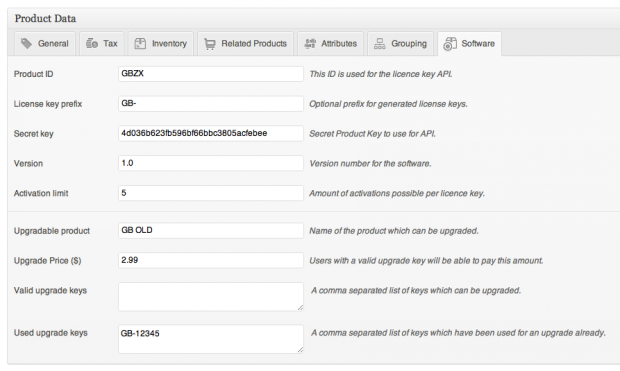 Customers purchase software like any other product, but after doing so (when the order is completed) they will receive an auto-generated licence key from the system within their order-complete email.
Order emails contain the key, activation email, and activations remaining. You can resend these emails using the in-built 'send' button in WooCommerce on the orders screen.

If you ever introduce a paid upgrade for software you can define valid upgrade keys, and an upgrade price, which your customers can make use of. They will just have to enter their licence details during their purchase:
The Software Add-on allows you to view purchased keys associated with orders, track activations and view sales reports, as well as having it's own API for generating keys, activating licences, de-activating and resetting. This API can be integrated into your software/web app to validate licences. See the documentation for more details on the API.
Buy the Software Add-on Extension
Along with Capital, the Software Add-on extension will be freely available to all active club subscribers! Available immediately from your dashboard.
We hope club subscribers will appreciate it's offering and welcome it is a great addition to their WooTheme toolkit they can use for client work & personal projects.
Please note: Capital does not depend on this extension, and functions out of the box with WooCommerce, but digital product sellers will appreciate the additional functionality it enables.
WooCommerce 1.5.6

We're also releasing an incremental update to WooCommerce with some minor revisions to allow for the software add-on extension integration and future similar projects we have planned.
Aside from support for todays extension, WooCommerce 1.5.6 introduces a new shipping method display for the cart and checkout. We had feedback from several users that the 'select' box for shipping was going un-noticed, and we agreed that those methods could be presented better.
Therefore, we have introduced a new radio button display for shipping methods (pictured below). This lets the user see all available methods without having to click the select box. If you don't like this change, don't worry! You can put it back via the settings.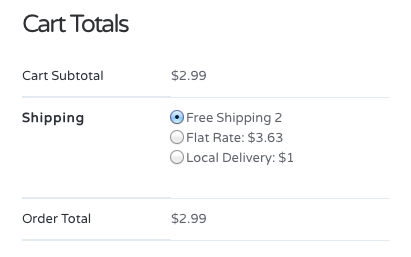 You can view the full changelog for 1.5.6 here.
Affiliates Pro Integration Offer
Finally, our friends at itthinx are running a 20% off offer for their Affiliates Pro for WooCommerce extension up until June 1st. Check it out!
Discount Coupon
Get the Affiliates Pro for WooCommerce extension with a 20% discount, valid until 1st June, 2012. Just use WOOHOO as your coupon code during checkout.