Today we introduce you to a theme aptly named "Skeptical". Why should you be skeptical? Because it's got some pretty neat functionality for a free theme. That's correct – a free theme.
Skeptical was designed by Nur Fathihah and submitted to us via our "Submit your theme" page, where we often un-earth great designs and talented designers.
Skeptical's layout is very flexible in the sense that you can display "related posts" next to your latest posts on the home page, OR have a completely widgetized sidebar. Not only that, you can also add your Flickr stream to the footer region and showcase three noteworthy blog posts tagged with a specific tag that you declare in the theme options.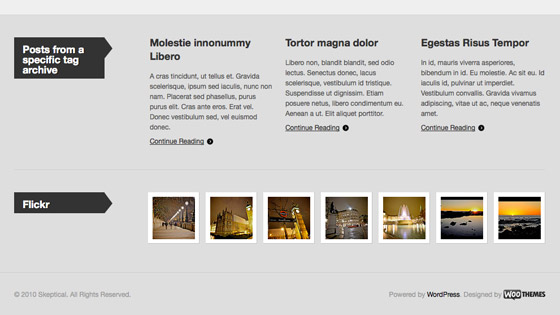 Coupled with those features you generally won't find in a free theme, you also have the ability to completely customize the fonts used in your posts, sidebar, navigation and footer region. With a wide selection of web-safe fonts and custom Google fonts you really can make this theme something very unique and personal.
Skeptical is a great WordPress theme for personal bloggers, and users wanting to test-drive and discover what a commercial WooTheme could offer you.
Find out more about it on the theme listing page, or view the demo for a comprehensive look.