At WooThemes, we believe that customer support is key. We want to provide you with an awesome support experience because great products are useless without great customer service. Our mantra is to put customers first.
With that in mind, we want to make sure that you know about all of the customer support tools that you have at your disposal and we want to show you how to use them. This post will serve as a guide to our various (and awesome, of course!) support resources.
Docs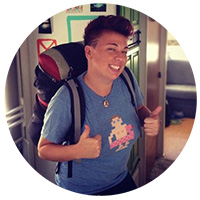 The backbone of any support system begins with the documentation. With the docs, we aim to provide comprehensive user manuals that contain the ins and outs of our different themes and plugins.
Maria Scarpello is our resident docmeister ninja — she works on docs every day, making sure that they are updated.
In April, we completely overhauled our documentation system, and we think that the result has better served you, our users. Here are three of the things that we are excited about:
Clearly labeled keys to distinguish between docs intended for developers and docs intended for end-users.
Easy-to-find links to docs from various parts of our website.
Smart search so that you can find keywords in the documentation. You can even refine your results by choosing – from a drop-down box on the right – what parts of the documentation to search within.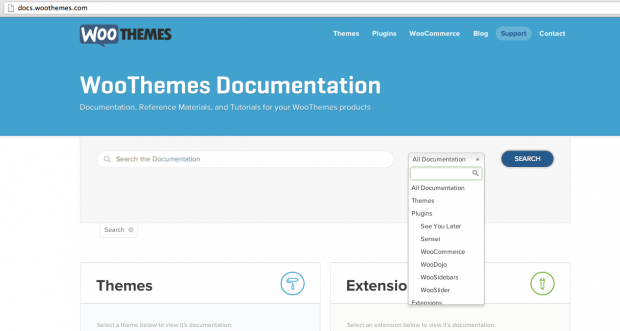 Even without searching, finding the right sections of documentation has never been easier. We organize it so that you can easily find every theme, extension, and plugin. We even have sub indexing within our various categories.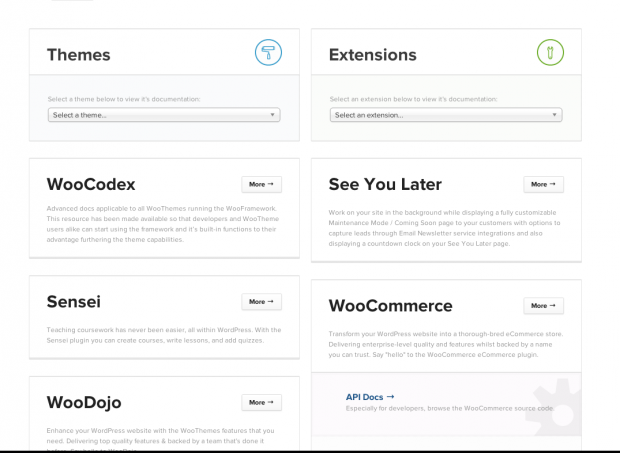 To make learning more about your theme or other product even easier, we include a list of related links on the left side of your screen. And to make sure that you are completely up to date on what is going on with a product, we include a link to the change log as well.
Finally, we acknowledge that however useful this resource may be, there might still be improvements we could make. That's why we include options for feedback on the upper-right hand side of your screen. There, you can tell us if you found a doc useful or not, and you can also report any problems or issues.
Support FAQs
FAQs are a staple of the web, but there is a reason for that: they work!
We have tried to compile a list of the most frequently asked questions that we get from our users, and we hope that it helps to serve your needs. Before opening a support ticket, we recommend that you check the support FAQs to see if we have already answered your question. If so, that will help you save a lot of valuable time.
Our FAQs are broken down into five major areas: questions addressing installation, general stuff, styling & customization, WooCommerce, and the WooThemes dashboard.
Video Tutorials
You might be more of a visual learner, and if that's the case, we haven't forgotten about you – our video tutorials are there to make sure that you have solid visual explanations for just about everything related to WooThemes. Even if you prefer other means of getting your information, we hope that these videos will be helpful to you as you use our products.
We've tried to make using them as simple as possible – just head over to the videos page, find a video that talks about what you need to know, and click on it. We offer videos on everything from WooThemes instructions to WordPress basics.
If you ever have any requests for new video tutorials, we would love to hear from you. Just let us know what you would like to see, and we'll see if we can make it a reality. Our community manager, Ryan, is responsible for creating, improving, and maintaining our video tutorials.
Interested in our videos? Start with An Introduction to WooThemes.
Help Desk
Our help desk is the core of our support system, available only to paying WooThemes customers. If docs, FAQs, and video tutorials are not enough to help you out, we hope that the resources available to you at the help desk can solve your problem.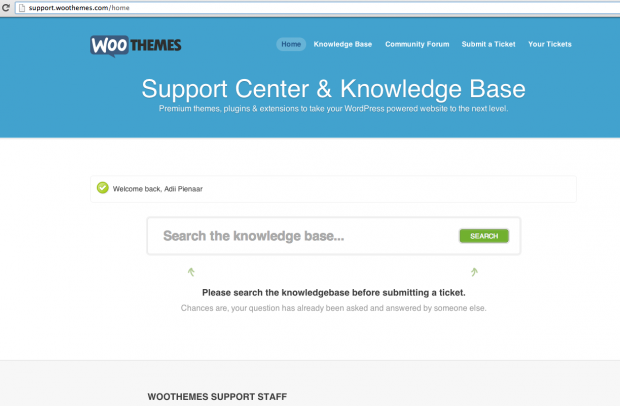 The help desk has three major offerings, each of which we will explain in a bit more depth: the knowledge base, the community forum, and the option to submit a ticket.
Knowledge Base
The knowledge base is a smart search function that should streamline the process of looking for solutions to your issue.
Chances are, your question has already been asked and answered by someone else – so why wait around for our support team to answer it again when you could go straight for it with a quick and easy search? We provide the knowledge base as an option for you so that you can efficiently find your needed answers, save your valuable time, and keep on going with your projects.
It is intuitive: just type in your question and hit 'search.' Then, our system will bring up a list of relevant pages that hopefully have the information you requested.
Community Forum
In the interests of building a community of like-minded users that can help each other out, we offer you the option of engaging with other users on our community forum.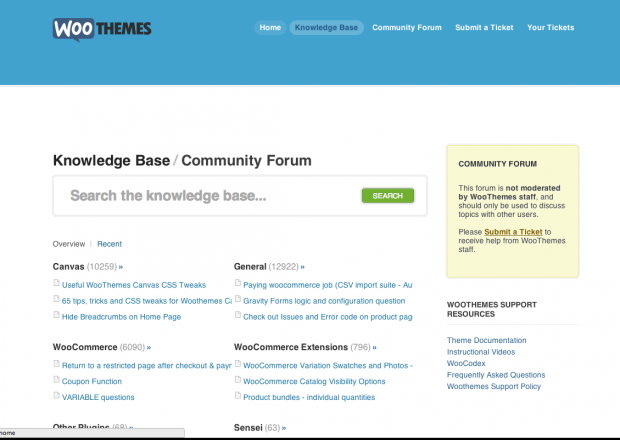 Our community forum contains a specific section for discussing each one of our different themes. Just scroll down until you see the theme you need help with, and then click on it to open up the sub-forum.
Once there, you have two options. First, you can read the threads already open to see what other people are dealing with. You will also be able to leave comments contributing to the conversation. Second, you can start your own article to either share tips you have learned or ask questions to our community.
One thing that you should note is that the forum is 100% community driven – it is intended solely for discussions between users, and as such, the forum is not moderated by WooThemes staff.
Submit a Ticket
If you are not able to easily find solutions to your support issues using our other resources, then we are more than happy to help you out via our support ticket system. Here, you can get one-on-one assistance aimed at solving your problem as quickly as possible.
First, we will prompt you to choose what type of problem you are having: an account issue, a themes issue, or a problem with WooCommerce and its extensions specifically.
Once you have answered that, we will immediately give you a form to fill out with the details of the problem that you are faced with. You will be able to give your support ticket a subject title and choose what category your issue falls into.
We'll also ask for a lot of other information at this stage, too.
Don't worry – we only ask about so many things because we want to ensure that you receive quick, to-the-point service. The more information we have about your technical or account issues, the faster it will be to resolve them – the info we get at this stage acts as a huge time saver during the troubleshooting process.
One part that some users may be uncomfortable with is our request for login details. We strongly recommend that you think about including a temporary site administrator username and password in the 'description' section. We understand if this makes you uncomfortable, and you of course have the option to not do so. However, if you provide us with that information, it could greatly reduce the time it takes to solve your issue. Often times, users don't have the technical knowledge to explain or convey their issue. That's totally okay, but providing this access will allow our team to quickly diagnose the problem and begin to correct it.
Overall Improvements
We make every effort to serve you as best as we can – but we'll be the first to admit that we are not perfect. Recent growth has challenged our resources and we have sometimes struggled to meet customer expectations in the past few months.
But we are making headway and we have results to show for it. We have made some improvements to docs, hired some awesome new support ninjas, and worked internally to increase efficiency. Such efforts have led to noticeable improvements in our response times and satisfaction ratings.
In July, we had some great new statistics. The average amount of time a customer waits for our first response to their support ticket hit 33.4 hours – a drop of 7.9 hours! Another awesome number is 54 percent: that's how many support tickets were responded to within 24 hours, which is a 14% uptick!
Here at WooThemes, we work every day to ensure that you have the best customer service and support possible. We want to stay honest with you, which is why we keep publishing monthly customer happiness reports, and we want to make sure that you can effectively use all of our different support resources.
Hopefully, this article gives you a better idea of what support resources we offer and how to best use them. Our mantra remains the same as it always has – customers first.
This fantastic guest post was crafted by Tom Ewer.