At WooHQ, as the team flies in from around the world for our annual WooTrip, we're excited to share some new developments with you all, that we are sure you'll enjoy.
One of our aims at WooHQ this year has been to simplify and re-focus. With our ever-growing range of WordPress themes, a large part of our aims is to standardise some of our newer, non-WooFramework, functionality across our themes and to make sure that each theme focusses on doing what it does best; be an awesome design for your website, without bundling in the kitchen sink.
With this aim in mind, we'd like to introduce you to two new free plugins we've released.
Meet "Features" and "Testimonials"
"Features" and "Testimonials" do exactly what they say on the tin; they display the features your company, product or service offers, as well as what your customers have to say about your business. Each plugin comes bundled with a shortcode, widget and template tag for easily displaying the content throughout your website or within your theme template files.
Features

"Features by WooThemes" pays homage to our popular "Mini-Features" functionality, previously bundled into selected business themes. This plugin is a quick way to showcase what features your company, product or service offers, and to easily display that on your website.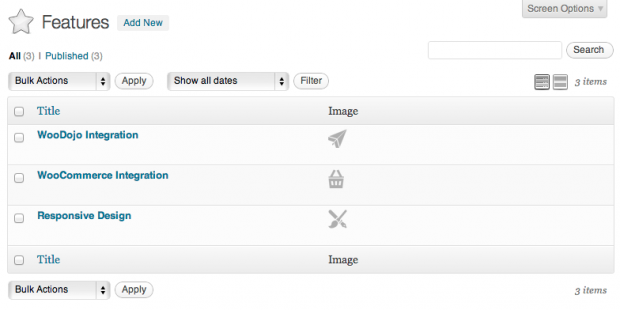 From features to services and offerings, "Features by WooThemes" is a clean and clear platform for showing your visitors what it is that your company, product or service does.

Testimonials

Customers love reading about what other customers think of your company, product or service. "Testimonials by WooThemes" makes adding and displaying testimonials a breeze.
With options to set a byline for each testimonial, a URL to that person or company's website and either an e-mail for a Gravatar or a featured image, showing everyone what your customers think of your company just got a whole lot easier.
Where do I get these plugins, and how do I contribute?
These plugins are both hosted on the WordPress.org plugin repository and are available for free download right now. They are also available on GitHub to be forked and modified by the community. We encourage developers to fork the code and submit pull requests on GitHub to help enhance and develop these plugins further.
Download "Testimonials by WooThemes"

Download "Features by WooThemes"

These plugins can also be searched for and downloaded directly through your WordPress dashboard on the "Plugins > Add New" screen.
The Vision
Going forward, our themes will make use of these plugins for the "Features" and "Testimonials" functionality, if the theme offers the features. This ensures that, if you want to use only "Features", for example, and not "Testimonials", you can simply activate only one of the plugins, without being left with unused code in your theme.
These plugins aren't restricted to only WooThemes themes, of course. They work out of the box with any WordPress theme (styling required, as needed).
We are also currently evaluating how best to apply this functionality to existing themes that already contain similar functionality. We'll keep the community updated on this as things progress.
We hope you like this update. We look forward to viewing your pull requests on GitHub and to developing these plugins further with the community. 🙂